A very volatile day for Nifty
Nifty opened with an upside gap of nearly 50 points , filing the gap which had formed yesterday. On the charts, we can see that the intraday swings are forming the broadening triangle which often leads to alot of stoploss triggers and losses for pattern traders. Another interesting fact to take note of is that the index has again closed below the level of 7420, about which we have been discussing  since the past 2 days.

Moving on the sectoral performances:
The cheer came from IT , Auto and infra sectors with Infosys, LT and tatamotor being the top gainers.
The commodity stocks, like the steel sector, were especially strong with vendanta, cairn and ONGC, all being high nearly 6-11 % varied.
A news from China came in at the time of closing, that China will ban new capacity of steel, which is a good news for the sector.
Now let us take a look at the international markets: Chinese indices have been stable today, Shanghai and Hang Seng gave a better closing than yesterday. The European indices also trading a percent higher, thereby we can count on the US index Nasdaq Composite to be positive when it opens at 8pm as per our Indian standard time (IST).
CHART OF THE DAY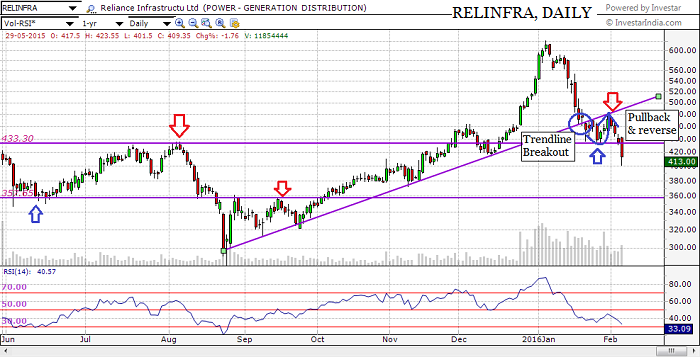 The daily chart of RELINFRA gave a downside breakout from its upward sloping trendline on 20th January, which was followed by a 'pullback' to the trendline, after which the price started falling again. Today, we see there has been another break from the support line at ~433, which has also acted as the resistance in earlier occasion. Please read more about Change of Polarity ( resistance becomes support) here.
———————————————————————————————————————–
Read more articles here:
https://blog.elearnmarkets.com/market/nifty-chart/
https://blog.elearnmarkets.com/market/nifty-live/