Nifty has given a closing above the icy level of 7750. In order to confirm a breakout from the consolidation being witnessed at the level of 7750, nifty needs to surpass the level of 7800. On the intraday 10 mins chart of nifty, we see that the opening gap which had formed in the morning was closed during the weakness witnessed in the first half of the day , however the second half of the day was better for the index as it rallied some 50 points and closed in green with a gain of 45 points from yesterday.
On the indices  front we see that the NIfty It index was the leader with a closing of 1.80% higher followed by the Nifty Infra index. The weakest in the lot was Nifty Realty which closed 0.77% lower and the Nifty midcap 50 which was down by 0.30% almost. The bank nifty closed a mere 0.7% higher as contrary to nifty which had its foot well ahead on the positive horizon with a closing of 0.60% higher.
The gainers for the day has some Telecommunication names like Idea cellular and Bharti Airtel, some pharma names like Auropharma and some motors companies like M&M and TataMotors.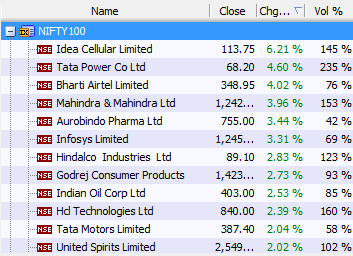 The losers on the other hand comprises of some banking stocks like Federal bank and HDFC ltd, the cigarette leader ITC and Ambuja cement.
On the international front there is relatively a better sentiment being witnessed than the previous few days. The DJIA and NASDAQ futures aretrading in green as is Crude oil which is up .27%, with a red Gold , trading-0.27% lower. The US indices DOW and NASDAQ closed a good more than half poercent into the green inspite of the sharply falling european markets on friday last. The European indices however, have somewhat made up for the losses today as the trade almost a percent higher.The Asian indices, except for Nikkie and Hangseng have also closed on the stronger side with moderate gains.
CHART OF THE DAY:
On the weekly chart of Hexaware, we can see that the stock has come off the high quite some time ago. The RSI index has a story to narrate here and hint at what the future might hold. On the weekly chart we se that during the rally, RSI was seen tradig in the range of 35-70+, however ever since the stock has abondoned the top the RSI has also given up on the level of 70. It is now shying away from the upper overbought zone and dipping below the oversold zone of 30 onn corrections. This is an indication of impending weakness in the stock.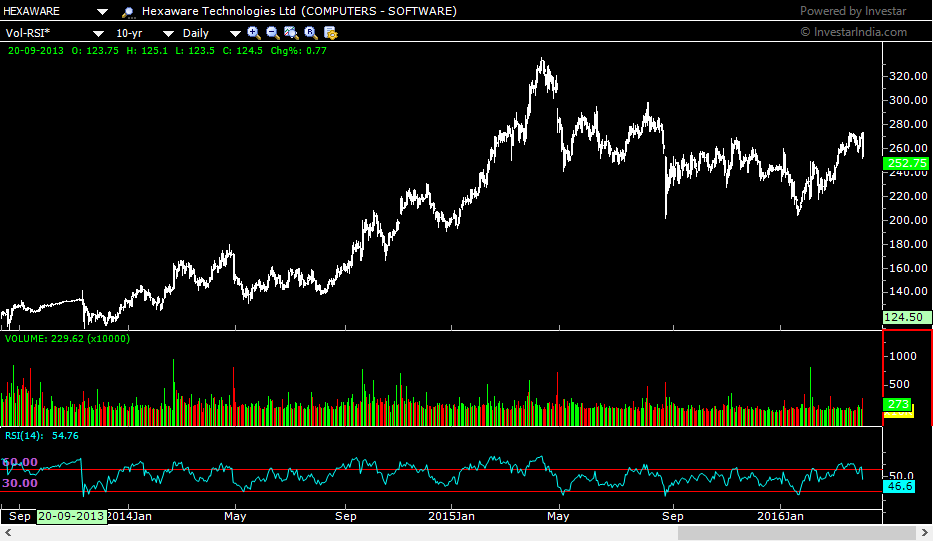 ___________________________________________________________________________________________________________________________
Read more articles here:
https://blog.elearnmarkets.com/market/nifty-chart/
https://blog.elearnmarkets.com/market/nifty-live/
https://blog.elearnmarkets.com/market/nifty-live-chart/