Market in a bounce back: After having a free-falling yesterday, Indian Markets has witnessed a bounce back today. Nifty gained 1.71% today to close at 7688.25(+129.45). In the intraday chart we can see that from the levels of 7550 at around 11.00 AM it went up till 7710 at 2.30PM. The movie was accompanied by significantly high volumes. Today's total volume in Nifty was 78,40,00,000. The overall market breadth was Bullish today. 45 Stocks have advanced today in Nifty and 4 stocks has declined.
Sectors are in green too with only CNX FMCG(-0.94%) ending in negative. The sectors which gained the most today are BANK NIFTY(+3.55%), CNX PSU BANK(+3.47%), CNX REALTY(+3.06%) and CNX FINANCE(+2.87%). Stocks which gained the most today are GAIL(+7.19%), YESBANK(+7.12%), BHEL(+6.20%), TATASTEEL(+6.05%) and AXISBANK(+5.48%). The losers today are CAIRN(-2.17%), HINDUNILVR(-2.12%), BPCL(-1.05%) and TECHM(-0.20%)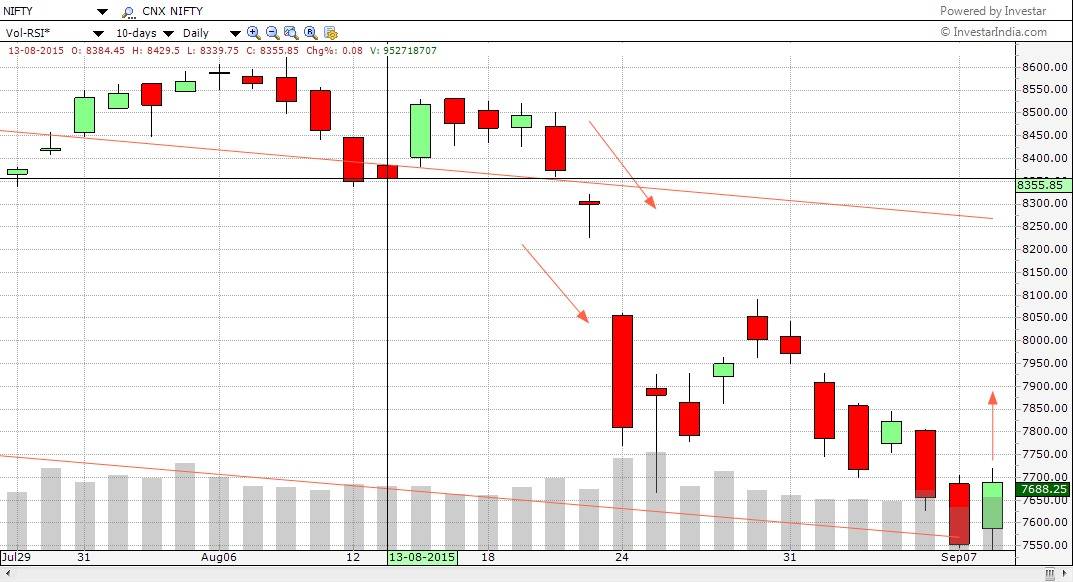 Probable reasons and expectations of bounce back: Looking to events which are lined up in next few days, a strong rebound is possibly seen from the beaten down markets. PM meeting with Industry leaders today gave a positive message to the markets. Fed meeting on 17 Sept, where Interest rates are not raised (most probable scenario). GST – Parliament session may be announced this week for GST bill passage. It is quite probable that govt will manage congress support for it through backdoor talks. RBI seems quite close to announcing 0.5% rate cut to stimulate economy. This may come in September itself. (Most probable scenario). Each of these events may potentially result in a bounce back in the markets. Though there are Risk Factors which still remain like the China economic parameters of stock market, export data, yuan valuation etc.
JP Power Ventures sells 2 hydro power plants to cut down its debt– Jaiprakash Power has sold two hydropower plants to JSW Energy so as to reduce its debt.The two plants include Himachal Baspa Power Company Limited (HBPCL) assets,
a) 300 MW Baspa- II HEP,

b) 1,091 MW Karcham Wangtoo HEP.
They have been sold at an Enterprise Value (EV) of Rs 9,575 crore. Further, JP Power Ventures has also paid a compensation of Rs 150 crores to HBPCL, with profit and loss from these plants accruing to JSW Energy from 1st September 2015. In addition, the two companies have entered into a binding Memorandum of Understanding (MoU) for JP Power Ventures 500 MW Bina Thermal Power Plant. JP Power Ventures was closed at Rs 5.87up by 5.39% on the back of such move by the company.
Coal India can beat FY16 production target– Anil Swarup, coal secretary believes that the company will pick up its production in coming months which slowed down due to monsoon months. He believes that the company  can very well surpass the FY16 production target and has also set an ambitious one billion MT production target for Coal India by 2022. However, evacuation of produced coal is as important as production. To facilitate evacuation, three major railway lines are under implementation stage right now.

Infosys gets clean chit in H1-B Visa Violation case– The US Labour Department has concluded its probe of H1-B visa practice and has found that the Infosys has not violated the rules. The US Labour Department over the last one quarter had been investigating any possible H1-B visa violations by both Infosys and TCS. In a specific case, the department had opened investigations for possible violations of rules for visas for foreign technology workers under contracts they held with an electric utility, Southern California Edison..Infosys has confirmed that the probe has been completed and they have been cleared of any violations. With regards to TCS, further clarification is likely within a week.
Found this blog Interesting? Then Hop in to our learn technical analysis and improve your skill.