Have you heard about the share markets, but think that investing in stock market is too complicated for you? Do you feel that only a professional trader can invest in shares and gain from it? If yes, then read on. Let us today show you how to get started with investing in equities.
Where Are Shares Traded?
You can buy and sell shares in India in a Stock Exchange through SEBI Registered Stock Broker. A Stock Exchange is a marketplace where many financial assets, including shares, are traded.
Every stock exchange has two markets from where you can buy shares:
Primary Market: When a company issues shares for the first time to the public, it does it through the Primary Market, using a process called an Initial Public Offering (IPO). Subscribing to an IPO gives you the chance to buy the shares directly from the company.
Secondary Market: After the IPO is over, the shares are listed and traded on the Secondary Market. Here the shares are bought and sold to the investors. You can buy the shares from another investor in the secondary market.
Remember, that whenever you have to sell the shares, you have to do it through the secondary market only.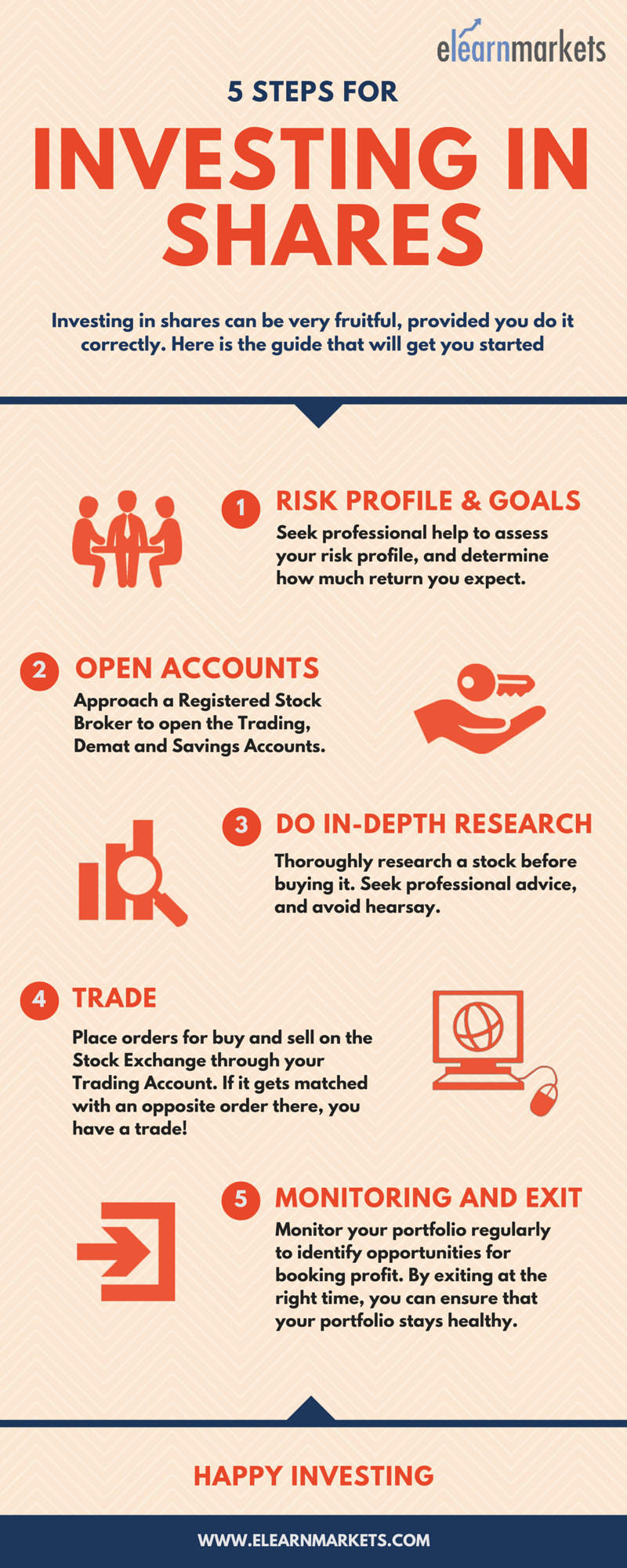 How To Invest In Shares?
1: Determine Your Risk Profile
Investment in shares depends on how much risk you can take, the time horizon for investment, and the financial goals you want to achieve. Take the help of an expert to determine these.
Suggested Read: How "risky" is risk?
Most investors can be categorized as one of the following in terms of their risk appetite:
Conservative: They look for stable returns against a low risk. They should buy stocks of conservative companies which grow over a period of time and pay regular dividends.
Moderate: They take moderate risks and are happy with a normal profit. They should buy shares that carry a reasonable amount of risk.
Aggressive: They are high-risk takers who look for high profits. They can look at buying shares that show high volatility.
2: Open The Necessary Accounts
You have to approach a stockbroker for opening the following accounts that are required for investing in shares:
Bank account – This is the account through which you will pay money for the shares that you buy, and will receive the money against the shares that you sell.
Trading account: This account is used to place orders for buying or selling shares and route them to the exchange. Trading accounts are of the following types:

Online Trading account: This allows you to place the trades yourself by logging onto your account on the stock broker's website.
Off-line Trading account: This requires you to call the broker's office and request him to place the orders on your behalf.

Demat account: This is where the shares that you own are stored. Presently, most shares in India have been dematerialized, i.e. converted into electronic format. This makes storing and transferring the shares very convenient.
Also Read: A Brief Distinction Between Bank Account, Trading Account and Demat Account
3: Do A Thorough Research
Before you invest in shares, you need to do a thorough research to identify which shares to buy.
Most investors do a Fundamental Analysis of the companies, and advanced traders use Technical Analysis. However, if you are unable to do the research yourself, you can approach your stockbroker for professional advice.
One word of caution here: There have been many instances of investors losing money in bad investments made after listening to hearsay and friendly advice from unqualified persons. Beware of falling prey to these tipsters
4: Trade
You can buy any stock that you have identified, on a stock exchange.
However, you can only sell shares that you own.
In case you sell a share that you do not own, you will have to buy it back on the same day before the market closes. Otherwise, you will incur a penalty.
Also Read: Understanding Short Selling
Put a buy or sell order through your trading account, specifying the following:
The preferred stock exchange where the order should be placed
The company, whose shares should be traded
Quantity of shares
You can also quote a price at which you want to trade. If no price is specified, the order gets placed at the latest market price of the shares.
Once the orders are placed, they are transmitted to the stock exchange and matched against opposite orders at the same price that you have quoted.
If a matching order is found, your shares get traded.
Otherwise, the order remains pending with the exchange till a trade happens.
At the end of the day, if your order does not get traded, the exchange will automatically cancel it.
You will receive the shares that you bought and money for the shares that you sold, after 2 working days from the day of the trade.
Want to learn how to invest in shares in just under 2 minutes, don't forget to watch the video below:
5: Portfolio Monitoring And Timely Exit
Since the sentiments of the stock markets change frequently, you should monitor your portfolio of shares regularly.
Unless you do this, you may run into unnecessary losses.
Also Read: 5 Reasons why traders lose money in trading stocks
Monitoring your portfolio will allow you to book profits at the right time, and also exit weak stocks to minimize any potential losses.
Bottom Line
Adopt this systematic step-by-step approach for beginning your investment in shares.
Do make sure that you have a robust risk management system in place before starting to invest in shares.
After you have done it for a few times, we are sure you will gain confidence and enjoy it.
To know more visit https://blog.elearnmarkets.com/how-to-invest-in-shares-beginners-guide/
In order to get the latest updates about Financial Markets visit https://stockedge.com/
Keep Learning!!