Listen to this :
Key takeaways:
A credit score helps lenders decide your trustworthiness as a borrower.
It has multiple benefits, like easy loans.
Building it requires some credit history as well.
With some simple steps, you can maintain the best possible score for yourself.
Maintaining a good credit score is an important element of financial planning.
It indicates your financial health and discipline to lenders whenever you look for loans.
So, how do we ensure that our score is enough for the best loans at the lowest rates, if the need arises?
For this, we will have to follow steps to ensure that our CIBIL is always in our favor as borrowers.
In this article, we will discuss the basics of a credit score.
We will also discuss how a good score improves our finances and how we can create and maintain it.
What is a Credit Score?
In simple terms, a credit score is a number that lenders use to decide if you are trustworthy enough for a loan.
While lenders have their own standards for ideal borrowers, credit scores are given by external agencies.
Lenders use these scores to set a standard for their ideal borrower and then decide interest rates for them.
What is a good credit score in India?
Multiple agencies in India prepare these scores and reports, but the most popular agency is CIBIL.
A CIBIL (Credit Information Bureau (India) Limited) score has a range of 300-900.
The two factors affecting this score include –
Existing credit history; and
Past repayment track record.
Generally, score above 700 is considered ideal.
However, different lenders may set cut-offs for these scores as per different type of loans.
Why should you have a good credit score?
Some of the advantages of a good score include –
A higher score will lead to a sure acceptance of any loan application.
Borrowers with high scores may also be offered comparatively lower rates of interest.
Banks may give higher-end credit cards with multiple benefits to people with high scores.
Many cards offer cash-backs, flight reward points, airport lounge access and other discounts as well.
A higher score can give you negotiating power. You can ask for lower rates on your loans.
How to build your credit score?
Suppose you decide to take a loan to buy a house. However, you have never taken a loan or even used a credit card before.
How will a lender be able to decide if you're trustworthy enough for a loan?
A person with no debt usually has a very low or negligible credit score.
As a first-time borrower, you will have to create some good credit history to give a much-needed boost to your score.
There are two steps you can take to do so –
1. Become an authorized user of someone else's credit card:
If you are afraid of taking the credit plunge, become an authorized user instead.
However, you have to remember to be careful with your usage.
Any excessive spending can lead to a fall in the credit score of both you and the owner of the card.
2. Apply for a credit card
You can apply and start using a credit card of your own. However, keep the following in mind –
Set a credit limit that is comfortable for you, and spend under it.
Don't apply for multiple cards at once, as it can negatively impact your score.
Use your card regularly but pay off your balances on time.
How to maintain a good credit score?
After a good credit history, it is essential for you to take some steps to maintain this history for a great score.
Here is what you can do to maintain and improve your score –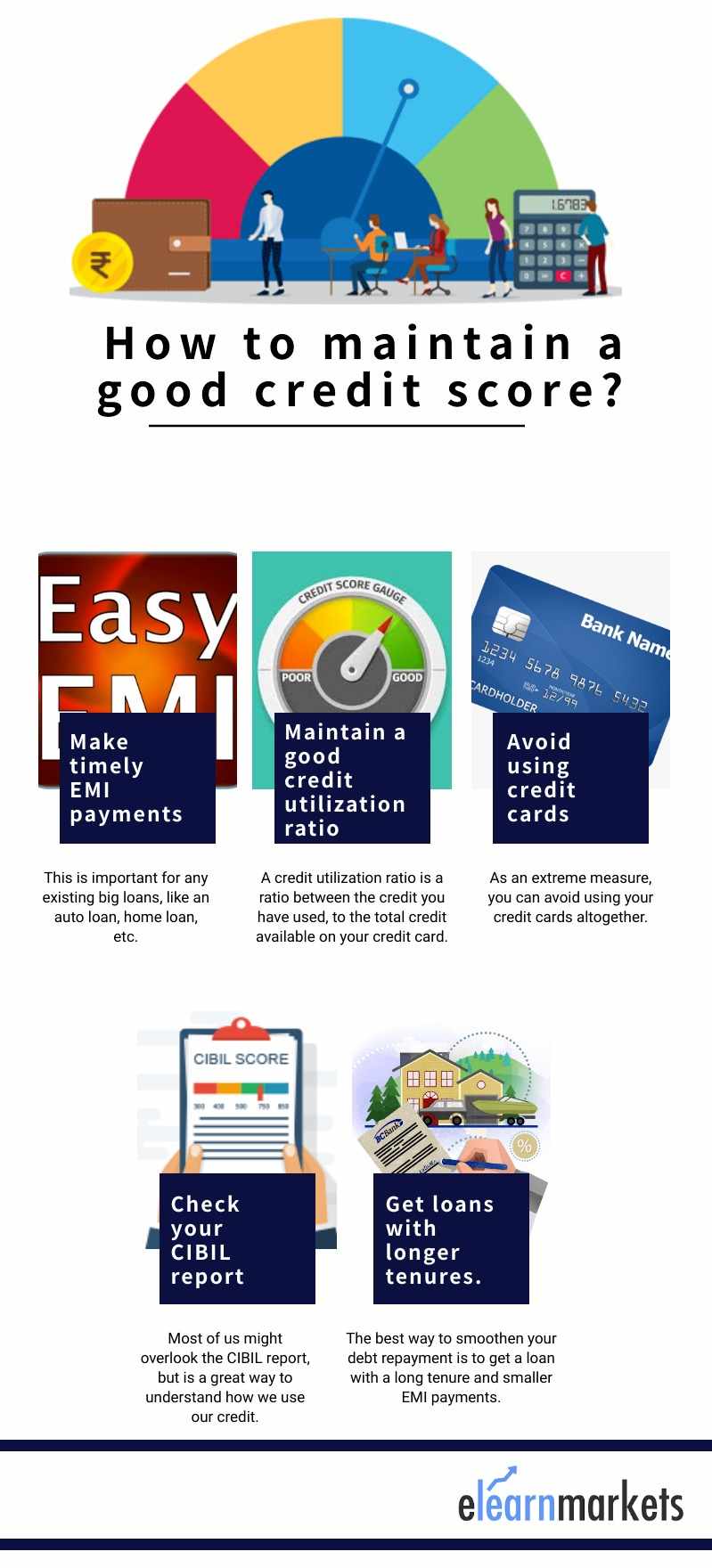 1. Make timely EMI payments:
This is important for any existing big loans, like an auto loan, home loan, etc.
Make sure to have a detailed plan through which you can manage to pay off these loans while avoiding any penalties.
If it is getting tough for you to make payments, you can transfer your loan to another lender to pay lower EMIs.
2. Maintain a good credit utilization ratio:
A credit utilization ratio is a ratio between the credit you have used, to the total credit available on your credit card.
Keep a periodical check of this ratio to ensure that you are not using too much of your credit at one go.
A high ratio can imply that you are highly dependent on credit, which could reflect negatively in your credit score.
3. Avoid using credit cards:
As an extreme measure, you can avoid credit cards use altogether.
You can do so until you have paid up the balances on your cards, after which you can make regular but controlled purchases.
4. Check your CIBIL report:
Most of us might overlook the CIBIL report, but is a great way to understand how we use our credit.
You should ask for your report especially after settling a debt, so that you can see how it has impacted your score.
Since the report is electronically prepared, it can also have some errors.
To make sure lenders receive an error-free report when you apply for loans, ask for your report and tally it with your financial situation accordingly.
5. Get loans with longer tenures:
The best way to smoothen your debt repayment is to get a loan with a long tenure and smaller EMI payments.
This will ensure that you are able to make your minimum payments on time, thus boosting your credit score.
Along with these steps, you can follow various tips and tricks to stay financially disciplined and maintain your score.
What do you think is the best way to control your credit score? Let us know by commenting below!
Happy Learning!