D-E-B-T……Are you one of them who is suffering from this term? Well, let me tell you that debt if used very cautiously can lead to wonders.
But wonder rarely happens!
In my case, I just try to stay away from debt as much as I can.
Under any circumstances, if I find myself under debt, I just postpone all other things aside to repay them as soon as possible.
One of the easy and best ways to be ready for your secure future is to simply avoid debt.
There are numerous examples of people and companies who have been destroyed by joining hands with debt.
Today we'll talk about why credit card is bad for you?
In recent days, the usage of credit cards users has really gone up.
With the attractive offers and discount available for the credit card users, people just can't let go the opportunities.
However, credit cards if used sensibly offer many benefits as well.
Read More: 6 Financial Planning Mistakes that can change life
For instance, you don't need to carry cash for your expensive items, for your emergency needs, and for your other requirements.
But if used casually, it can lead you to a big disaster.
The problem with the debt is that when debt starts mounting up, it becomes really difficult for you to get out of debt.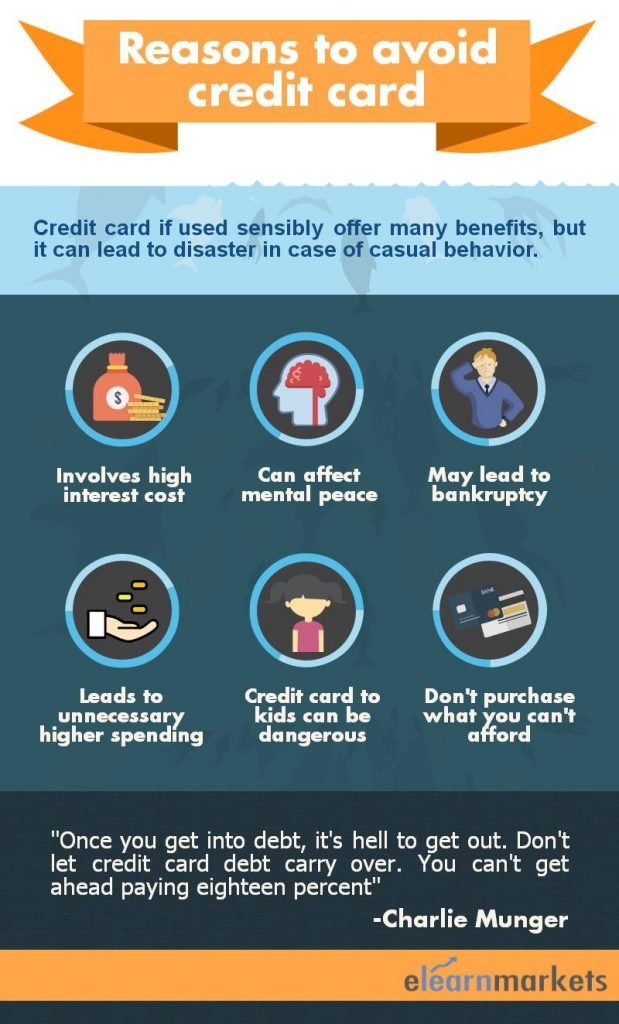 Let's understand why credit card is bad for you?
1. Spending beyond what you can afford
It is a very common problem in our Indian society that most people have a tendency to show off and end up taking high debts. But it's always better to stay in your means and avoid getting trapped in high debts.
2. Involves high-interest cost
When you have a credit card, it's very important for you to have a self-control. The high-interest rates involved with credit cards can lead your purchase expensive.
3. Credit card given to kids can be dangerous
The kids have hell lot of temptations around them and having credit cards with them could be dangerous. The reason being that most of the kids lack self-control when it comes to shopping.
4.Can affect your mental peace
The pilling of high-interest expenses may impact your mental peace especially if you are under a heavy debt. The best thing could be to avoid things which are beyond your means or wait until you have an adequate fund to buy the product.
5. May lead to unnecessary higher spending
You may be a target of impulse buying especially when you have a credit card with you. So a salaried class should avoid using credit cards who have limited earnings and have a long family to cater. It may even affect your monthly budget.
6. May lead to bankruptcy
The credit cards if not used cautiously may lead you in a situation of bankruptcy. Kindly don't use credit card beyond your means and avoid using it for very high-value purchase.
7. May affect your ability to finance important purchase
Poor credit score may significantly impact your ability to finance important purchases including your home. The reason being the high credit may increase the chance of committing fraud.
Watch the video below to know more about why should one avoid using a credit card:
Bottom-line
I am not totally against using credit cards. But you may use it as per your convenience, provided you have a control over your expenses and means to repay it back within a specified time period.
Similarly, if you can plan your personal finance perfectly, you won't have to be trapped in any bad debt.
Take care and keep learning!!