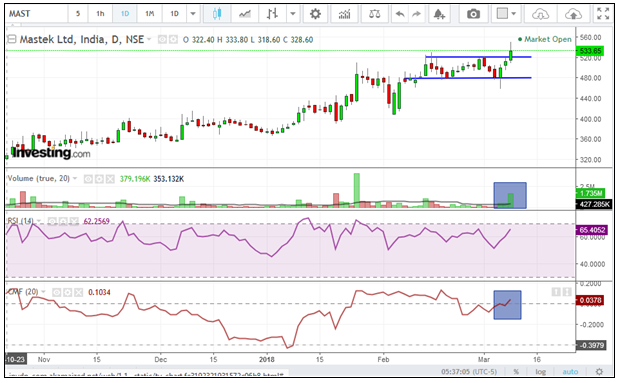 Today Mastek Ltd breaks its consolidated zone, where it was trading for the last few weeks. The volume played the key role today and helped the stock to break the upper barrier. In case of Indicators – RSI is above 60 which is positive sign for the stock and CMF has crossed above its zero line.

From the last few weeks Jubilant Foodworks was trading in a range of approximately 1910.00 – 2058.00. Today the stock was able to make a close above its previous resistance level. Talking about indicators Volume is above its 20 Days Moving Average line, RSI is above 50 and MACD has a positive crossover in the chart.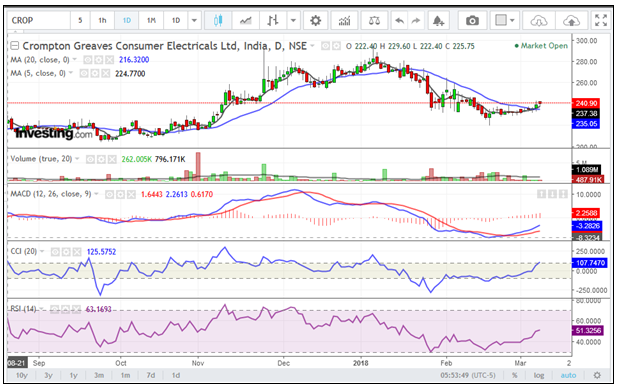 Today Crompton Greaves consumer Electricals Ltd. gave a gap up opening but was not able to continue the bullish strength. However this helped the 5 SMA line to cross the 20 SMA line from below.RSI is crossed its 50 level, CCI is in a level of 107.74 and MACD remains above its signal line.
A bullish candle was formed today by Oberoi Realty. The stock made a Green candle with volume above its 20 Days Moving Average line. Today the stock broke its 50MA line from below and gave a close above it. In case of Indicators RSI is above its 50 level and MACD has a positive cross over in the chart.