Listen to this:
The term "multibagger stocks" is difficult to understand but below are some examples which will help you to understand it.
"Whether we're talking about socks or stocks, I like buying quality merchandise, when it is marked down." – Warren Buffet
If you had invested Rs. 10,000 in Wipro in the year 1980, then that investment after considering all bonuses and splits and with no additional infusion from us would have grown to 635 crores.
We are not also including Rs. 2 crores which you would be earning from dividends every year.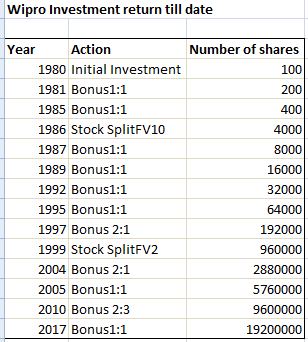 So, net Investment of Rs 10,000 in the Year 1980 = 192,00,000*331= 635.50 Crores Today
Let us take another example:
Eicher was Rs. 200 in the year 2009, due to Lehman crisis. After 9 years Eicher had almost touched Rs. 33,000. A south based company TTK Prestige was struggling to cross Rs. 100 in the year 2007, but now it is around Rs. 7000.
If we look at the growth of some other companies like Symphony, Natco Pharma or Ajanta Pharma over the last 10 years, then these have been multibagger stocks too.
In this article let us discuss how to make a portfolio with multibagger stocks:
Rebalance Portfolio with the right size of Asset Allocation
This is the main approach to construct a dynamic portfolio with multibagger stocks which also helps in reducing risk. But having a right size of asset allocation is even more important. Any asset allocation overweighed or oversized will have an adverse impact on the portfolio.
Proper Diversification within Asset Class
This is similar to asset allocation, but is mainly focused on diversification within a chosen set of the asset class. Investors have usually misinterpreted the term "diversification" and they end up in concentrating only in one type of asset in their portfolio.
Therefore one should have an adequate diversification on the basis of the asset class as well as sub asset class to build a portfolio of multibagger stocks,
Avoid Falling Trap for Value Hunt
The market tends to offer prices at a discount when the economy's growth is falling especially in equity segment. So it is important for the investor to understand the fundamentals and the dynamism of the business.
Learning about Equity Research Analysis will help the investor to understand the intrinsic value of that asset class.
Keeping Adequate Cash
It is important to keep adequate cash idle for uncertain events. This can be invested in liquid funds and can be deployed when the market provides attractive opportunities. Financial assets always react to certain events, thus giving us the option to enter and exit.
Control over Psychological Emotion
It is important to understand that volatility is not a risk and it is for the short term. In the long term market recovers from downfall and therefore it is very important for us to resist short term trauma and stick with our strategy. Investors should understand the difference between risk and volatility.
Checklist to Identify Multibagger Stocks
In order to identify a multibagger stocks, one needs to identify a simple flowchart which contains various checks. This checklist will help you identify a stock which has the potential to become the next multibagger stocks.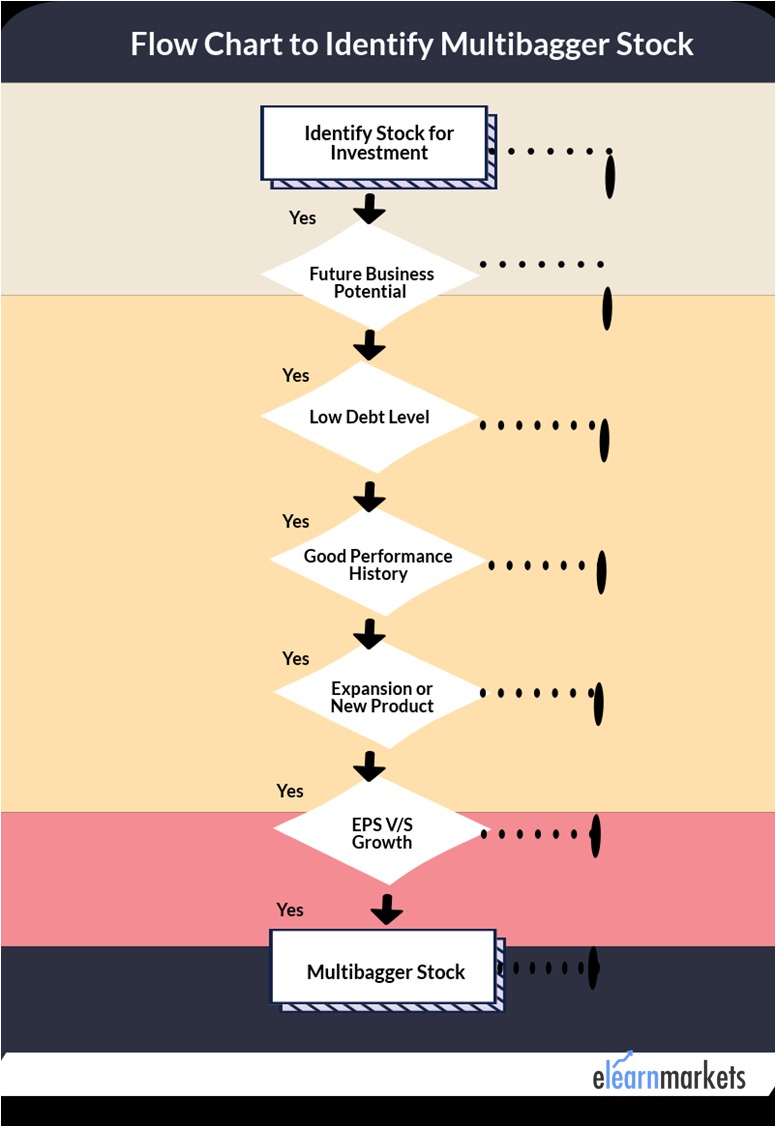 The Future Potential of the Company
The first step is to check whether the company has any future potential. You can find this out by looking at the products and services offered by them. If the product and services have future demand then the company will have future growth and make profits.
Suppose if we look at a stock of IT Company like Wipro then we should look at the present demand and growth in the demand for IT products.
Debt Level of the Company
The second step is to check the debt level of the company. Ideally a company should be debt free but low debt level will also do. If the debt level is high then the company will be spending more money for the repayment of high interest accrued.
Some debt free companies or low debt companies are Britannia, Bajaj Corp, Lupin etc.
The third step is to check the performance history of the stock. The company should be a consistent performer in terms of revenue and net profit margin. We can easily find out the performance history of the company by comparing Yearly or quarterly results.
One of the stocks with consistent performance in profit margin is Eicher Motors
The next step is to check whether the company is expanding its business or if there are any new products in the pipeline.
One of the examples of such stock is Reliance. The company has invested a lot of money for business expansion in a petroleum product and also made new product launch,like Jio.
The last step is to check EPS Growth Vs valuation. The EPS of the stock should be rising and valuation should not be high. If the stock has already given multifold return and valuation is very high, then it is not a multibagger stock.
This is the reason that future multi-bagger stocks are from small cap and mid cap space.
Watch our video on Multibagger stocks:
Bottom Line
In addition to the above checks, to build a portfolio of multibagger stocks, we can also look at other factors like dividend payment, Cash Flow, management dynamism, business model etc.
For stock related queries visit web.stockedge.com