Listen to this :
On this day, 15th of August we not only celebrate our Independence Day but we also celebrate living in an independent country which has given us so many opportunities to fulfill our dreams.
One of our dreams includes living a financially secured life and having the surplus corpus of funds when we retire.
As we celebrate our country's Independence Day, we should also take out some time to think about our future and for achieving financial freedom too!
To achieve financial freedom, you can take assistance of Kredent Money App.
What is Financial Independence?
Financial Independence can be described as having enough resources for living without needing to work.
"To become financially independent you must turn part of your income into capital; turn capital into enterprise; turn enterprise into profit; turn profit into investment; and turn investment into financial independence."- Jim Rohn.
If you achieve financial freedom, then you can focus on "living life" rather than focusing on how to earn to retire financially secure.
We don't have to retire at the socially accepted age of 60. If we achieve our financial independence at an early age, we can retire then also.
Here comes to the concept of Financial Independence and Retirement Early (FIRE).
FIRE is a program that involves immense savings and investments which allows to retire earlier than the social acceptable retirement age of 60.
One of the most famous cricketer to follow this movement is Sachin Tendulkar.
He earned and saved enough to retire early at the age of 40 from his cricket career.
This method follows the principles of:
Cut your expenses
Save > 50% of your income
Invest efficiently
The basic approach to achieve FIRE is:
1. Keep track of your expenses:
This may sound simple but trust me we have got no idea where our money disappears.
We can keep a track of our expense by paying off it every month and then look at what we spend money on.
As simple as that!
Nowadays there are many applications available which help us to keep track of our expenses.
"You become financially free when your passive income exceeds your expenses." ~ T. Harv Eker
2. Reduce your spending:
To achieve financial independence at an early age, start reducing unnecessary expenses.
For example: If you pay for your gym membership, then be sure that you use it. Many people pay at the end of every month intending to use it in the future, and they rarely do.
Even if you do use the gym then you may be able to cut this expense and simply exercise at home.
"If you want to be financially free, you need to become a different person than you are today and let go of whatever has held you back in the past." ~ Robert Kiyosaki
3. Calculate your Financial Independence number:
As the FIRE rule of thumb, if your net worth is more than 25 times your annual expense, then you can be financially free.
This implies how much net worth is needed when we attain financial independence.
However, many people choose a higher factor for unforeseen emergencies.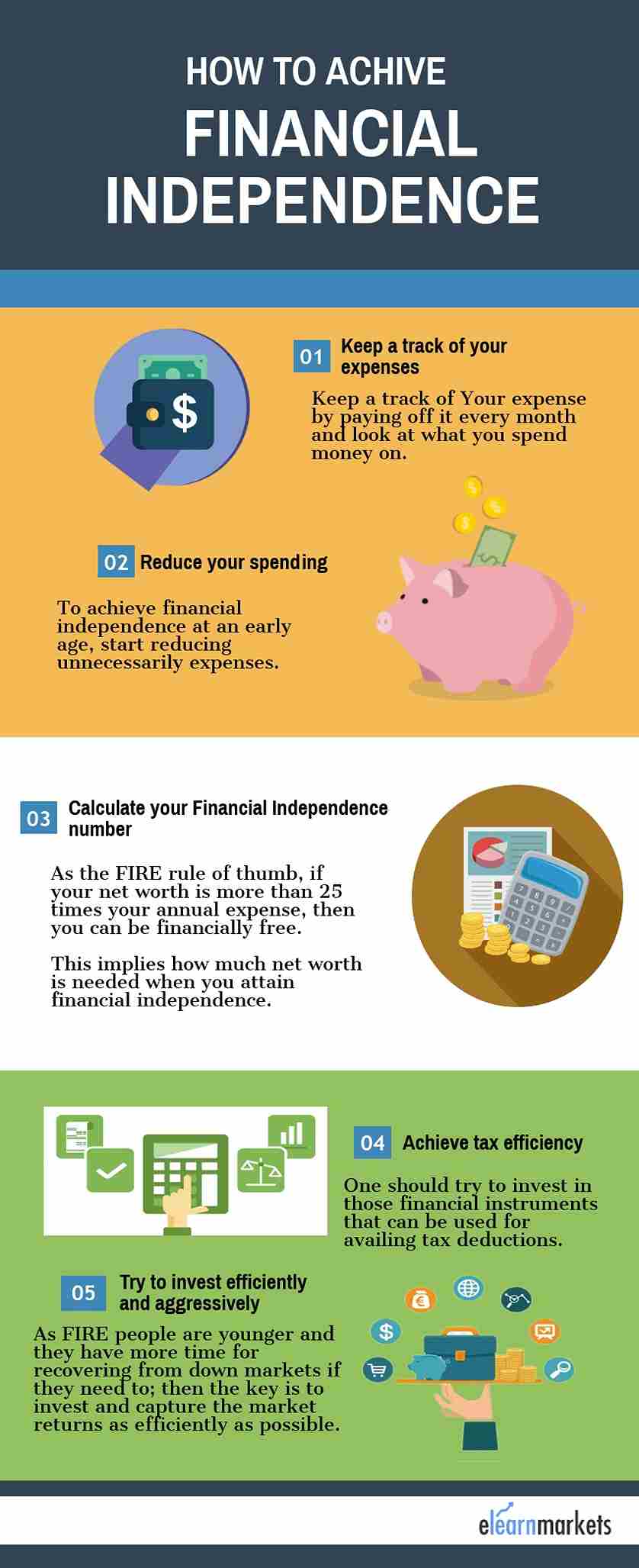 4. Achieve tax efficiency:
One should try to invest in those financial instruments where we can avail tax deductions.
These days there are many tax saving instruments available in the market such as ULIPS, New Pension scheme, ELSS which help us to avail tax deductions.
5. Try to invest efficiently and aggressively:
As FIRE people are younger and they have more time for recovering from down markets if they need to; then the key is to invest and capture the market returns as efficiently as possible.
"If you are not financially independent by the time you are forty or fifty, it doesn't mean that you are living in the wrong country or at the wrong time. It simply means that you have the wrong plan." ~ Jim Rohn
Overall, to attain FIRE depends more on the willingness to develop a financial freedom road-map and sticking to it.
Moreover, it's not much difficult if you are ready to make some small important optimizations in your life.
From starting today, you can consider the above recommendations, plan your future, redefine the idea of retirement and achieve financial independence!
So on this Independence Day let's celebrate Financial Independence!
Happy 73rd Independence Day!!!