Listen to this:
In today's era of high inflation, the price of everything is skyrocketing, whether it is fulfilling your basic necessities or covering your medical expenses. Therefore, choosing a great insurance plan becomes very essential for us. Know more about the process of choosing the right health insurance plan by joining the NSE Academy Certified Financial Planning & Wealth Management course on Elearnmarkets.
Also Read: The Uninvited Guest – Inflation
A minor treatment may cost you about Rs 25000- Rs50000.
On the other hand, something serious like cardiac treatment may land up costing Rs 3,00,000-Rs 5,00,000 depending upon the hospital and city.
With the increasing medical expenses and complexity of diseases, it becomes very important to take up the best health insurance plan for all your family members.
In India, we have more than 25 companies providing health insurance policies but the main problem lies in the complexity of the nature of policies.
In such a scenario, it becomes really important to understand your own need so as to choose the right plan.
Here's a simple guide to help you in choosing the right health insurance policy-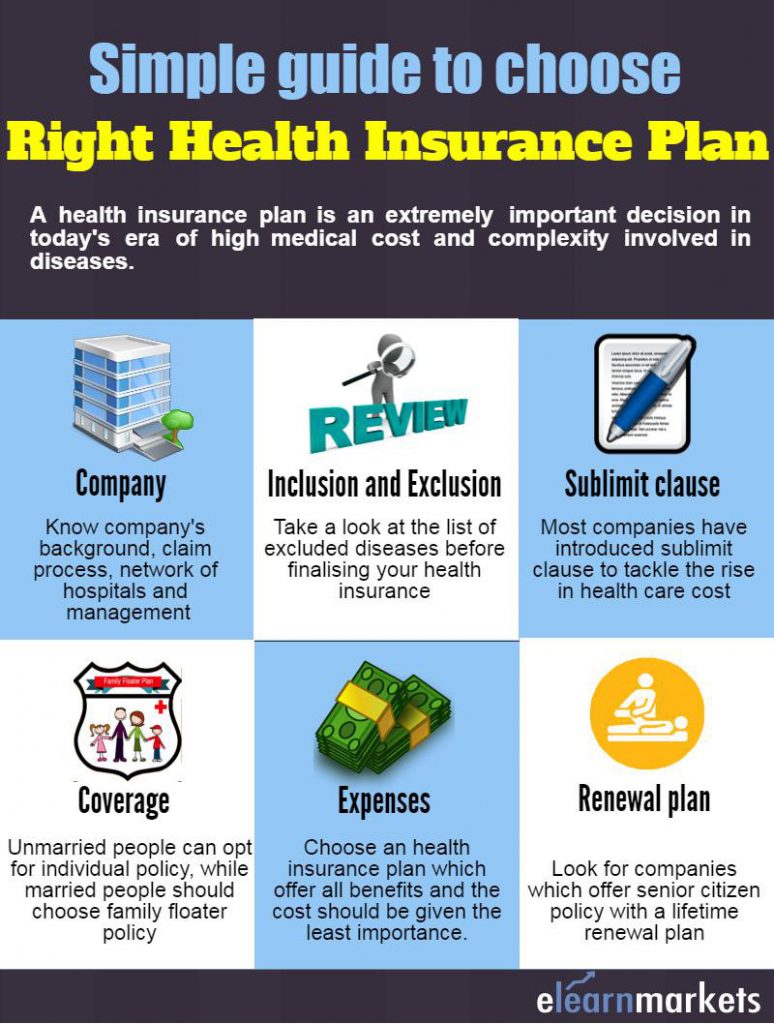 1.Company
In India, we have 28 general insurance companies that provide health insurance policy.
In order to choose the right company and the right plan, you should carry a small research in terms of knowing company's background, the network of hospitals, settlement process, company's management, claim settlement ratio etc.
Moreover, you should choose your health insurance policy with a general insurance company over a company which offers both general and life insurance.
The reason being the cost of health insurance policy offered by life insurance companies is higher than a general insurance company.
2. Sublimit clause
Most insurance companies have introduced the sublimit clause in order to tackle the increasing health care cost.
This clause is commonly levied on doctor's fee, diagnostics, and room rent.
Say you have taken a health insurance plan for a sum assured of Rs 3,00,000.
Assuming that the company has capped the room rent to 1% of the sum assured or Rs 3000 a day (whichever is higher).
However, if the specified limit is exceeded, you need to pay the balance amount.
Hence, you should look for companies which offer health insurance plan without any sub-limits.
3. Inclusions and exclusions
While choosing any policy, you should carefully read all the inclusions and exclusions.
Certain medical treatments like dental surgery etc are not covered in the first few years.
Moreover, the pre-existing diseases are even excluded in the initial few years of the policy.
Hence, it becomes really important to take a close look at especially the ones which are excluded.
4. Coverage
Married people with kids should choose family floater policy since it covers you, your spouse and kids.
If your parent comes under senior citizen category, do opt for a separate senior citizen policy for your parents.
Actually, the cost of family floater is decided on the basis of the family member with the highest age and if you have taken your policy along with your senior citizen parents means it will increase your cost significantly.
However, if you are an unmarried guy, it's better to buy an individual policy.
In general, people living in Tier-1 cities should have a family floater coverage of Rs 10,00,000 or more while those living in Tier-2 cities should have a coverage of at least Rs 5,00,000.
5. Expenses
People, in general, have a tendency to focus primarily on the cost but it should be given least importance.
The reason being that you should always prepare a cost-benefit analysis.
Opting for a health insurance plan which offers all benefits but comes at a slightly higher cost is a better plan rather than focusing on the cost on a standalone basis.
6. Renewal plan
Most of the public insurance companies provide health policies with a renewal age up to 75 or 80 years.
The renewal of insurance policies becomes really important at an old age since the chances of getting prone to disease are higher, which may significantly impact the medical expenses.
Moreover, there are certain companies which offer senior citizen policy with a lifetime renewal plan.
The non-senior people may also take a look at the insurance policy which offers lifetime renewal option.
Many times we get confused by the complexity involved in the terms and conditions in a health insurance policy.
Hence, a proper understanding of the key terms becomes really important in taking a wise decision.
Here's a list of important terms which you should know-
1.Portability
Portability implies the right given to the policyholder to transfer the credit gained by the insured time-bound exclusions and pre-existing conditions if the policyholder wishes to move from one insurer to other or from one plan to another plan of the same insurer, given there is no break in the previous policy.
There could be a possibility that a policyholder may face some issues with regards to the current health insurance policy.
But however, if he stops paying the premium and gets a new policy, he may lose on to certain benefits.
Say an inclusion of a specific ailment under the health insurance policy takes 48 months waiting time.
But if the policyholder decides to get a fresh policy from the 49th month, he has to wait for another 48 months for the coverage of that specific ailment.
This problem could be solved if the policyholder decides to port the policy to another insurer.
2. Maternity expense
Most health insurance plans do not include maternity or childbirth-related expenses.
Even some health insurance plans which include the maternity related expenses come with a waiting period of 48 months or more.
If you are willing to opt for a plan with a lesser waiting period, you need to spend a higher premium.
The plan which includes the maternity treatment usually covers the medical expenses incurred for a delivery during hospitalization and medical termination of pregnancy during the policy period.
It also includes the pre and postnatal medical expenses (i.e. cost pertaining to ultrasound, doctor consultation fee, regular check-ups, medicines, etc) incurred during such period.
However, the newborn babies are not included in most plans covering maternity expenses since the coverage to newborn baby starts only after 91 days.
3. Co-payment
An insurance policy generally reimburses the hospitalization cost in exchange for a certain premium.
But if the policyholder agrees to make a part payment of the billing amount, it comes under "co-payment".
In such a scenario the insured has to pay a lesser premium but the sum insured is still the same.
In simple words, co-payment refers to a cost-sharing arrangement under health insurance policy where the policyholder bears a certain percentage of the overall cost.
Co-payment feature is not necessarily present in all plans but could be a mandatory feature in a senior citizen health insurance policy.
The reason could be attributed to the higher premium rates for higher age groups.
Hence, a co-payment feature may offer some relief to gain affordability.
4. Deductible
This term is very similar to co-payment but the only difference is that instead of a certain percentage of the hospital cost, the policyholder shares a fixed amount.
In short, it is a cost-sharing arrangement under health insurance policy where the insurers will be liable to pay the claim amount less the deductible amount.
However, the insurers have to define that is it applicable per event or per year.
Thus the liability of the policyholder will be limited to agreed upon deductible amount only.
But like co-payment, no amount is reduced from the sum assured
5. Free look period
Say a person is not willing to continue with the policy due to some reason after receiving the policy document, he/she has an option to cancel the policy within 15 days given there is no claim.
Moreover, the 15 day period starts from the date when the policyholder receives the policy document rather than from the date of issuance of the policy.
However, this free look period is not applicable for renewal policies but only in case of the initial year of purchase.
The person has to return the policy document and needs to communicate with the company in writing.
The insurance premium gets refunded after deducting for expenses incurred on stamp duty charges, medical examination and the proportionate risk premium for the period covered.
6. Grace period
It refers to a specified period of 15 days immediately after the due date of premium.
You can make your payment with this grace period in order to avoid the loss of continuity benefits like coverage of pre-existing diseases and waiting period.
You cannot avail the coverage benefit for the period the payment of premium was delayed from the due date.
Hence, it's very important to renew the policy as soon as the premium becomes due.
The continuity benefits will be gone if it is not renewed within the grace period and you may have to face the problem of a waiting period which varies from 12 months to 48 months based on the ailment.
Bottomline
Taking up an insurance policy for your entire family is an extremely important decision and it is one of the best gifts you can give to your family.
Moreover, with the changing environment and weather condition, you never know when you are affected by a particular disease. I have seen many families who have had to spend their life savings in the treatment of a serious disease for the family member.
So taking a precaution is always a better option and also try to take out some time for regular exercises and yoga in order to stay fit.
Stay healthy and keep smiling!!