Listen to this:
Fast Moving Consumer Goods (FMCGs) are products that are sold quickly at a relatively low cost. It is the 4th largest sector in the Indian economy with Food & Beverages, Household and Personal Care accounting for 83% of FMCG sales in India.
The urban segment (accounts for a revenue share of around 55%) is the largest contributor to the overall revenue generated by the FMCG sector in India. However, in the last few years, the FMCG sector has grown at a faster pace in rural India as compared to urban India.
Market Share
The Retail market is estimated to reach US$ 1.1 trillion by 2020 from US$ 840 billion in 2017, with modern trade expected to grow at 20% – 25% per annum, which is likely to increase revenues of FMCG companies.
Revenues of FMCG sector reached US$ 52.75 billion in FY18 and are estimated to reach US$ 103.7 billion in 2020. The sector witnessed growth of 16.5% in value terms between July-September 2018.
Learn about Sectoral tactical strategies in just 2 hours from Market Experts
Contribution by different categories in FMCG sector:
Household &Personal Care 30%
Tobacco 15%
Food & Beverages 53%
Others 2%
Investments/ Developments
The Government of India has allowed 100% Foreign Direct Investment (FDI) in food processing and single-brand retail and 51% in multi-brand retail.
This would boost employment, supply chains, consumer spending and encourage more product launches.
The sector saw healthy FDI inflows of US$ 13.63 billion, during April 2000 to June 2018. Some of the recent developments in this sector are as follows:
Patanjali is expected to spend millions in various food parks in Maharashtra, Madhya Pradesh, Assam, Andhra Pradesh and Uttar Pradesh.
Dabur is planning to invest for capacity expansion and is also to make acquisitions in the domestic market.
RP-Sanjiv Goenka Group created 1 billion venture capital fund to invest in FMCG start-ups.
Fonterra announced a JV with Future Consumer Ltd which will produce a range of consumer and food service dairy products.
A US chocolate maker plans to invest US$ in millions over the next five years in India which is its fastest growing core market outside of US.
India's Top 10 FMCG Companies and their market potential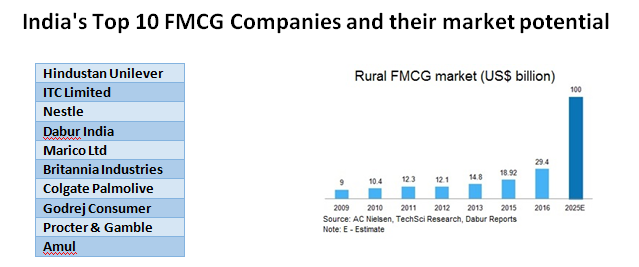 Government Initiatives
Some of the major initiatives taken by the government to promote the FMCG sector are as follows:
The Government of India has drafted a new Consumer Protection Bill with special emphasis on setting up an extensive mechanism to ensure simple, speedy, accessible, affordable and timely delivery to consumers.
The GST is beneficial for the FMCG industry as many of the FMCG products such as Soap, Toothpaste and Hair oil now come under 18% tax bracket against the previous 23-24%. There is also 25% fall in warehouse cost post GST.
The Government is also supporting the rural population with higher minimum support prices (MSP), loan waivers to farmers and disbursements through the Mahatma Gandhi National Rural Employment Guarantee Act (NREGA) programme. These arrangements have enriched the rural masses and increased their purchasing power, thus boosting FMCG consumption in India.
Impact on FMCG Sector
The high inflation is a cause of concern, as high inflation lowers overall economic growth which leads to low volume growth of the companies. With the retail inflation below 3% and crude oil prices below US$50/bbl, the benefit of low inflation is transmitted into better economics for FMCG companies.
Increase in crude oil price means that crude oil-linked intermediates are likely to be expensive, affecting input costs for fabric and personal care products. Higher fuel prices will add to freight costs. Packaging costs will also go up. The depreciating rupee affects the prices as they are linked to import-parity rates.
Also Read: How Monetary Policy affects different Sectors in India
Most of the FMCG companies in the India also have a major exposure to the processed foods segment, with fall or rise in prices of agriculture commodities led to reduction or expansion of input cost.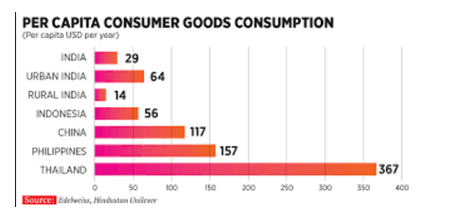 Future Prospect of the Sector
Rural consumption has increased, led to combination of increasing incomes and higher aspiration levels. The rural market in India is expected to grow to US$ 220 billion by 2025 from US$ 23.6 billion in FY18.
In FY18, FMCG's rural segment contributed an estimated 10% of the total income and it is forecasted to contribute 15-16% in FY19. Another major factor pushing the demand for food services in India is the growing youth population, primarily in the country's urban regions. India has a large base of young consumers who forms the majority of the workforce due to their busy schedule they barely get time for cooking which increases the demand in this sector.
Online portals are expected to play a key role for companies trying to enter the market. The Internet plays a vital role and has contributed in a big way, facilitating a cheaper and more convenient means to increase a company's reach.
It is estimated that 40% of all FMCG consumption in India will be online by 2020. The online market is forecasted to reach US$ 45 billion in 2020 from US$ 20 billion in 2017. The number of online users in India is expected to cross 850 million by 2025.
GST has been quite favorable for FMCG companies. With the implementation of Goods and Service Tax (GST), it is estimated that India gained and will continue to gain US$ 15 billion a year. GST and demonetization are expected to drive demand, both in the rural and urban areas and economic growth in a structured manner in the long term which will improve performance of companies within the sector.
Bottom line:
With the ever increasing growth potential of the FMCG Segment this sector has immense potential. With recent government initiatives and increasing number of youths with changing consumption trends, we are still very far from the target. Thus if one needs to play safe in this markets then consumption is one story which would give them good returns if not best.