Let's talk about large cap stocks and large cap equity mutual funds
If you are interested in knowing more details on mutual funds, you may join NSE Academy Certified Financial Planning & Wealth Management.
There are different categories on the basis of which stocks can be classified. One such way to categorize is through market capitalization. A stock can be classified into three types on the basis of market capitalization-
Small cap
Mid cap
Large cap
In this article, we are going to talk about the large cap stocks. These are companies whose market capitalization is equal to or more than Rs. 20,000-3,50,000 Cr. Returns in these stocks are generally lower than small cap and mid cap stocks because in these stocks, opportunities for growth are much less than the small cap and mid cap stocks.]
To choose which type of mutual fund you should invest in according to your financial goal, you can take help of  Kredent Money App.
Since large cap equity stocks are those stocks that have become stable and there is less space for growth compared to mid and small cap stocks, generally these stocks are less risky and give lesser but stable returns than small cap and mid cap stocks. Generally, small and mid cap stocks generate sky rocketing returns for a short period but then fall also with the same pace and may even give negative returns in some years.
Large cap equity mutual funds are those mutual funds that invest major portion of their corpus in companies that have large market capitalization.
Why you should invest in Equity Mutual Funds?
If you look in the past, you would know that in a longer time frame, equity as an asset class have outperformed all other asset classes, whether it is commodities such as gold, crude oil etc. or real estate or fixed income. Investors who can hold their stocks for a long period of time and do not need cash immediately or somewhere in the near future, say 10 years or more, would generally earn good returns in equity mutual funds that may not only outpace all other asset classes but also would be stable. For investors who do not have much idea about the market or need professional expertise should invest through mutual fund companies.
Equity Mutual Funds – Features
Equity mutual fund is a type of fund that invests mainly in equity stocks of different companies to benefit from the rising share price. Hence, an equity mutual fund has the same characteristics that an equity stock would have.
Investing in equity mutual funds has one major advantage, i.e. growth in longer term horizon.
Good growth in long term with moderate risk:
This is one of the best features of large cap equity mutual funds. They usually provide returns that are quite good in the long term (generally mid-teen %). Also, large cap equity mutual funds grow on a consistent basis so we can see the power of compounding in these stocks. Due to size and maturity of business, shares of large cap stocks are relatively less risky than small and midcap stocks.
Represents overall health of the economy
Large cap equity mutual funds generally represent the overall health of the economy. These stocks generally move with the direction of the economy. If the economy goes up, the overall market also moves up and when the economy is down, the overall market is also down.
Investing Directly in Shares vs. In Mutual Funds
Few great investors have made huge fortunes by investing in high growth stocks. But, stock picking is not every common man's cup of tea. Hence, a common investor can invest in large cap mutual funds which are managed by renowned professional fund managers.
Below are some advantages of having investment in mutual funds and reasons for which you should choose investing in mutual funds over investing directly in equity stocks-
Professional Expertise
If you are an experienced investor, you may manage your portfolio on your own. But, if you are a beginner and do not know where to invest and in which asset class to invest or if you do not have the time to keep a track of the market conditions, you can take the help of a professional, who is called the fund manager, who possesses the expertise and knowledge of all the aspects related to markets.
Diversification
This is the biggest advantage one can have of investing in mutual funds rather than equity stocks directly. Every stock is subject to three types of risk- company risk, sector risk and market risk. Company risk is that the stock price may fall, if the company performs poorly, even if the market is rising whereas market risk is that the company is doing well, but the stock prices may still fall because the market is down. On the other hand sector risk is that the sector, to which the stock belongs to, may go down due to govt. policies or macroeconomic situation or global competition etc. Mutual funds help investors to diversify their portfolio by investing in different types of equity stocks across different sectors. Hence they minimize Company specific and sector risk, the market risk itself is on the lower side if someone is invested for a fairly long time horizon.
Low cost of investment
The cost associated with investing in mutual fund is fairly low as the cost is borne by a large group of investors. Overall, annual fund management charges are a small % of total fund management. However, if an investor looks to hire such experienced and qualified professionals for managing his/her funds or provides investment consultation the cost of investment would be fairly high.
Best Mutual Fund – Reality or Myth?
Now, this is the question that everyone comes across. In order to select the best mutual funds, you need to follow a certain process.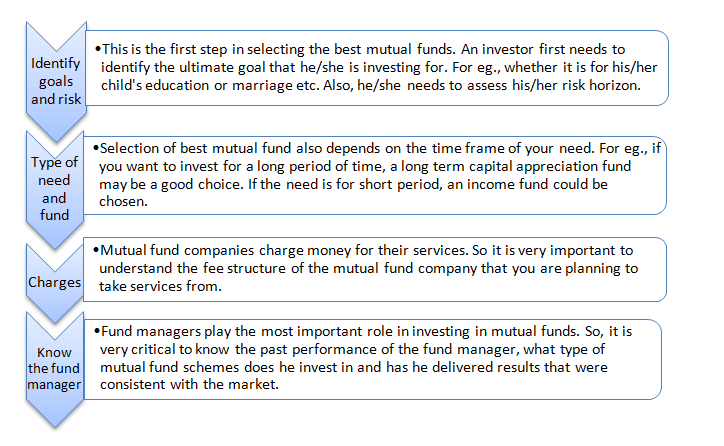 Also, you should evaluate whether you will invest the whole amount in lump sum or through SIPs. If one has the capacity and is financially strong, then he/she can invest in lump sum and if someone cannot pay the amount in lump sum, he/she has the option to pay the amount monthly at the beginning or at the end of every month also. There can be no 'the best fund' over all time frames. Hence the investors should select two-three good mutual funds under the same category and distribute his/her investments among them. He/she should not only look at the past performances, rather also take note of the fund ratings by various rating agencies.
Bottom Line
The bottom-line is that if you want to have relatively good double digit annual compounded return in longer time horizon, Large-cap equity mutual funds are one of the best options at your disposal. But you should invest that part of your capital in equity funds only, which you can afford to let remain invested for a long period of time. Even though it is possible that they may give negative returns in a particular year or some years but if you hold them for a range of 10-20 years or even more, you will in all probabilities get a return that might outperform all other asset classes.