Listen to this :
Hindi: आप इस लेख को हिंदी में भी पढ़ सकते है|
Key Takeaways:
We can look at debt management as a three-phase, detailed plan.
There are many strategies we can use to pay off debt, like the debt snowballing method.
The best way to prevent debt is to spend less and pay more towards our debt obligations.
Various methods like making payments in cash can help us prevent our debt.
Like every element of personal finance, managing your debt is a task that requires extensive planning.
Getting out of debt should not be a short-term measure, it should be a comprehensive plan that ensures that we never let our debt overburden us.
In this comprehensive plan, there are three things we will need to focus on –
Paying the debt that we have;
Controlling our debt in the future; and
Preventing as much debt as we can.
In this article, we will guide you through a plan with steps we can take to pay off, prevent and protect ourselves from debt.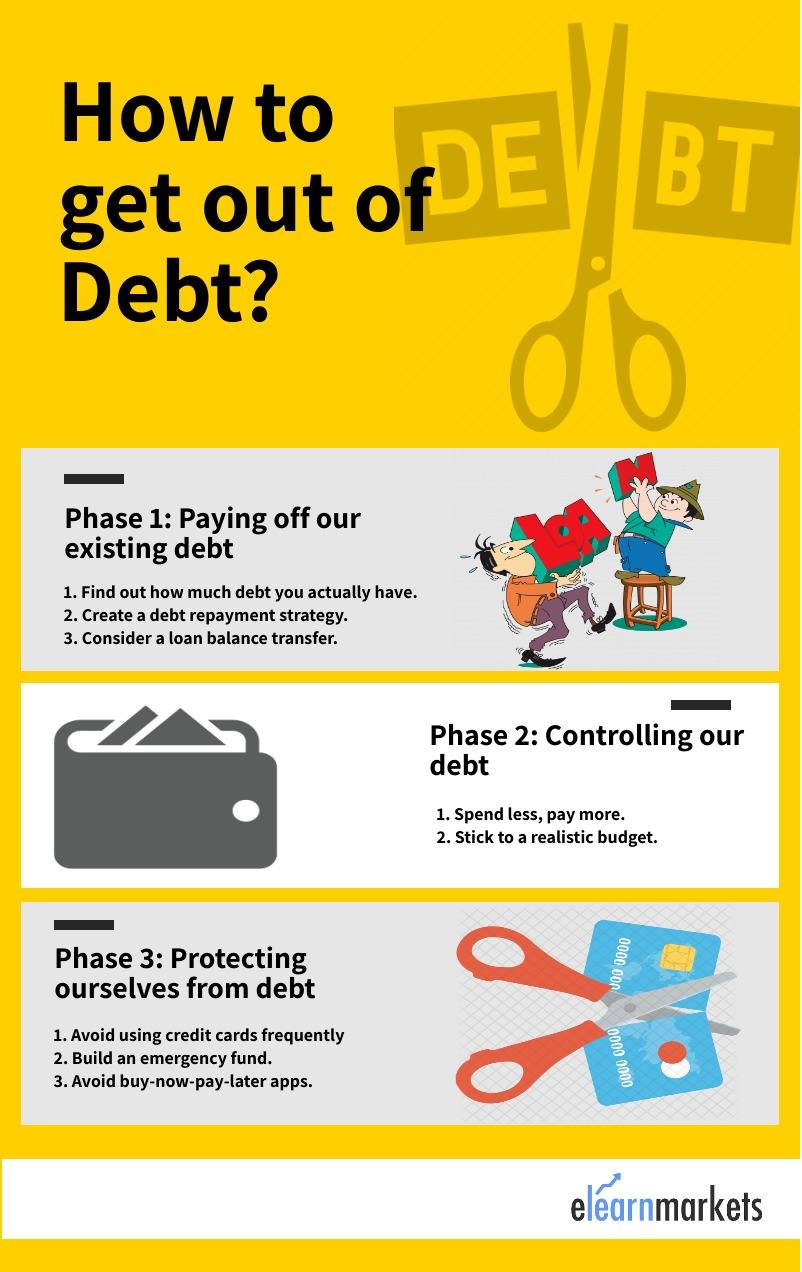 Debt Management Phase 1: Paying off our existing debt
I. Find out how much debt you actually have:
How will you start to pay off your debts if you don't know how much you're paying for sure?
Most of our debt repayments get automatically deducted from our bank accounts so it becomes hard to keep track of them.
Your first step, therefore, should be to make a list of all your debt obligations, along with their monthly payments, total balances and interest rates.
Doing this will give you a clear view of what your debt situation is. It will give you the direction you need to manage your debt.
II. Create a debt repayment strategy:
After knowing how much you have to pay off, devise a plan to pay off your debt in a way that is most suitable for you.
There are many popular debt repayment strategies you can try out. One of these is the debt snowballing method.
Here's how to pay debt through this method –
Pay off the minimum balances on all your obligations.
Scrutinize your budget, and set aside extra money by cutting down expenses.
Use this extra money to make more payments towards the smallest debt.
By paying off the smallest debts quickly, we will be able to settle debts in a quicker manner.
This can even boost our credit score.
III. Consider a loan balance transfer:
Another way to pay off debt easily is to transfer your loan balance towards a lender who offers lower rates of interest.
These balance transfers are available for credit cards as well as bank loans.
What's more, you can also negotiate the amount you pay off every month, and pay smaller instalments so that your debt burden can be slightly reduced.
Debt Management Phase 2: Controlling our debt
I. Spend less, pay more.
The best way to control debt is to prevent it.
Therefore, the next step is to scrutinize your budget on a regular basis.
By scrutinize, we mean that you should review your budget periodically and then cut down every unnecessary expense that you can.
The money that you save from cutting down on these expenses can be used to pay off amounts above your minimum payments on your debts.
Therefore, you can achieve two objectives of paying off and controlling debt by spending less and paying more.
11. Stick to a realistic budget:
A budget that can be scrutinized, needs to be flexible as well.
A great way to make a flexible budget is to apply thumb rules like the 50/30/20 rule and then tweak the rule to suit your needs.
Of course, as we mentioned before, always remember to review your budget periodically and make sure that it is catering to all your needs without restricting you to limits you can't possibly follow.
Debt Management Phase 3: Protecting ourselves from debt
I. Avoid using your credit cards:
There are many reasons why we should avoid using credit cards, but the prime reason is that it allows our debt to spiral out of control.
Using a credit card is the easiest way to purchase things, but it can generate high-interest debt that can become hard to manage.
Avoid using your credit cards unless it's an emergency, and shift to making cash purchases. Doing so can reduce your debt generation, which can also improve your credit score.
II. Build an emergency fund for debt management:
We cannot emphasize how important an emergency fund is, especially when debt becomes harder to pay off.
Be it a job loss, or sudden hospital bills, we might end up using most of our income to deal with them, and we could be left with nothing to pay our debts off.
In such cases, we will need an emergency fund to make minimum payments on our debts.
Therefore, this fund is a long-term measure to protect ourselves from the burden of debt in tough times.
III. Avoid buy-now-pay-later apps for debt management
With the advancement of digital payments, came buy-now-pay-later apps, which allow us to make convenient credit purchases for anything and everything.
These apps unknowingly can cause us to increase our debt even more.
Avoid using these apps for any purchases to protect yourself from unnecessary debt, especially if you think you are more prone to using them if they are readily available.

Avoiding these apps is also a great way to manage your wealth efficiently by making purchases that matter.
What we have detailed in this article are just some of the ways you can control, pay off and protect yourself from debt.
There are many techniques and tools you can use to build a get-out-of-debt plan that suits you best.
We hope that, with these steps, you can counter your debt and reduce its burden as much as possible.
Happy learning!
BOTTOMLINE
Check Stockedge to avail various technical and fundamental scans of Financial Markets.
Visit blog.elearnmarkets.com to read more blogs.