Listen to this:
"Feminism isn't about making women stronger. Women are already strong. It's about changing the way the world perceives that strength" – G.D. Anderson
The above quote speaks a lot about the reality of the concept of feminism. Everything related to women in this world comes down to one word 'perception'; perception not only about the different roles played by them but also of the responsibilities expected from them at various podiums.
It is the perception that forms the foundation for the much needed gender disparity. It also speaks about the changing roles from a puppet to financial planners, from home makers to home financers and ultimately to financial advisor.
Today's world is changing. Women, who were once seen only as a daughter, a wife, a mother, and a home maker are now seen as an individual who are not only home makers but also financial advisor.
Women are strategically more decisive with Financial Choices
Women of all ages are more engaged in financial decision making and financial planning than ever before. Though that participation is low, there are slow but steady steps that they are taking. A study by Ameriprise Women and Financial Power shows that 41% of women are making financial decisions alone. In fact, according to a 2016 PWC study, the growth in female billionaires is outpacing the growth of male billionaires.
Learn to become Financial Market Expert
Now-a-days, when it comes to taking advices with respect to finance, people feel more inclined to approach the female members of the family. This shifting of roles between men and women shows that the ladies of our country are on the path of becoming financial advisor.
Women are significant household earners and decision makers

The world is changing and so is the thinking of the people in India. Conventionally, people used to think that women are "meant to be" in the kitchen only and look after the children. But now, women can not only handle the household chores very well but also manage their jobs/business, be financially independent and become a confident financial advisor for their household expenses. Not only that, their role in taking major decisions for the family is slowly but definitely increasing.
To manage your personal finances, download Kredent Money App,which will help assisting you in your financial journey.
"She made broken look beautiful and strong look invincible. She walked with the Universe on her shoulders and made it look like a pair of wings." – Ariana Dancu
Women are getting more engaged in their financial decisions
As a girl, if you ask me what I would prefer- getting married and putting the entire burden of handling the finance part on my husband or getting a job and be financially independent, I would, at any given point of time in my life, choose being financially independent. And as per my thinking, this is what every girl wants now-a-days.
Gone are the days when the female members of the family were forced to agree to the decisions of the male members. Women, now-a-days, play an active role in all the decisions that are taken, whether small such as what clothes to buy or how much pocket money to give to their children to big and important ones such as which school should their children go, where to invest the money, etc.
The number of female financial advisor is very less as compared to male. Though this number is gradually increasing with time, still there is a long way to go. Women in India need to be educated more about the importance of financial planning.
Women are more willing to be educated
According to the survey conducted by Ameriprise Women and Financial Power, women in the modern era feel more educated about finance than ever before. Younger women feel strongly that they have received more financial education than their mothers. Many married women feel that they are the primary financial decision makers either because they are more knowledgeable about finances than their partners or because they enjoy making financial decisions. There are many women who have exchanged roles and become financial advisor to so many people out there.
Women are Emotionally Strong

We have seen in the past that when it comes to managing (spending) the finance, women have been less impulsive, rather more efficient and more pragmatic. They understand the needs and wants of all the members of the family, from the elders to the children, and accordingly spend the money in a rational and more systematic manner.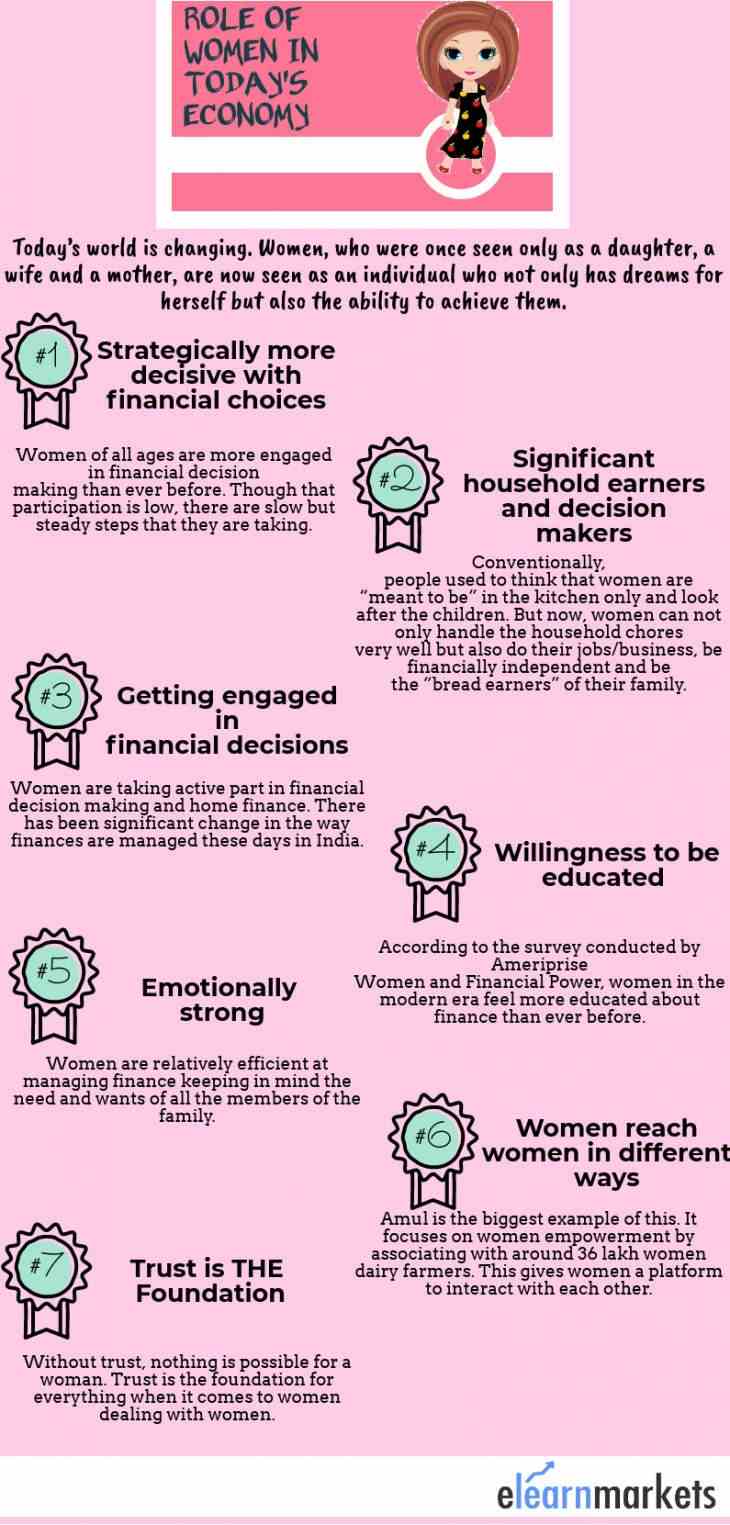 Women reach other women in different ways
This point focuses on how women empowerment and financial planning and financial decision making are related to each other. The influence that a woman can have on any other woman is more powerful than a man. It is because a woman can understand the mindset of another woman more easily. I am sure you must have heard of Amul. It focuses on women empowerment by associating itself with approximately 36 lakh women dairy farmers. Most women in Gujarat are financially independent because of the dairy-related activities and their association with Amul. As more and more women of our country are taking active part in financial decisions making and financial planning, there is a need to build a foundation of trust among them so that all other women who aspire to manage their home finance can do it without any difficulty.
Trust is the foundation for everything

It is a fact that women cannot rely on other women if there is no trust between them. No doubt, it is very difficult to understand the mindset of a woman but when it comes to women dealing with other women, trust is the key. Without trust, nothing is possible and nothing can be achieved. Women should encourage and lift each other up in all the spheres of life, whether professional or personal.
Bottom Line
Things have changed today so whether it is politics or sports or about flying fighter jets, they are playing an active role in all areas of society. Women's interest and participation in social life is increasing. This development is also the result of women's education and secularization of social values. There is need for complete abolition of social practices such as dowry, sati, female infanticide, permanent widowhood, child marriage and many more.
There are many people and organizations working including the Government that are working for improving the social and economic position of women. It's just that they need some support or moral boost to do well in their career. In fact some of the recent schemes by government like "Beti Padhao Beti Bachao" and "Support to Training and Employment Program(STEP)" for women etc are really good initiative by our government in that direction.