In an era that used to be dominated by men, the proportion of women investors in India investing in stocks has dramatically expanded.
In the past, women have encountered many obstacles when trying to access the capital market. First, women investors have little experience trading in the capital market due to a lack of financial literacy.
Even in the unlikely event that women developed a desire to invest in the financial markets, they lacked the capital necessary to engage in trading. Their limited financial resources caused them to be risk apprehensive, which kept them from making large investments.
However, technology has given women the answers to all of these problems.
The ability of women to actively engage in the capital markets is largely due to technological advancements.
Technological improvements have prompted women to enter the capital markets in a number of ways, including information access, flexibility in online trading, and educational opportunities.
With smartphone apps and internet resources for financial literacy and education, women can become better informed about the markets and trade and invest more wisely. It increases their self-assurance in their financial acumen.
In today's blog let us discuss why women should start investing in the financial market:
Table of Contents
How Important is Investing for Women ?
Remarkably, the concept of investing in stocks, bonds, or even real estate is still frequently associated with the men in the family, despite the fact that more and more women are becoming financially independent.
Many working women still don't understand the concept of aggressive investment. They would rather invest in gold jewellery or save money in bank accounts for the future.
These days, with rapidly rising prices and unanticipated economic downturns, everyone needs to have a well-thought-out and measured investing strategy.
You may safeguard not only your own future but also the futures of your loved ones by making the appropriate investments. Investing in stocks, bonds, real estate, ULIPs, and other financial instruments can provide greater financial flexibility. This guarantees that you won't need to rely on other people to meet your financial obligations.
Women Investors do you need more motivation? Then let us get inspired by some of the top female investors in India –
5 Top Women Investors In India
1. Ankita Vasishtha
Saha Fund is the first venture capital fund in India dedicated to supporting women's talent, and she is its creator and CEO. In addition to founding StrongHer, she also serves as its managing director.
The goal of the platform StrongHer Ventures is to establish a billion-dollar global venture fund just for women. Aside from India, she has also co-invested in several firms in Singapore, the United Kingdom, and the United States.
2. Vani Kola
One of the top early-stage venture capital firms in India, Kalaari Capital, is founded and managed by her. Because of the "Queen of Indian VC," Kalari Capital consistently provides investors with returns of three to five times, placing it in the top quartile globally.
In the equities investing space, Vani Kola has set the standard by supporting firms like Flipkart, Myntra, Dream11, and Curefit.
3. Padmaja Ruparel
We hold Padmaja Ruparel in high regard as one of the most successful female investors in India. The largest and most established angel investor network in India.
Indian Angel Network (IAN), is led by her as president and co-founder. In addition, she is one of the founding partners of IAN Fund, a seed and early-stage venture fund that makes investments in industries including agritech, fintech, health care, and education.
4. Lakshmi Iyer
One of Asia's top 25 most important women in asset management is Lakshmi Iyer, chief investment officer (CIO) of Kotak Mahindra Asset Management Co. Ltd.
Lakshmi credits her ascent to the top of the list of female investors in India to her peculiar fixation with numbers that date back to her early years.
5. Renuka Ramnath
Among Renuka Ramnath's many achievements include her Harvard degree, her founding of Multiples Alternate Asset Management, and her appointment as the Indian Private Equity and Venture Capital Association's (IVCA) first female chair.
When Should Women Make Investments?
The best moment to invest your money, according to financial experts, is as soon as you have the chance. Therefore, from the beginning of your work, investment should be a component of your financial plan. You will have a good length of time to watch your money grow because of this. It will also provide you adequate time to recover any losses from underperforming assets. Having said that, you can choose several short- and long-term investing solutions depending on your own objectives.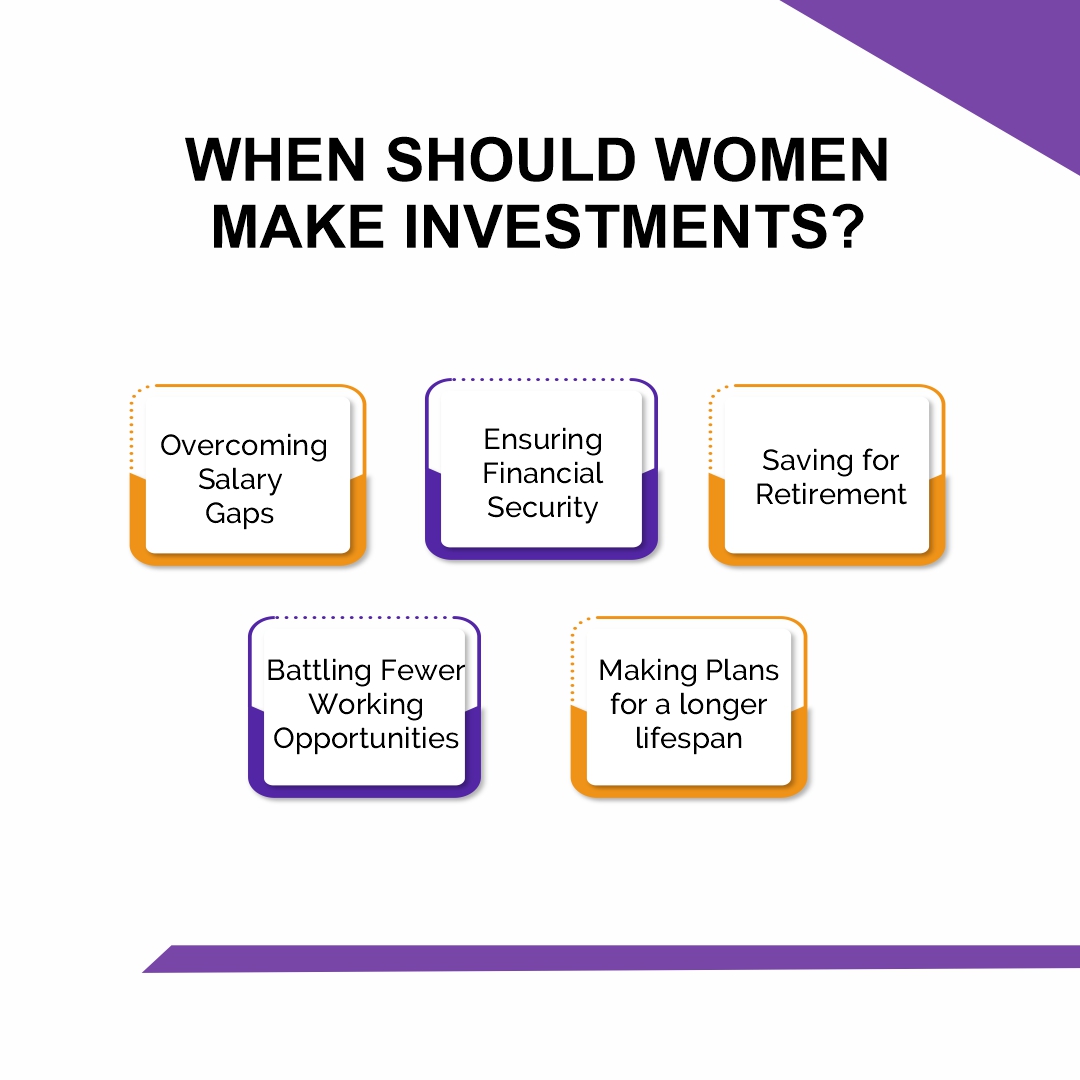 There are many reasons why women should start investing in the financial markets. Let us discuss the reasons and how they can invest-
1. Overcoming Salary Gaps
An extremely concerning gender wage disparity is evident in several industries worldwide. There are instances when women get paid less than men.
Over time, these little amounts add up to a sizable sum of money. It can take some time for things to change, despite the fact that many women are working really hard to end workplace discrimination and achieve pay equity. For women, investing can be a very helpful tool in closing this gap.
 For instance, purchasing an appropriate life insurance policy can assist women in leaving a legacy for their family members. An additional great financial option that helps ensure women have a stable and safe source of income in retirement is retirement annuity plans.
2. Ensuring Financial Security
It would be remiss to discuss women's financial security without including real estate. In our nation, ancestral family properties are typically passed down to boys rather than daughters.
One wise financial move women may make to ensure their future is to invest in real estate. In addition to providing women with financial independence, home ownership gives them peace of mind and safeguards their children's future interests. 
With the right investment methods, you may build up a sizeable savings account that you can rely on in the event of an unexpected financial emergency. This provides much-needed stability in finances.
3. Saving for Retirement
It is nearly hard to save money for retirement without investing unless one can start with an enormous salary and save more than half of their take-home pay. It might be challenging to maintain a decent living on savings alone due to rising medical expenditures, soaring higher education costs, pricey staples, and other expenses.
To combat inflation, you must have an investment strategy that can increase your capital over time and provide significant returns. You can live a pleasant retirement while also taking care of your family's needs, unexpected medical expenses, and much more with a sizable retirement fund.
4. Fighting for limited work opportunities
Women are still viewed as the primary housekeepers, despite recent shifts in conservative beliefs and attitudes. In comparison to the father, mothers are typically encouraged to work fewer hours, work as freelancers, or quit their jobs to raise their children.
Savings plans such as the Employer Provident Fund (EPF) or pension accounts can be wise choices. To make up for the lost time, it is sensible to invest in mutual funds, Systematic Investment Plans (SIPs), or a Public Provident Fund (PPF) at the very least.
5. Making Plans for a longer lifespan
According to science, women typically outlive males. A person's life expectancy can be influenced by various factors, including their family history, current health issues, and more. However, these facts cannot be ignored. It is important for women to plan ahead for a long life and ensure they have enough money for living expenses.
While savings can bring some financial respite for a few years, wise investments can guarantee that a person's golden years are lived happily and comfortably and yield higher rates of return. Unit Linked Insurance Plans (ULIPs), for instance, offer you both financial security and competitive investment returns in hard times.
Bottomline
While investing, every woman investor in India should note that every financial instrument has some degree of risk associated with it, which could have an impact on your final returns. Make sure the level of risk is appropriate for your risk tolerance.
Get more Market Insights through StockEdge