"Sharmaji's son bought a new car this Diwali", my mother said subtly to my father.
"Sharmaji gifted his wife a huge neckpiece on Dhanteras which covered her entire neck, i am sure it must be of atleast Rs. 10 lakhs", my mother grinned at my father.
While I was busy making rangoli, i could hear my mother's taunts clearly from kitchen to the drawing room, where my father continued arranging the lights on the window panes (irrespective of my mother's taunts)
Bringing the ladoos to the table, she asked my father "Aapne kya laya mere liye"
My father came to the table, grabbed a ladoo and gave an envelope to my mother and said, "Ladoo bahaut ache bane hai."
She opened the envelope (I am sure thinking it to be a blank cheque, lol!), but the gift totally amazed me.
He gifted my mother lifelong financial security by investing in multiple investment products.
Download the Kredent Money app to invest based on your investment goals.
Financial Market Products which you can buy this Dhanteras:

1. Mutual Funds:
Mutual funds in one of such financial market products which will help you in diversifying risk in different investment products.
Also, these mutual funds are managed by the professionals, who have knowledge about different investment products giving you lifetime financial security.
Also Read: 7 Things to KNOW before Buying THE RIGHT MUTUAL FUND
2. Equity:
This Diwali you can buy some stocks during the Muhrat trading for long term investment purpose.
Buying stocks for long term investment will help you to take the benefit of compounding and will also help in diversifying your portfolio.
To know the benefits of investing in equity, Read: Why is Equity Investment necessary in our Portfolio?
3. Insurance:
Health insurance is one of the financial market products which gives security against our illness.
Investing in term insurance acts an asset and gives financial security to your family
When you select life or health insurance make sure that it has adequate risk cover.
Also Read: How to Choose a Best Health Insurance Plan?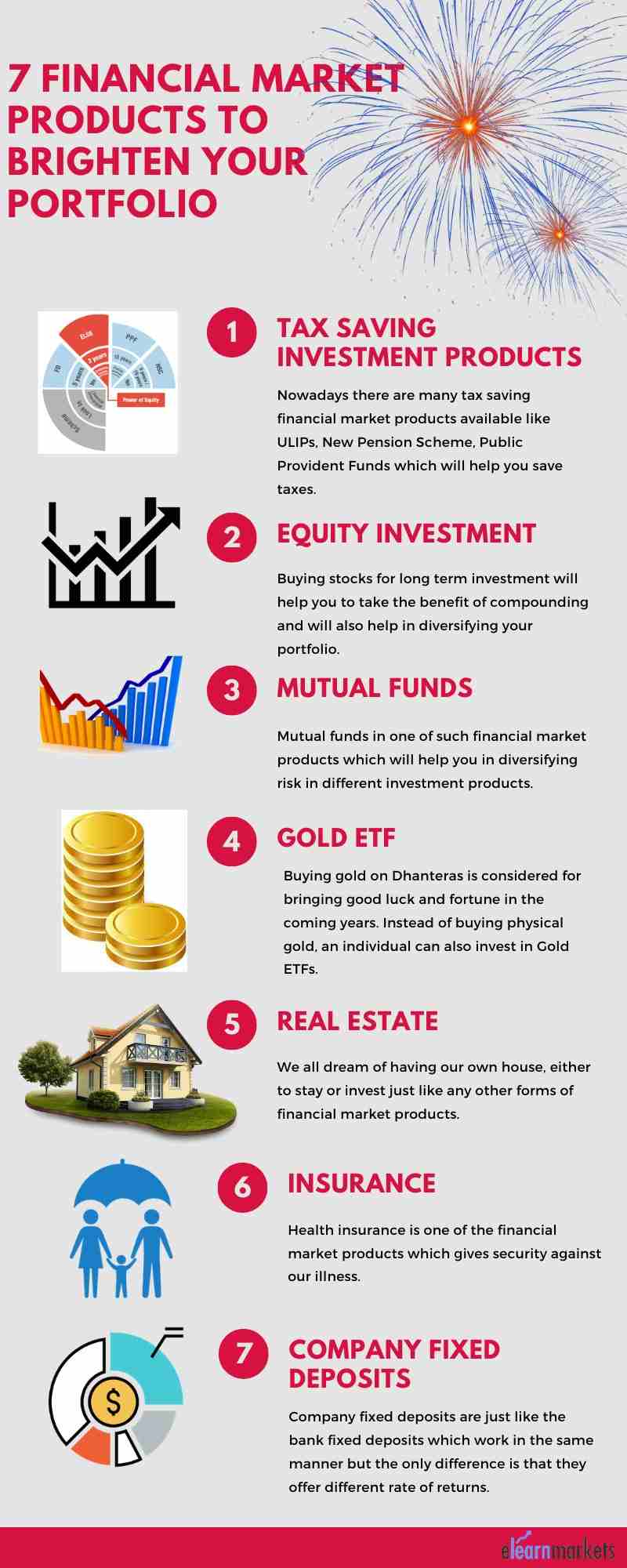 4. Tax saving investment products:
Many people usually invest in financial market products at the end of the financial year when it is the time to pay taxes.
But they should start their tax planning at the beginning of the financial year.
Nowadays there are many tax saving financial market products available like ULIPs, New Pension Scheme, Public Provident Funds which will help you save taxes.
To know more above tax saving investment products, Read: 7 Best Tax Saving Schemes for Filing Income Tax Return
5. Gold ETF instead of Gold jewellery:
Gold has always been of the favourite financial products of Indians specially during Dhanteras.
Buying gold on Dhanteras is considered for bringing good luck and fortune in the coming years.
Instead of buying physical gold, an individual can also invest in Gold ETFs.
Read the blog to understand: Why to invest in Gold ETF in India.
6. Real Estate:
We all dream of having our own house, either to stay or invest just like any other forms of financial market products.
As the festive season is here, there will be many offers on the cards as well as bank loans and on this auspicious day, what can be better than buying a house of your dreams.
Also Read: Create your own Financial Plan for Purchasing the Home you want
7. Company fixed deposits:
Company fixed deposits are just like the bank fixed deposits which work in the same manner but the only difference is that they offer different rate of returns.
One can also invest in this financial market product whose interest rate varies from company to company.
Also Read: Company Fixed Deposits – Are they safe to invest in?
So on this auspicious day, let us plan and invest in long term financial market products which will appreciate over the time and also help us to beat the inflation rate.
To grab exciting Diwali Offers, click here:
• You can avail 35% off on Webinars, Code- LOOT35
• You can avail 35% off on the Recorded courses, Code- LOOT35
• You can avail 15% off on Live courses , Code- LOOT15
• You can also avail 25% off on Annual Membership and StockEdge Club, Code- LOOT25
We wish you all Happy Diwali!
May God bring happiness and wealth to everyone!