The Festival of Lights, Diwali, is almost approaching. The happy festivities, which are also known as Deepavali, last five days, starting with Dhanteras and concluding with Bhai Dooj. For stock market traders and investors, Diwali has particular meaning because of the long-standing Muhurat Trading custom.
This year the Muhurat Trading is on 12th November, 2023 on the same day as Diwali. Every year, the stock exchange sets the timing for Muhurat trading.
In anticipation of a successful trading year, traders enthusiastically engage in Muhurat Trading, a special one-hour trading window that falls on Diwali.
Let's first discuss the term Muhurat -"Muhurat" refers to a fortunate moment. When the planets are in a favourable alignment to guarantee favourable outcomes, it is known as Muhurat in Hindu tradition.
Beliefs hold that traders who engage in business during this hour are more likely to make money and enjoy prosperity all year long. This is usually in the evening of Diwali, and most individuals would rather purchase stocks in honour of Goddess Lakshmi during this time.
In today's blog, let us discuss what is Muhurat Trading and how we can trade during it:
Table of Contents
What is Muhurat Trading?
Muhurat Trading is exclusive to the stock market in India. On Diwali, the Trading window is open in the evenings as opposed to the weekdays, when it closes between 3:30 and 3:45 PM.
Muhurat trading is unique since it takes place on a national holiday, in contrast to ordinary sessions when the stock exchange is closed.
Because of their extreme volatility, markets present a fantastic opportunity to profit in the one hour from 6:15 to 7:15 this year.
This type of Trading is more symbolic than cultural. That Day, Investing in companies is an auspicious act that involves directing your finances, showing confidence and support in them, and hoping for exceptional results.
Muhurat Trading History
The Bombay Stock Exchange (BSE) hosted the inaugural Muhurat Trading session in 1957. In 1992, the National Stock Exchange (NSE) later approved it.
Astrologers identify the best time for trading, which the stock exchanges publicize ahead of time. It usually happens in the evening, following the ritual of Lakshmi Puja.
The results of Muhurat trading have been inconsistent in the past. On trading day, the stock market has concluded in the green in some years and in the red in others. On trading day, the stock market has, nevertheless, typically done well in the long run.
For instance, the BSE Sensex has closed Muhurat trading day in the green seven times in the last ten years and in the red three times. During this time, the BSE Sensex has returned an average of 0.83% on trading days.
It is crucial to remember that this type of trading is a customary and symbolic activity and should not be seen as a certain way to get money.
Benefits
Let us discuss some of the benefits of this type of trading:
1. Huge Trading Volumes
Because of the huge trading volumes during the Muhurat trading session, it is an ideal opportunity to buy or sell equities. Additionally, the market is typically positive because of the festive mood.
That emphasizes wealth and success and makes people hopeful about the stock market and the economy. 
2. Excellent Opportunities for Investors to Start Investing
This is an excellent opportunity for traders and investors, seasoned and novices alike, to profit from this trading session. Seek for reputable businesses and buy stocks that are consistent with your investment strategy and have a long-term horizon.
But, if you intend to start trading stocks, it could be wise to watch the markets during Mahurat Trading and perhaps practice on paper to gain some experience. 
3. High Volatility
Because the trading window is only open for one hour, markets are notorious for being turbulent. Thus, novice traders are advised to exercise caution. Traders can also make a good amount of profits as the market is volatile during this trading window.
Since most investors and traders will buy and/or sell stocks as a gesture to commemorate the auspiciousness of the day, seasoned day traders can profit from this session.
Rules of Trading
The same laws and guidelines that apply to regular trade also apply to Muhurat trade.
This unique one-hour trading session is held on the evening of Diwali. The market opens for trading in derivatives, currency derivatives, and stocks at this period.
Muhurat Trading Time 2023
Below are the trading timings of trading: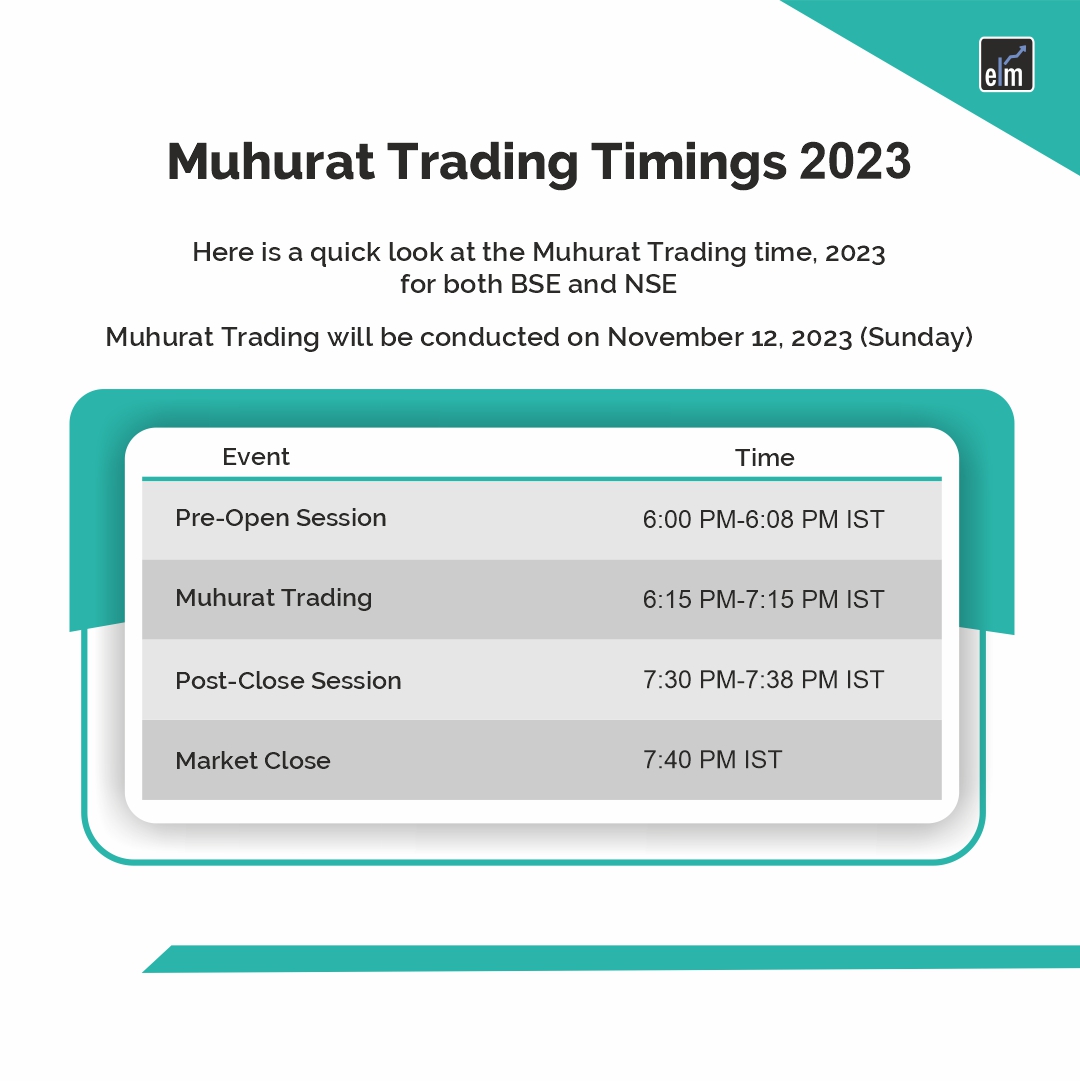 The National Stock Exchange (NSE) and Bombay Stock Exchange (BSE) allow trade on Diwali for a restricted period of time. The following sections usually comprise the session:
Block Deal Sessions: These occur when two parties decide to purchase or sell a security at a set price and notify the stock exchange of their agreement.
The stock exchange establishes the equilibrium price during the pre-open session, which lasts for around eight minutes.
The hour-long regular market session is when the majority of trading occurs.
The trading session for illiquid securities is called a call auction. If security meets the requirements established by the exchange, it is referred to as illiquid.
Traders and investors can place a market order at the closing price during the closing session.
Bottomline
The resistance and support levels need to be closely monitored by traders. It has been noted that the markets can be erratic during sessions, with no clear trend. 
Therefore, as a day trader, you will be able to make better trading judgments if you place the resistance and support levels at the center of your decisions.
Before making a long-term investment in a company's stock, investors must make sure they adhere to its fundamentals. There's always a lot of enthusiasm throughout the session, and rumors get about quickly. Keep it simple and make investments in line with your investing strategy and risk tolerance.
You can also learn how to invest in the stock market through our Stock Investing Made Easy Course
You can also watch our video by Mr. Vivek Bajaj-
Frequently Asked Questions (FAQs)
What is the Muhurat trading time?
The Muhurat Trading session is from 6:15 to 7:15.
What is the use of Muhurat trading?
In the past, Muhurat trading has frequently brought luck and significant profits to investors, setting a bullish tone for the market. A positive trend often continues over the ensuing trading days and months.
Is Muhurat trading good or bad?
Many traders and stockbrokers believe that buying and selling shares during the muhurat trading is fortunate. The Hindu new accounting year, known as Samvat, begins with the symbolic trading session. Samvat 2080 is the Hindu customary year that will begin this Diwali.
Can I buy stock in Muhurat trading?
It is believed that Muhurat Trading is a lucky time to begin something fresh, including stock market investing. On Diwali, some people purchase shares in order to build money for their future generations. Purchasing stocks during Muhurat Trading is thought to bring luck and wealth all year long.
Happy Diwali!