Listen to this :
Mothers are the backbone of a family. The more we try to appreciate them, the more do we fall short of words.
They are the ones who take up the family's money management decisions.
Whether working or non-working, they are so swift with managing almost everything with a smile.
But this pandemic would have surely brought a lot on the plate of a mother.
Be it managing household chores to family responsibilities to attending office calls to financial planning for women, this pandemic could be affecting her directly or indirectly.
So, apart from the household chores, what you can do is, help her with two vital things here –
Learning about financial planning for women in the most efficient & quick ways; and
Take active steps to ensure that your family is financially ready for any emergencies and hardships.
In this article, we will discuss some steps that you can take to help your mother to ensure that the family's financial situation is strong during this economic downturn.
Financial Planning for Women – 5 Ways to do it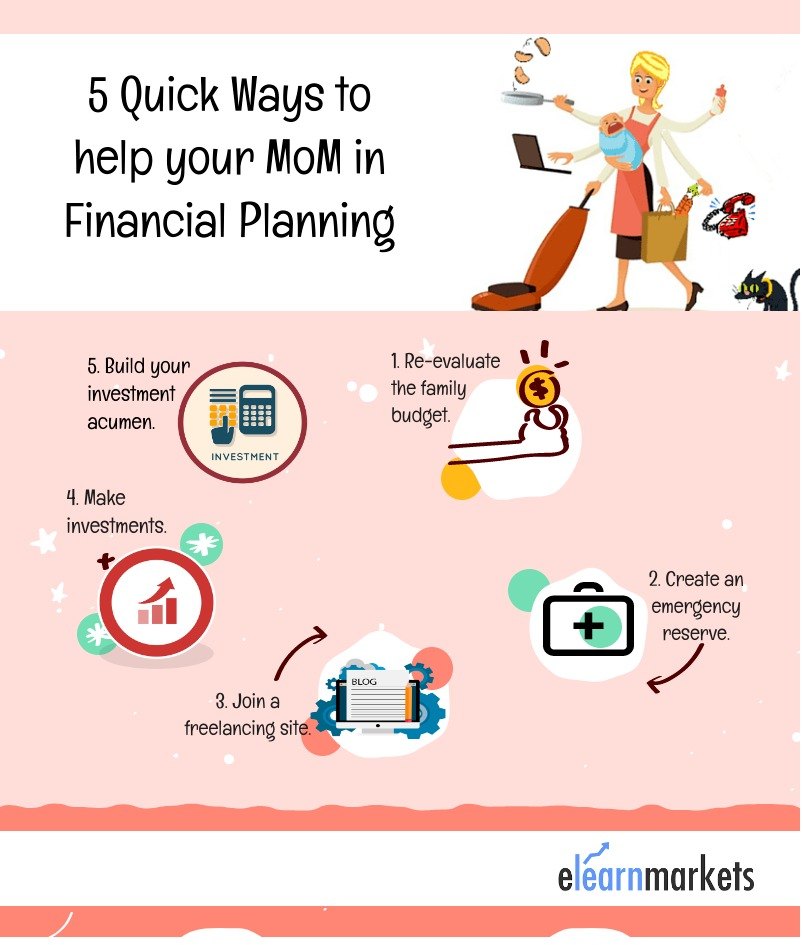 1. Re-evaluate the family budget:
With the economic downturn, we are seeing salary cuts and even job losses. Therefore, cutting down unnecessary expenses and financial planning is the need of the hour.
The best way to do so is to make a family budget. If you already have one, you should re-evaluate it to cut down expenses. This is to ensure that every rupee you are saving, is helping your family stay afloat in these times.
For example, if you are working from home, there will be many expenses you won't be incurring – travelling, socializing, etc
Therefore, this money should be going towards the expenses you are incurring at home right now. The same goes for each working member of the family.
Try to involve everyone, whether working or non-working, to ensure that you can cut down all unnecessary expenses the family incurs.
You can also use thumb rules to allocate your cash flow in a systematic manner. This is one of the best ways for financial planning for women.
2. Create an emergency reserve:
All cuts in expenses should now contribute to building an emergency fund. This fund helps us deal with emergencies like job losses, which entail huge expenses.
If you are working, you can use the money saved from staying at home to create a fund. If you already have an existing fund, you can invest some of its money in short term mutual funds to grow it.
Also, you can have each working family member contribute to a family fund of sorts. This fund can be used if there is a sudden fall in the cash inflow of the household ans also an idle way for financial planning for women.
3. Join a freelancing site:
With work-from-home becoming the norm these days, more and more companies might turn to freelance sites to get their work done.
This avenue can be a great way to earn some extra money and will help you in better financial planning.
This is especially important given the current scenario, with many people losing their regular jobs.
Be it art and craft, writing, designing – almost every hobby has a freelancing market.
The best part about freelancing is that it is a fairly simple process – join a site, upload some samples of your work, and you're good to go.
4. Make investments:
Considering the economy's state, it might feel like a bad time to invest, but that is wrong.
We should remember that investing is done on a long-term basis.
Therefore, no matter what, we should contribute to our long-term investments as much as we can, given our financial state.
If you are already investing, you should sell them only if there is an emergency and you've exhausted all your reserves.
If not, you can start small with SIP investments.
As the market rises and stabilizes in the future, your investments will increase in value as well.
This can be beneficial for fulfilling your long-term goals despite the current scenario.
5. Build your investment acumen:
Sitting at home, now is the time for us to pick up and explore our interests as well.
If one of these interests is the stock market, now is a good time to explore it and learn about it.
By learning now, you can make concrete long-term investments when the market finally stabilizes.
What's more, you can also learn on-the-go with the help of our Elearnmarkets App.
The steps mentioned can help you and your family to counter any emergency that you might face in such turbulent times.
Key Takeaways
This blog will pick out some easy ways to financial planning for women
Re-evaluating your family budget should be a priority in this economic scenario.
Freelancing and emergency reserves can help your family with alternative cash inflows.
You should make investments and learn about them as well.
In this economic scenario, what unique steps have you taken to help manage your household expenses? Let us know in the comments below!
Happy Learning!