Options Trading- Options are a form of derivative contract that give buyers of the contracts (the option holders) the right, but not the obligation, to buy or sell a security at a chosen price at some point in the future. Option buyers are charged an amount called a premium by the sellers for such a right.
Call options give the buyer the right to buy an underlying asset at a predetermined price. In contrast, put options allow the seller, often investors and speculators, to sell at a preset price. Both types of contracts work by allowing the parties involved to exchange financial instruments without actually having to transfer ownership and can be used for various purposes: hedging risk or reducing overall investment costs.
Let us discuss in detail more about options trading in this blog-
What is Options Trading?
The options market is a market that allows an investor to buy or sell the underlying stock at a certain price within a certain period of time. It is one of the simplest and most flexible financial instruments available to retail investors in India.
An option contract is to buy or sell a particular asset at a fixed price before the expiry date. American options are exercisable at any time before the option expires, while European options can only be exercised on the expiry date and not before.
Let us discuss some options strategies based on Buying Calls and Buying Puts:
1. Buying Calls
Options are essentially leveraged instruments in that they allow traders to amplify the potential upside benefit by using smaller amounts than would be required if trading the underlying asset itself.
One advantage is that when a stock price stays strong, you can make money simply by acquiring put options at low prices and selling them at higher prices. You can even attract attention to your stock by selling at or near an all-time high!
Another advantage is less risk from an adverse market reaction because if you're wrong about a stock's price moving against you, you are not left with much at stake.
2. Buying Puts
Put options exist for investors who want to capitalize on a decline in the value or price of an asset. Unlike calls, put options lower the risk of shorting an asset, which can be attractive for traders who are bullish enough on a particular stock, ETF, or market index but want to take on less risk than with a short-selling strategy.
Put options work effectively in the opposite direction from how an option's strike price increases as the value of the underlying increases. If the underlying ends up higher than this option's strike price, this option will end up worthless regardless of how healthy the company or index may be as demand for it rises again.
Importance of Options Trading
Below are the benefits of trading options: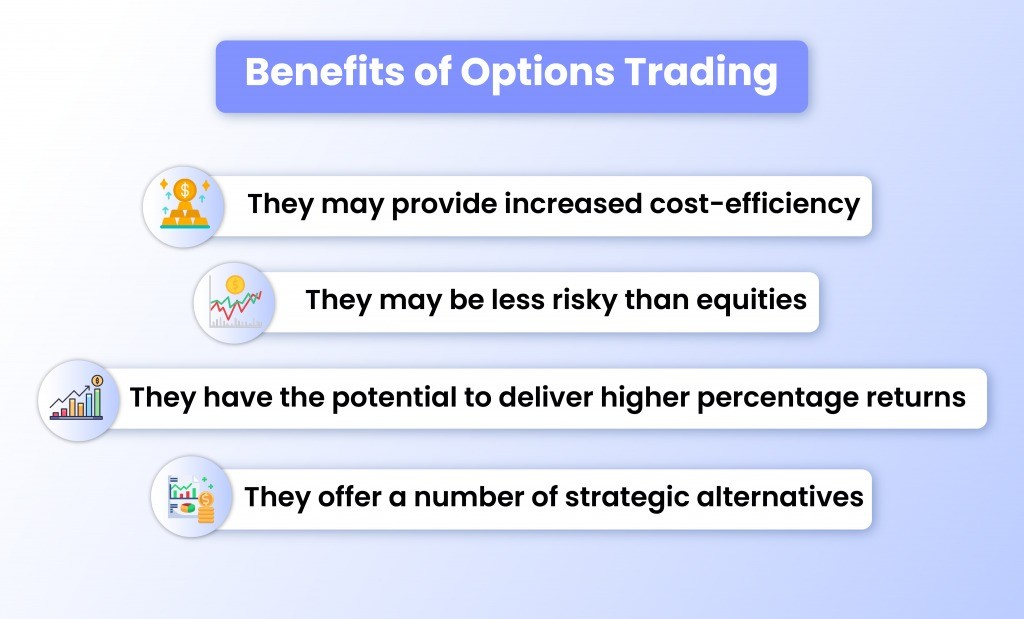 The power of options trading is to limit your loss. For example, if you are long a stock at Rs.810 and you buy an Rs.800 put option at a premium of Rs.5, then your maximum loss is Rs.15. That is the power of options because that remains your loss irrespective of how low the price goes.
Options reduce costs by allowing hedging of risk. For example, if you are long a stock and the price is just not moving, then you can sell higher call options and earn the premium and reduce your cost of holding that asset.
In terms of costs, the options are a lot more efficient and that is one of the major benefits of options trading. Due to options, the trader can get an option position at a small margin. For example, to purchase 200 shares of a stock at a price of Rs.80, an investor requires to pay Rs.16,000. However, if he were to purchase call options of equal weightage, the premium required would be around Rs 4,000.
The key advantage of options trading is that it allows you to transfer risk from a position that is not dependent upon the market, like your home or your business. Options lets you hedge your risks and make sure that the price you receive for any type of asset is fair and appropriate for taking on that risk.
Options are one of the most versatile tools in the financial market. They allow an investor to gain and lose a certain amount of money by buying or selling options at a set price within a given time frame. Options have shown the power to multiply the investor's investment return multiple times, especially if they are on a very volatile stock.
Let us discuss the topics that will be covered in this event:
1. Intraday Trading in Bank Nifty based on VWAP, AVWAP, and OI Analysis by Bijay Kr. Sharma
The most important parameters to understand in order to trade successfully in markets are Price and Volume. Technical indicators: VWAP and AVWAP help us understand price, and advanced open interest analysis helps us understand volume.
2. Advanced Bread & Butter strategies in Nifty and Bank Nifty using short straddles and strangles by Chetan Panchamia
This webinar tutorial is aimed at helping you generate a consistent income through investing in Nifty and Bank Nifty. We will discuss the importance of diversification of strategies with respect to the trades' timing.
We will focus on different strategies for 3 timeframes: Morning, Afternoon, and Closing Trades. The trade setups will be thoroughly back-tested with different inputs to find the winning edge to participate in the markets.
3. How to Trade Options Using Trending OI Crossover by Sivakumar Jayachandran
In this webinar, we will discuss how you can identify trends using open interest. We will cover how to identify the right signal and avoid over trading. If you're an options trader, you need to know how trends affect your trades. This webinar will give you the tools to be profitable in the market during trending periods using our proprietary chart analysis and indicator indicators.
Bottomline
We hope you found this blog informative and use it to its maximum potential in the practical world. Also, show some love by sharing this blog with your family and friends and helping us in our mission of spreading financial literacy. Learn more about these topics from the finest options trading course in India at Elearnmarkets.
Happy Investing!