Top 6 stock market certification courses-The road to becoming a stock market expert is never easy. There are many exams which you can pass to prove your skill. A good certification helps you get placed in an organization with a better pay package, which will add an extra edge to your resume.
The stock market is a very lucrative career option for many fresh college pass-outs and veterans who wish to change their job profile. There are many opportunities in banks, hedge funds, mutual fund houses, etc., for people skilled in this field. Many popular certifications related to the Stock market would help you to assess and prove your skill. Passing these certification exams would definitely add an extra edge to your profile in order to get placed in a good organization.
In today's blog, we will be discussing the top 6 stock market certification courses for finance students and Non Finance students that you can pursue if you want to build a career in the stock market or courses:
Top 6 stock market certification courses
1. Chartered Financial Analyst (CFA)
Financial markets are a very popular and recognized topic in today's professional world. So there are different certification testing programs related to financial markets. CFA Charter is one of the most popular among all the most recognized programs by experts and professionals who want to earn more money in the open market.
The CFA Institute provides the CFA Charter, widely recognized as the gold standard in financial analysis and investment management. A rigorous certification program adds to the CFA charter's value.
It also helps finance professionals gain expertise in a variety of key areas of finance, including financial analysis, equity research, and financial modeling. CFA also validates expert financial capabilities and enhances professional career prospects.
A candidate must have a bachelor's degree (or be in the final year of pursuing a bachelor's degree), four years of professional work experience, or four years of higher education and professional work experience combined with being eligible for CFA.
2. Certified Market Technician (CMT)
If you want to work in technical analysis and chart reading, this certification will be extremely valuable to you. Market Technicians Association (MTA), based in the United States, provides this service. It is divided into three levels and assesses basic and advanced concepts of technical analysis, Dow theory, chart patterns, and so on.
Because of the recent boom in the field of technical analysis, this is one of the hottest certifications available today. Almost every hedge fund is looking for technical analysts to join their team. To obtain the CMT charter, you must be a member of the Market Technicians Association (MTA), pass three levels of examinations, and be approved by the MTA Admissions Committee and Board of Directors.
After registering for the program, candidates can schedule their first exam. Exams for the three levels of the CMT program are given online or at testing centers using computers. Members' exam fees are, however, different from those of nonmembers.
Among professionals in the field, CMT accreditation is widely regarded as the global gold standard in technical analysis.
In addition to meeting the above requirements (passing three examination levels, completing the membership application process, and accepting the CMT Association's code of ethics), candidates must obtain at least three CMT Member references who can attest to their technical analysis knowledge, skill, and ability.
3. Financial Risk Management (FRM)
Global Association of Risk Professionals offers yet another internationally recognized certification exam (GARP). This is especially useful for people who want to work in risk management, whether credit risk, market risk, or liquidity risk.
FRM holders perform a wide range of risk management functions in investment banks, asset management firms, corporations, and government agencies. Passing both the Part I and Part II exams, as well as two years of full-time work experience in financial risk management-related positions such as portfolio management, risk consulting, and others, are the basic requirements for becoming certified as a Financial Risk Manager.
4.NISM
NISM and NCFM are exam-based certification programs offered by the National Stock Exchange of India. NISM provides fundamental knowledge about capital markets and the role of a corporate venture capitalist for both aspiring & experienced professional investors.
Tying in with the vision of NISM, the NISM & Research roadmap set forth to create a professionally managed network for sector professionals associated with research, analysis, and objective thinking in the capital markets.
You can also prepare yourself for NISM Certification with the help of NISM Preperatory Courses
NISM is an educational arm of SEBI, founded in 2006 to provide high-quality training to financial professionals. It has helped develop the level of financial education in India since then. With NISM's help, investors can make informed investment decisions about how to invest their money.
Below is a list of NISM Examinations:
NISM has clarified that there are no prior eligibility criteria to follow before taking these exams, as they cater to a specific segment of the stock market. A professional or learner can take any module they feel they are ready for and become an expert in their chosen segment.
5. Certified Financial Technical (CFTe)
It is a technical analysis certification that is similar to CMT. If you are from Europe or the United Kingdom, CFTe is probably more well-known than CMT. This certification is intended for self-study, with exams at the end of levels I and II. After passing both levels, the candidate is awarded the "CFTe" designation, indicating that he or she has a thorough knowledge of the field and is capable of understanding and applying advanced technical analysis concepts and tools.
6. Trading Mentorship Program (TMP)
The Trading Mentorship Program (TMP) aims to provide the ideal recipe for becoming a successful full-time trader. Trading equities, equity options, index options, commodities, and currencies necessitate the development of key skills such as stock selection, low-risk entry points in that stock, risk and money management, position size management, partial profit booking, and re-entry on moderate pullbacks. This mentorship program focuses on each of the aspects.
We have trading mentors with extensive experience in both Indian and international markets. During this mentorship trading, we actively focus on intraday and swing trading in equities and derivatives on each day of the week. This Trading Mentorship Program assists participants in developing the proper mindset and approach to trading.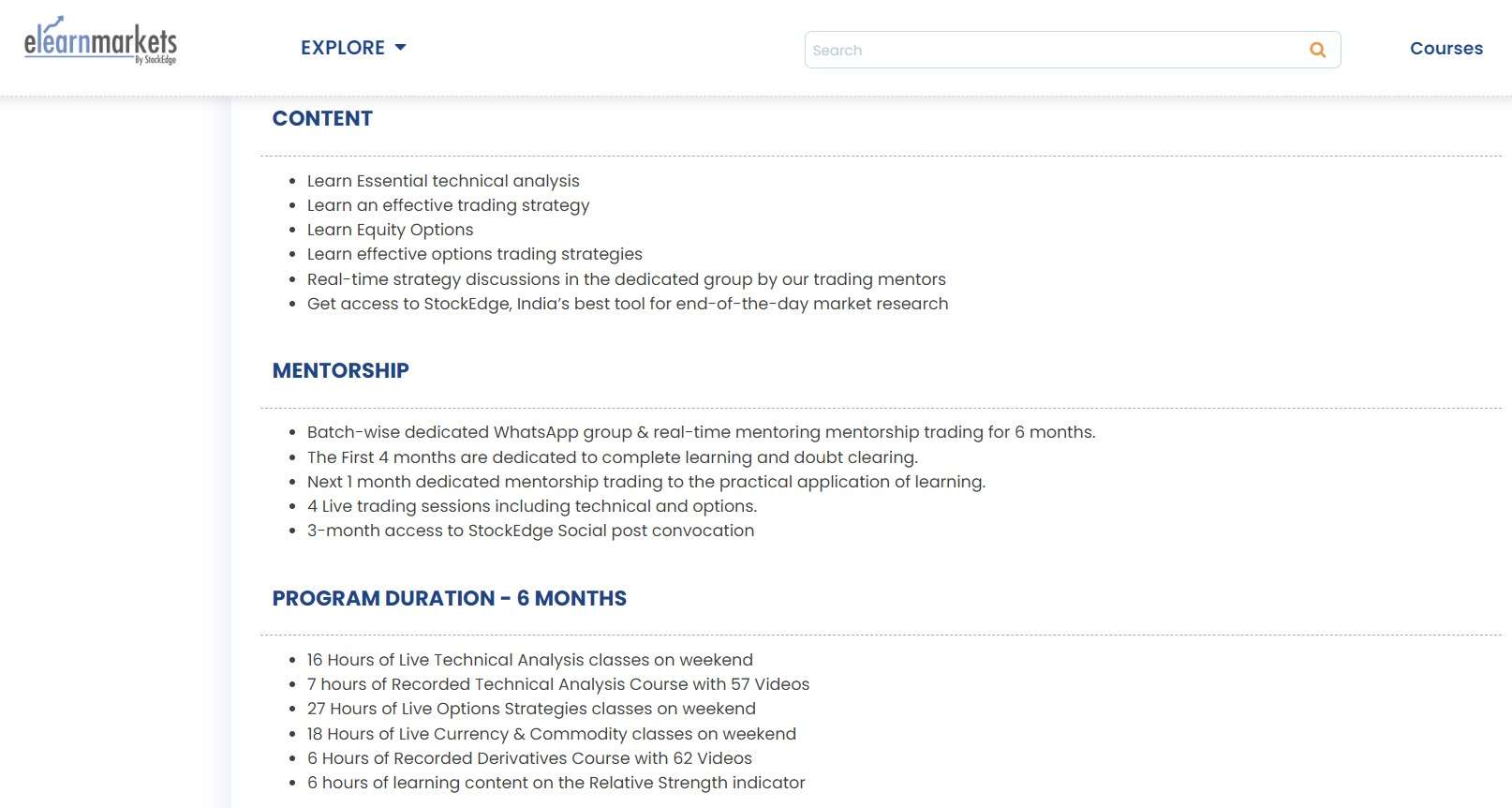 Bottomline
We hope you found this blog informative and use it to its maximum potential in the practical world. Also, show some love by sharing this blog with your family and friends and helping us in our mission of spreading financial literacy.
Want to learn more about capital markets? Hop in to our capital market certification course.
Happy Investing!