Is gold part of your investment portfolio?
Not yet? Let me tell you that according to most financial advisors, gold should constitute about 5-10% of your investment portfolio depending upon your risk appetite. There is a strong reason behind this since it acts as a safe haven during financial crisis and also provides diversification benefits. Want to learn about the basics of investing in Gold? Join the NSE Academy Certified Currency & Commodity Markets course on Elearnmarkets.
The gold prices have already moved up by 15% since the beginning of the year, so the big question is that should gold be part of your portfolio and what are the various mode of investment in gold?
The reason for inclusion of gold in your investment portfolio are stated below –
1. Safe haven
It acts as a safe haven both during the time of financial as well as geopolitical uncertainty since people has a tendency to shift to safer asset class during crisis. It is also known as crisis commodity.
2. Hedge against inflation
Gold has a tendency to go up with the increase in cost of living of individual and it has acted as an excellent hedge against inflation in the past.
3. Diversification benefits
Gold as an asset class provides diversification benefits since it has a negative to low correlation with stocks and other financial asset.
4. Boost by the government
The proposal made by the government to provide tax benefits on Gold bond and monetisation scheme has made an attractive option for the investors to invest in gold.
Let's understand various options for investment in gold which includes Physical gold, Gold ETF, Gold funds, Gold bonds and Gold monetisation scheme.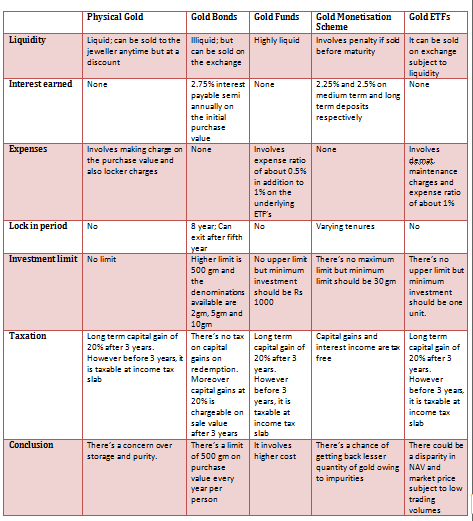 ]
The decision of the government to provide tax benefits on Gold bonds and Gold monetisation scheme in the budget has made gold an attractive investment option for the investors and it is sure to increase the demand in the days to come.
In India people loves gold and you can find it probably in every Indian household. Moreover, it's a customary in Indian wedding.
Investing certain portion of your stake in gold is always a better option and it is up to you that which option are you comfortable with. However, do your own research before investing in gold.
Happy learning!!
BOTTOMLINE
If you are interested in knowing about gold investment and anyone who wants to Start Trading in the Biggest Financial Market in the world. Visit Elearnmarkets to get access to the course on Investing in Gold and Gold Mining Stocks.
Also visit Stockedge to get latest stock market updates and avail various technical and fundamental scans.