Bengali: এই ব্লগটি এখানে বাংলায় পড়ুন।
The stock market and the e-learning sector have developed simultaneously over the last few years.
This has enabled multiple people to learn about the stock market and invest in it by getting the right kind of knowledge.
This knowledge comes from multiple short-term and long-term courses.
These certification courses have been set up by stock market experts, as well the regulating bodies of the Indian stock market, like NSE (National Stock Exchange), which is a leading regulatory authority on the markets.
In this article, we will discuss some stock market certificate courses offered by NSE, which can help you create a learning path in the stock market.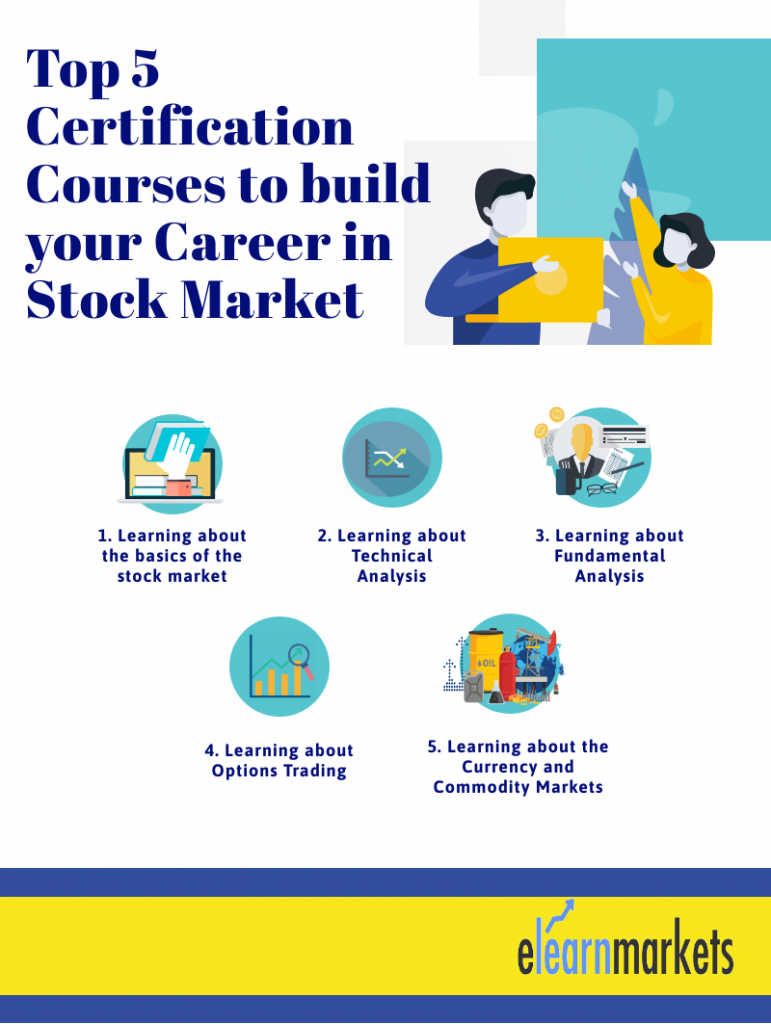 1. Learning about the basics of the Stock Market:
A learning journey should begin with the basics, and this goes for the stock market as well. As a beginner, you should aim to build a strong foundation of every aspect of the stock market.
Taking a certification courses on the basics can help you cover essential points like:
The capital market structure;
Fundamental Analysis;
Technical Analysis;
Mutual Funds; and
Equity Investing, etc.
If you are new to the stock market, and you would like to invest for your financial goals on your own, this step is necessary.
Many people might already be aware of certain aspects of the market but are now looking to build a full-time career in the market.
For them, a course of the fundamentals is a great start to their journey.
This course is an all-rounder when it comes to the basics of the financial markets. It also provides beneficial practical training and guidance through the mentors of the course.
Now, after picking up the basics, it is time to study and research the stock market. There are two methods to do this – technical and fundamental analysis.
We can learn about each of these with certificate courses.
2. Technical Analysis Certification Courses:
Technical analysis is the study of historical data to forecast future price movements and make profitable trades. If you are looking to trade to achieve your financial goals, learning about the basics of technical analysis is a prerequisite.
However, its advanced practices are essential for anyone who wants to build their career as a full-time trader.
Some of the things you will learn include:
Theories of technical analysis;
Candlestick patterns;
Indicators and oscillators; and
Using popular trading strategies, etc.
A certificate course can help students learn about these advanced tools and indicators with exposure to strategies as well. It should also provide theoretical and practical knowledge to ace technical analysis.
Learn from Experts – Certification in Online Technical Analysis
With hands-on practical training and guidance, students can learn to trade with their own strategies.
3. Certification Courses in Fundamental Analysis:
For those who want to take up the path of investing, fundamental analysis is a useful skill.
Studying fundamental analysis can help students grasp the factors that can affect the long-term growth of investments.
In turn, they can make the most sensible and informed decisions to grow their portfolio.
For this, a course can help students learn about the practical applications of the results derived from fundamental analysis tools.
It can help you learn useful skills like:
Basics of equity analysis;
Industry analysis;
Evaluation of business models;
Corporate governance; and
Evaluation of management, etc.
4. Learning about Options Trading:
The equity segment of the stock market is where most beginners might participate.
However, with growth in knowledge and experience, investors and traders can shift to newer segments of the stock market.
One of these segments is the derivatives market.
Derivatives are instruments that derive their value from an underlying security. Options are the most popular derivatives, but they're also very risky.
Due to their risks, it's best if an aspirant builds a strong theoretical knowledge base to help them achieve success practically.
Some of the things you will need to learn here include:
Options terminologies;
Open interest;
Popular options trading strategies; and
Options Greeks, etc.
This knowledge base can be built with a certificate course, and one of these is NSE's Certification in Options Strategies.
With the theory taught in this course, beginners can get the right kind of knowledge to create their own options strategies as well.
5. Learning about the Currency and Commodity Markets:
Other newer segments of the market with high risks are the currency and commodity markets.
To trade in these markets successfully, students have to pick up newer knowledge about these segments which include:
Analyses related to trading in these segments;
Types of derivatives involved;
Building trading models; and
Macroeconomic factors involved, etc.
Therefore, picking up a course for them is a great way to capitalize on the opportunities of these markets with minimal losses.
One such course is NSE's Certification in Currencies and Commodities.
It will help students build a framework to interpret market movements which can benefit their trades in these segments.
Thus, we can conclude that the valuable and recognized certifications, and knowledge about the useful applications of skills, make these courses are very beneficial to all aspiring traders and investors.
With the plethora of information they provide, one can use stock market certification courses to satisfy any objective – whether it is learning about goal-based investment, or building a career in the stock market.
If you are looking to get started to enhance your knowledge with such courses, we also have monsoon offers on our courses to assist people in learning about every aspect of the stock market in detail.
In order to get the latest updates on Financial Markets visit StockEdge.
Frequently Asked Questions
What is Stock market?
Stock market is a platform where the traders come together to buy or sell the stocks of the companies. The prices of the shares are set by supply and demand in the market as buyers and sellers place orders to buy or sell.
What is technical analysis?
Technical analysis refers to predicting future prices based on the past price movements with the help of technical tools like technical charts, indicators and patterns.
What is Fundamental analysis?
Fundamental analysis helps in finding the fair value of the stock of the company by which investors get to know whether to stock price is cheap or expensive.
What is options trading?
Options is a type of derivative which give the buyer the right, but not the obligation, to buy (in the case of a call) or sell (in the case of a put) the underlying asset at a specific price on or before a certain date.
What jobs in finance pay the most?
Jobs like investment banker, financial advisers, compliance analyst pay the most.
How much I can earn in stock market?
The maximum amount that you can earn per day from stock market depends on how much capital you have deployed in trade and also your risk appetite.
Key Takeaways:
Learning about the stock market is important to be able to successfully trade and invest in it.
Certification courses are a beneficial way to build our base of knowledge about the markets.
These courses can also help us learn about the newer and riskier segments of the market as well.
Happy Learning!