Hindi: आप इस लेख को हिंदी में भी पढ़ सकते है|
Bengali: এই ব্লগটি এখানে বাংলায় পড়ুন।
As avid learners, most of us have a long list of things we want to learn about.
One of the things on this list might also include the stock market.
However, when it comes to taking productive steps to learn, we fail to make time in our daily lives for them.
In the current scenario, with all of us under lockdowns, don't you think we have all the time that we need to learn more?
Now that we're at home with so much time on our hands, let us aim to learn more about the financial markets.
In this article, We have "one stop solutions" for all your stock market learning queries and tools that can make your learning easy and productive.
Here are some steps you can take to learn about investing and trading, with us –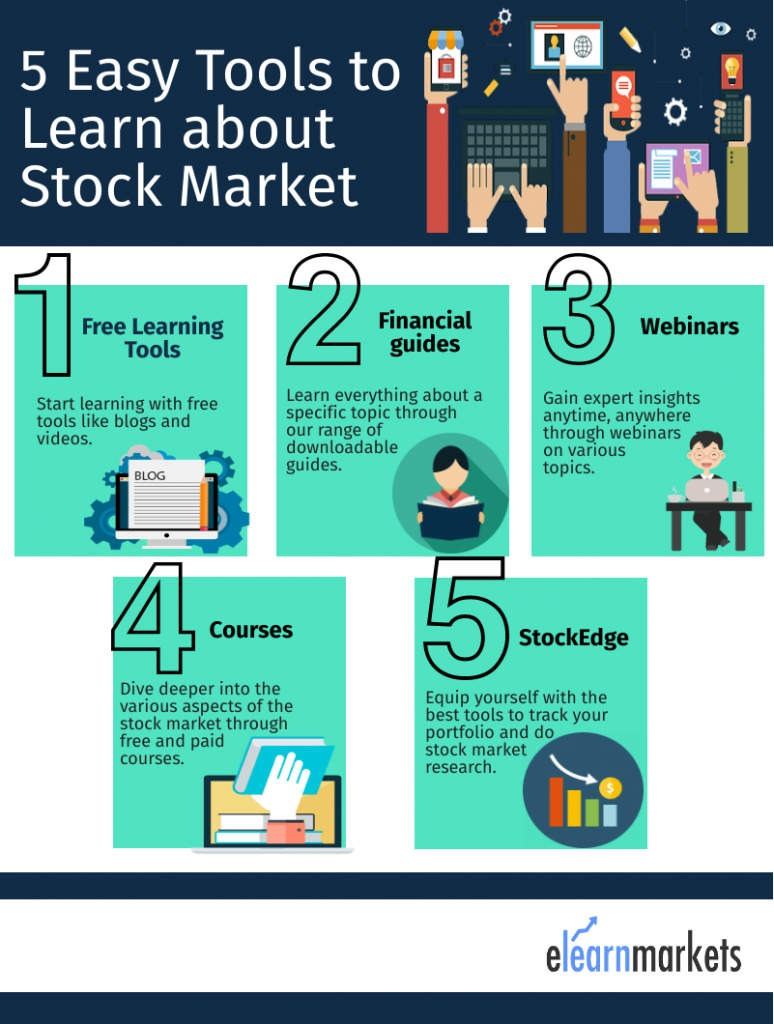 1. Free learning tools:
To accommodate yourselves to the learning process, you can use the plethora of free tools we offer. These include
Blogs: There are a variety of blogs that provide varying levels of knowledge about the different aspects of trading and investing.
Videos: Through our videos, you can learn about the intricacies of the stock market from its experts.
You can also learn about the practical aspects of the stock market through videos.
You can also access these free learning tools on the Elearnmarkets app, available for Android.
2. Financial Guides:
After using free tools, you should use financial guides to take a deeper dive into a finance-related topic.
Available in the form of downloadable e-books, these guides are a one-stop solution to all your basic queries about a topic.
Our range of Financial Guides offers insights into various topics like mutual funds, saving and investments, etc.
3. Webinars:
With the advancement of technology, we can now gain expert insights from anytime and anywhere through webinars.
A webinar is an online seminar or a talk hosted by an expert on a certain topic.
At Elearnmarkets, our range of free and paid webinars gives learners the opportunity to learn about the practicalities of a topic from various experts.
What's more, this lockdown gives us a perfect opportunity to learn from home as well.
4. Courses:
Are you looking to dive deeper and learn as much as you can about the stock market before you invest?
If yes, you can do this with Elearnmarkets' diverse range of free and paid courses.
We offer courses of varying difficulty levels and durations from various experts on our platform.
What's more, we offer courses that are certified by organizations like the NSE and the MCDEX, thus giving you an edge over other learners in the market.
Our courses are of two types – recorded programs, which you can pick up at your own pace, and live interactive programs, which give you the facility of attending live classes with our teachers.
5. StockEdge:
Of course, after the learning, it's time to test the waters and finally begin investing.
However, to make the best investments, you will need the best set of tools that are tailored to address all your needs.
You can find these tools with StockEdge, a platform that offers a range of tools for stock market research and portfolio tracking.
You can download StockEdge on your mobile phones –
What's more, you can also enjoy the features of StockEdge on your computer, through the newly-launched StockEdge web!
We hope that the tools we have presented to you can inspire you to begin your journey into learning about the stock market and enjoying its benefits in the near future as well.
Happy Learning!