What is a Symmetrical Triangle?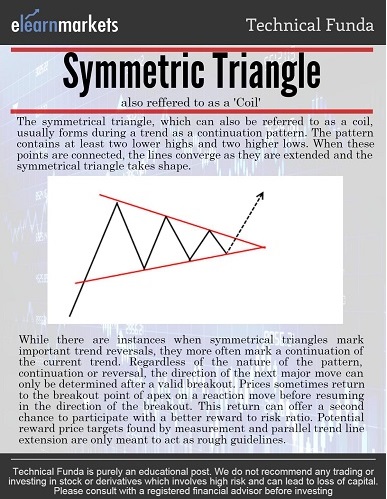 A symmetrical triangle is a technical chart pattern,  formed by the fluctuations in price movements.
The upper and the lower bounding lines converge to finally cross each other at the 'Apex'.
A symmetrical triangle is also known as the 'Coil' or 'Isosceles Triangle' because of its appearance.
This pattern can have some 5-7 touch points on the bounds before breaking out in either direction.
Predicting the direction of breakout is not an easy task as there may be false breakouts and other parameters need to be focused upon when studying this pattern.
Also Read: Master Pitchfork channel to improve your trading experience
For example, Volumes – Falling volumes during the formation of a symmetrical triangle is a favorable sign and high volumes on breakout agree that the price will continue in the direction of the breakout.
This pattern is often a victim of 'Pullback' and 'Throwbacks'.
Know More:  How to trade Megaphone Pattern?
The reason I call it victim is to engrave in your mind that pullbacks and throwbacks tend to reduce the performance of the symmetrical pattern.
There need to be proper breakout rules out of this pattern.
Like, consider only the breakouts which occur on a closing basis, not intraday spikes out of the bounds.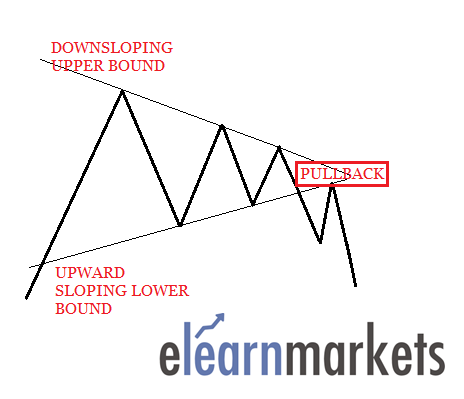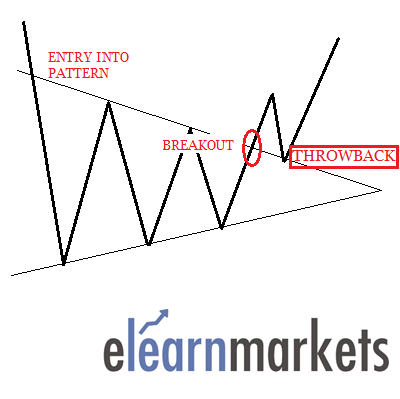 The target for the symmetrical triangle is decided by add the width of the broadest part of the triangle, that is the base, to the lower bound at the point of breakout.
However, as we mentioned above, on a  throwback (prices falling back to the upper bound post breakout) or a pullback (prices treading up to touch the lower bound of the pattern) the target gets diminished by the amount of price movement constituted in the action.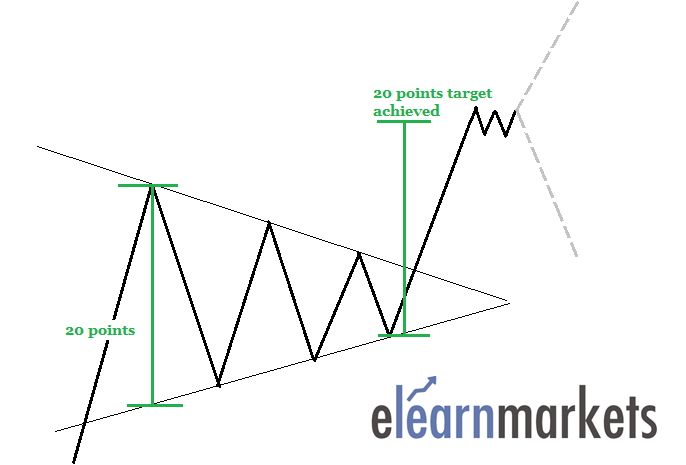 For traders, having a technical chart pattern is a key part of technical analysis. Enroll for NSE Academy Certified Technical Analysis course on Elearnmarkets.
Bottomline:
A symmetrical triangle is one of several technical chart patterns.
We hope that this write up helped you to understand Symmetrical Triangle Patterns in a better manner.
Feel free to give your feedback to us by writing in the comment box below.
In order to get the latest updates on Financial Markets visit stockedge