CFA or CMT?- In recent years, the financial industry has expanded at an unprecedented rate, spawning a slew of new finance specializations. This is one of the reasons why finance professionals are seeking expertise in one of these specialized areas in order to survive and grow in this highly competitive industry.
Of course, there is no better way to enter a specialized area of finance than by earning a relevant credential. Nonetheless, there are numerous such certifications available, and it would be prudent to review them for credibility and the type of learning opportunities provided before making a decision.
CFA is an abbreviation for Chartered Financial Analyst. After completing this course, candidates can apply for positions such as risk manager, research analyst, portfolio manager, consultant, relationship manager, chief executive, and so on. CMT, on the other hand, is an abbreviation for Chartered Market Technician, and graduates with this degree can apply for jobs in risk management, behavioral finance, inter-market analysis, and other fields.
In, this blog, we will discuss CFA, one of the most widely recognized certifications in financial analysis and investment management, and CMT, a lesser-known but important certification in technical analysis that few people pursue.
What is Chartered Financial Analyst (CFA)?
The CFA Institute offers the CFA Charter, widely regarded as the gold standard of financial analysis and investment management. It is a rigorous certification program that adds value to the CFA charter.
It also assists finance professionals in developing expertise in several key areas of finance, such as financial analysis, equity research, and financial modeling. Furthermore, CFA validates expert financial capabilities and improves professional career prospects.
Entry Requirements
To be eligible for CFA, a candidate must have a bachelor's degree (or be in the final year of a bachelor's degree), four years of professional work experience, or four years of higher education and professional work experience combined.
Why CFA?
The CFA is a highly competitive certification program designed to assist professionals in developing expertise in specialised areas of finance such as investment management, financial analysis, equity research, and portfolio management.
A CFA charter can boost a finance professional's profile and open up a world of opportunities. When hiring new talent, even investment banks value CFAs alongside top MBAs. In a nutshell, it is one of the world's best credentials in business and finance.
What is Chartered Market Technician (CMT)?
The CMT Association provides Chartered Market Technician (CMT) certification to assist finance professionals in developing technical analysis skills while gaining a thorough understanding of the theoretical component and its practical application in various contexts. Several other certifications provide technical analysis experience.
This certification provides a broad understanding of technical analysis principles and professional and ethical frameworks for market technicians. Furthermore, it is a globally recognized certification that can assist finance professionals in finding the best job opportunities in various parts of the world.
Entry Requirements
Although there are no formal requirements to take the CMT Exams, they generally recommend that candidates have a university degree and experience working in the financial markets using technical analysis before taking the exams.
The certification is valid for five years, but if you aren't well prepared for the field, it won't help you much. So, be patient, learn as much as you can about the industry, and go through the course study material and other online resources.
Once you have thoroughly prepared for the exam pattern and the certification subjects, you can apply for the certification online and pass the exam with the highest possible ranking.
Why CMT?
CMT provides international recognition, and finance professionals create this certification for aspirants, distinguishing it from other technical analysis credentials. Technical analysis is widely regarded as nothing more than a method of representing and interpreting financial data in charts and figures.
CMT, on the other hand, deals with technical analysis on a completely different level. Professionals learn about the relationship between prices and price patterns, as well as the mathematical fundamentals of technical analysis. This qualifies them not only for the professional role of a technical analyst but also for becoming good traders.
Comparison between CFA and CMT
Let us discuss the comparison between CFA and CMT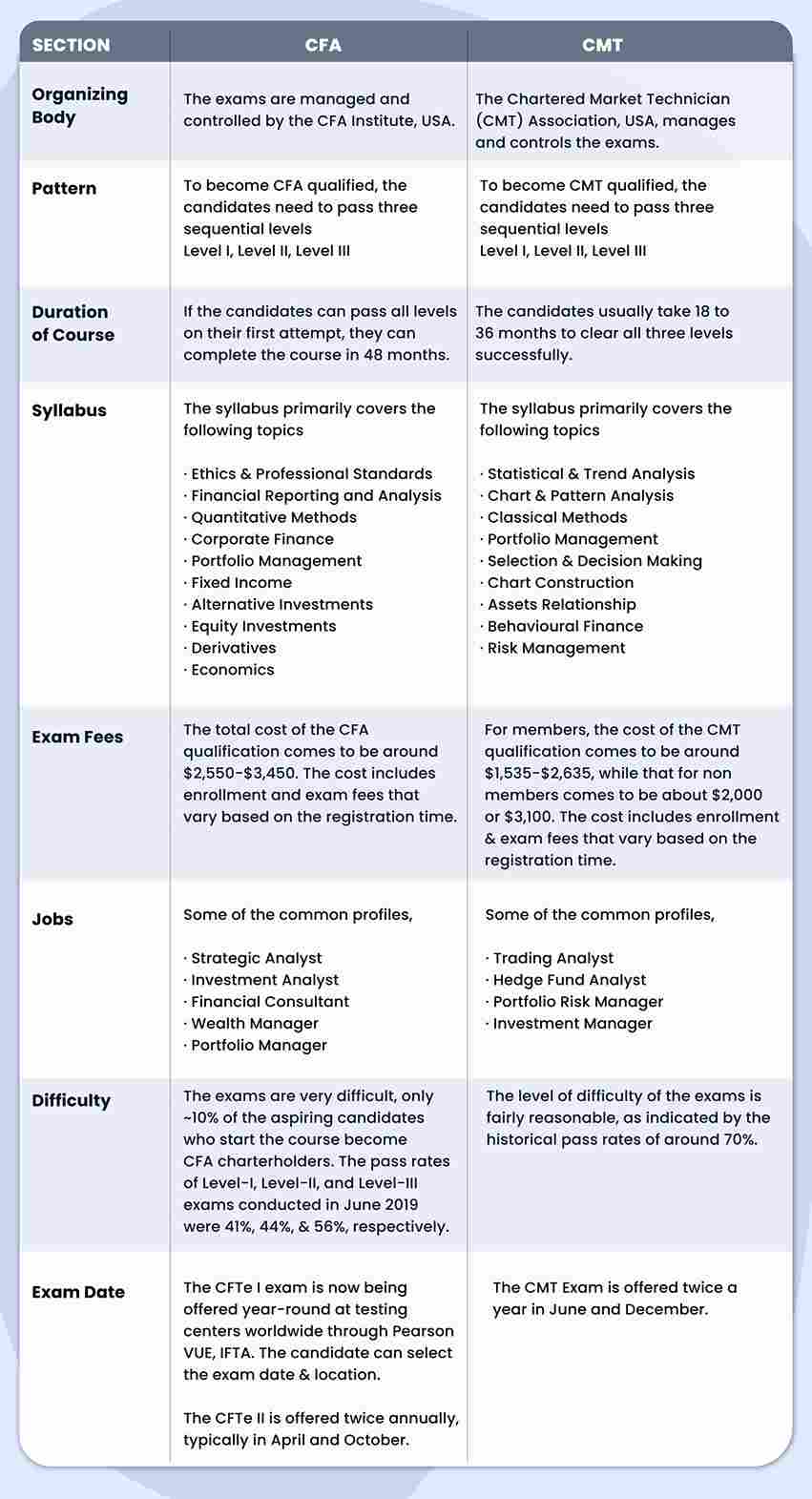 1. Organizing Body
The USA, CFA Institute manages and controls the CFA exams. The USA CMT Institute manages and controls the CMT Exams.
2. Pattern
For both CFA and CMT exams, the candidates must pass all the 3 levels.
3. Duration
If the candidates can pass all CFA levels on their first attempt, they can complete the course in 48 months. Whereas the candidates usually take 18 to 36 months to clear all three CMT levels successfully.
4. Syllabus
The CFA syllabus primarily covers the following topics:
Ethics & Professional Standards
Quantitative Methods
Corporate Finance
Portfolio Management
Alternative Investments
Economics
The CMT syllabus primarily covers the following topics:
Statistical & Trend Analysis
Classical Methods
Portfolio Management
Selection & Decision Making
Chart Construction
Assets Relationship
Behavioural Finance
Risk Management
5. Exam Fees
The total cost of the CFA qualification is between $2,550 and $3,450. The price includes enrollment and exam fees, which vary depending on when you register.
The cost of CMT qualification ranges between $1,535 and $2,635, with non-members paying between $2,000 and $3,100. The price includes enrolment and exam fees, which vary depending on when you register.
6. Jobs
CFA common profiles include Strategic Analyst, Investment Analyst, Financial Consultant, Wealth Manager, and Portfolio Manager. Common profiles include Trading Analyst, Hedge Fund Analyst, Portfolio Risk Manager, and Investment Manager.
7. Difficulty
The CFA exams are extremely difficult, and only 10% of those who begin the course become CFA charterholders.
You can also join our course on Equity Investments made easy-CFA L1
8. Exam Date
The CFTe I exam is now being offered year-round at testing centers worldwide through Pearson VUE, IFTA's computer-based testing provider. The candidate selects the exam date and location when registering for the exam. The CFTe II is offered twice annually, typically in April and October.
The CMT Exam is offered twice a year in June and December.
Bottomline
Compared to other certification programmes, CFA helps candidates gain an in-depth understanding of finance. The CFA certification curriculum is significantly more advanced and aids in developing a thorough understanding of complex financial topics like equities research, portfolio management, and core financial analysis. However, CMT emphasises technical analysis more, making it the ideal choice for those who want to pursue a career in a field that is closely related to quantitative finance.
We hope you found this blog informative and use it to its maximum potential in the practical world. Also, show some love by sharing this blog with your family and friends and helping us in our mission of spreading financial literacy.
Happy Investing!