Hindi: आप इस लेख को हिंदी में भी पढ़ सकते है|
Bengali: এই ব্লগটি এখানে বাংলায় পড়ুন।
Key Takeaways:
Sectors that will recover fast post lockdown
A recent fall in the market due to Coronavirus has compacted valuations of several companies, presenting an attractive entry point.
For a long term investor, it could be an opportunity to buy or accumulate stocks in your portfolio at very cheap valuations.
A buy on dip strategy may be suggested for investors.
On 24 March, The Government of India in a bid to save its people from deadly Coronavirus went for a countrywide lockdown.
The move which put its 1.3 billion people in lockdown to contain the outbreak, undoubtedly hit every sector of the economy but post lockdown some of the sectors will recover faster compared to the other sectors.
Economic Factors
Pick up in the business can be seen after the lockdown is lifted. A big drop in crude oil prices may make some sectors see positive traction.
The Current account deficit will come down as our major Import Bill constitutes of Crude Imports.
The heightened Inflation will also subside as things begin returning to normal.
Thus when the dust settles, these sectors will quickly bounce back. Some of these are: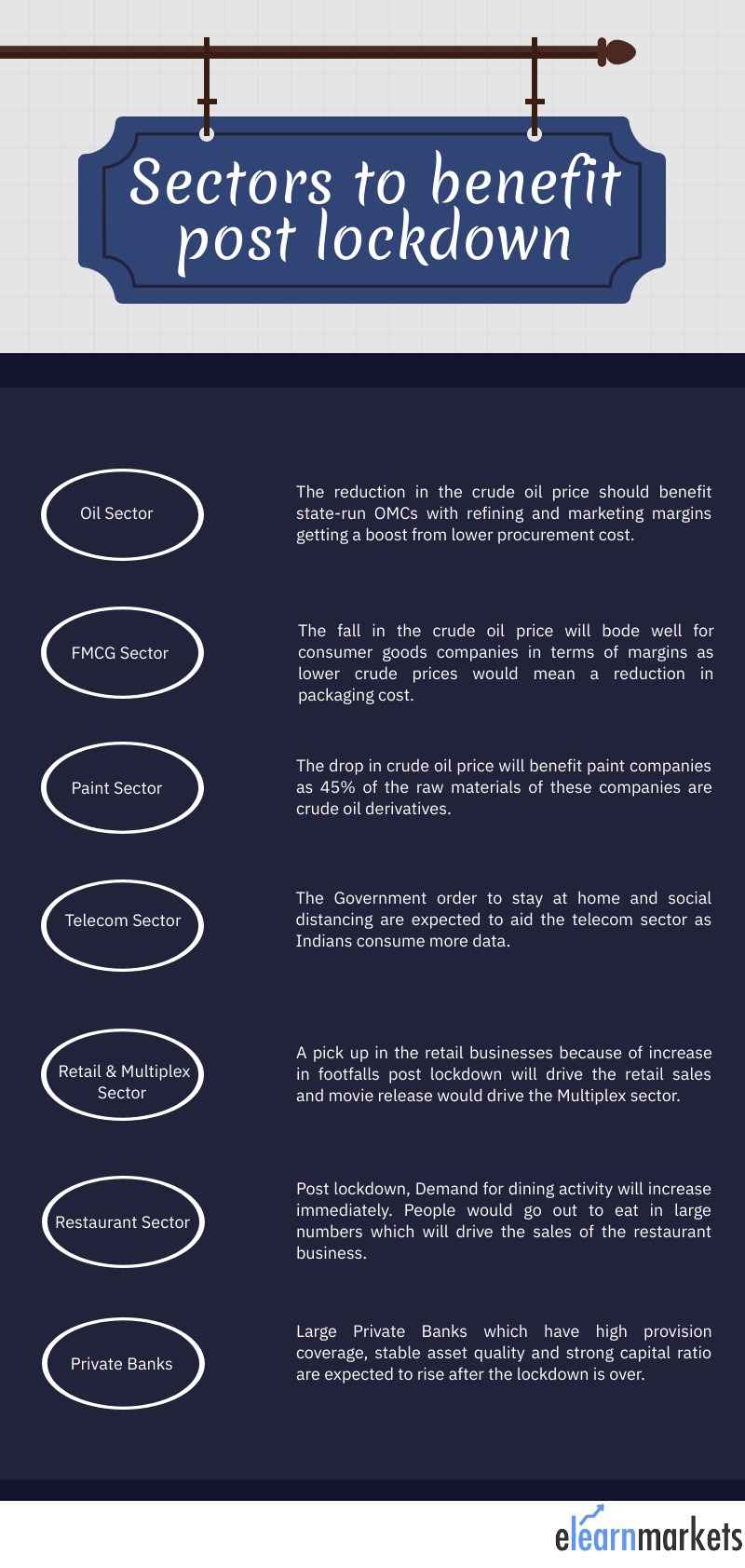 Oil Sector:
The reduction in the Crude oil prices should benefit state-run oil marketing companies such as IOC, HPCL, BPCL, with refining and marketing margins getting a boost from lower procurement costs
Similarly, Lubricant companies such as Castrol and Gulf Oil Lubricant India are expected to benefit due to a decline in the base oil prices.
FMCG Sector:
FMCG companies, especially the ones with strong brands and distribution, are expected to bounce back as the goods reach across India.
The fall in the crude oil price will bode well for consumer goods companies in terms of margins as lower crude prices would mean a reduction in packaging cost (15-20% of overall input prices)
Companies such as Hindustan Unilever Ltd. are expected to benefit from lower crude prices due to relief on raw material and packaging costs front.
Paint Sector:
The drop in the crude oil price will also benefit paint companies such as Asian Paint, Berger paints, Kansai Nerolac Paint as 45% of the raw materials of these companies are crude oil derivatives.
This will help in improving the profit margins of paint companies.
Telecom Sector:
The Government order to stay at home and social distancing are expected to aid the telecom sector as Indians consume more data.
As soon as Lockdown is released the businesses would need to communicate thus Telecom companies may report strong growth in profits in the upcoming quarter.
Also because of tariff hikes taken last December, the companies might report good operating cash flow.
There is also talk of a further increase in tariffs after the industry regulator allows a floor price for mobile services.
Retail and Multiplex Sector:
A pick up in the retail businesses because of an increase in footfalls post lockdown will drive retail sales.
Also, the Increase in footfalls and movie releases would increase the profit of Multiplex firms such as PVR Ltd and Inox Leisure Ltd as people would flock to halls for entertainment post-Mental Crisis.
Restaurant Sector:
Post lockdown, Demand for dining out activities will increase immediately as people might get bored with eating too much at home.
People would go out to eat in large numbers which will drive the sales of the restaurant business and online ordering food to also increase. Stocks such as Westlife development, Jubilant FoodWorks, and InfoEdge are expected to benefit.
Private Banks:
Banks, by default, will suffer through their exposure in sectors because of lockdown but large private banks like HDFC Bank, Kotak Mahindra Bank, and ICICI Bank, which have high provision coverage; stable asset quality and strong capital ratio are expected to rise after the lockdown is over because of high Business transactions.
Happy Learning!
Visit blog.elearnmarkets.com to read more blogs.
Check Stockedge to avail customized technical and fundamental scans of Financial Markets.