Nifty close 11278.35: Nifty able to closes above 11350. This week also nifty gave more than 100 points move. Thursday's trading session corrected the market a little and today market again climb up the 11350 level.
RBI rate hike and the Quarter results of major companies were the major event for these week.
More upside is expected for the next week if Nifty cross 11390 level unless a range bound or another correction may be witnessed.
Hourly Technical: From the hourly chart we can see that the Index is trading near its life time high, so psychologically this level (approx.11389.90) may act as a resistance level and if the index manages to close above that level, thane we can expect an another bull run.
Technical suggesting there could be a gap up opening for the Monday session and then market may trade in a range bound zone.
In case of Indicators, RSI is trading above 60 level, Stochastic above its 95 level, ADX is above 25 and CCI is above 110.
So, overall bullish signals are pretty strong and more upside is possible for the index. In case of resistance Upper Bollinger is at approx. 11384.57 and for support moving average 34 (presently at approx.. 11318.12) will act.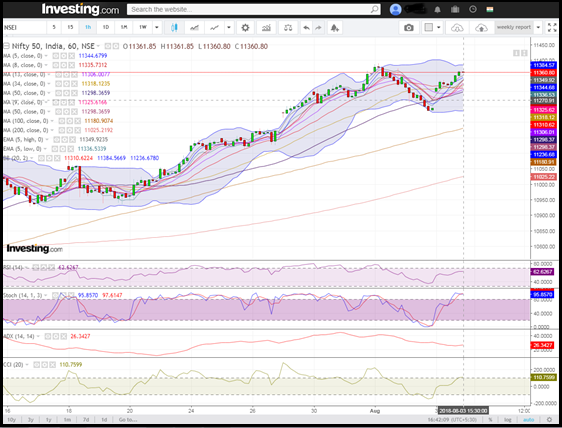 (Hourly chart)
Daily Technical:
Daily technical shows that bulls are ruling in the market. However, we can see that there is a dip in the momentum indicator but it is getting back in its position and alongside the indicator Nifty closes above all the MA lines.
Just mentioned earlier that if the Index crosses 11390.55 level we may witness another 300 to 400 moves (approximately). In that case 11500 is going to be the major psychological as well as technical resistance level. For any downside we can expect 11100 will act as a short term support level.
Let's talk about indicators, RSI is above 70, Stochastic is at above 90, ADX is at its 36 level (approximately) and CCI is at 118 (approximately).
Overall indicators are showing in the next trading sessions more upside is possible for the index.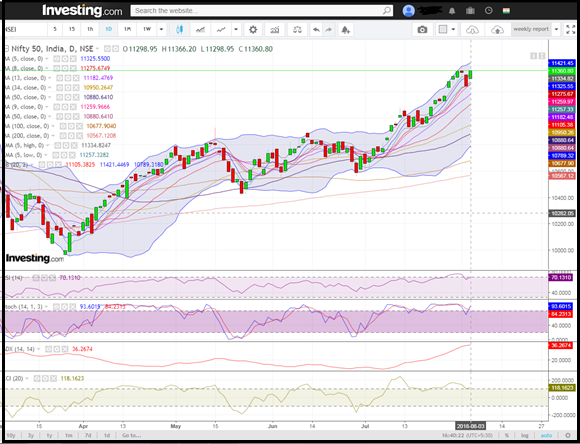 (Daily chart)
Weekly Technical: In the weekly chart we can see new high has been made by the index and this week ends in a positive note.
One important factor we need to mention is that this week's candle is pretty small compare to previous candle and this candle is pretty similar to spinning top pattern. So we should stay cautious at this level. Once Nifty Closes above 11389.90 level. We will be more confident about the up move unless if Nifty closes below 11230 we may witness range bound or a corrective move from the index.
Indicator RSI is above 70, Stochastic is above 97, ADX is above 18 and CCI is above 195.
Overall the strength and the momentum is intact for the index and there is more chance for the up move.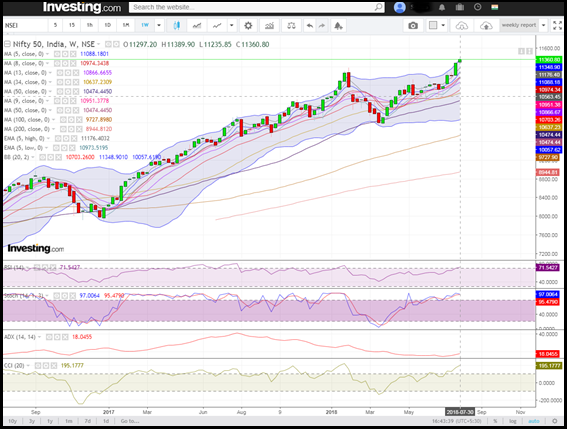 (Weekly chart)
You can use stockedge app to get cutting edge over others in both short term trading and investing. Here you not only get data at one particular place but can also create your own combination scans based on your own technical and fundamental parameter. See the video below to know about various features in Stockedge app.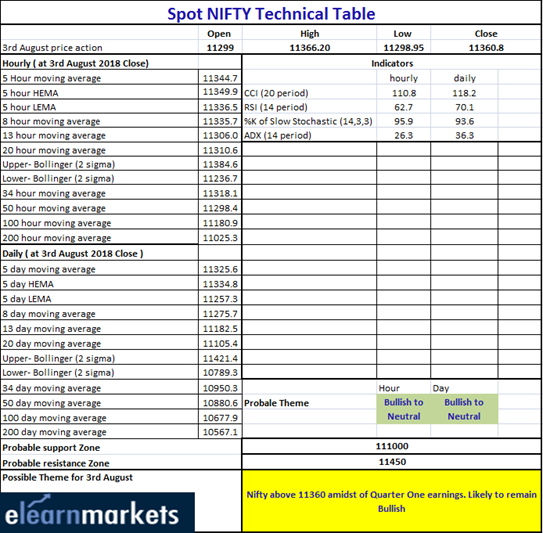 (Technical chart)