Nifty close 11018.90: Nifty is trading near its life time high, just 153 points away from making a new high. In the technical chart we can see the momentum is very much supportive for the index and there is more room available to go up for the index.
By seeing daily chart we can expect little bit correction, however in the long run we can expect further up moves.
Hourly Technical: From the hourly chart of Nifty we can conclude that it is in a support of mid Bollinger line (approximately at 11017 level). Major Moving averages like MA34, MA50, MA100 are below the price which might act as a support in case of a correction. However short term MAs like MA5, MA8, MA13 etc. are above the price and they will create short term resistance for the Index.
Most of the indicator are trading flat in the hourly chart but Most of them are in a positive zone. RSI is above 55 and ADX is above 30 but sloping downward. Oscillator Stochastic is about to enter into the oversold territory and CCI is below 10.
Overall, from the indicator side we are expecting flat or little bearish movement for the first trading hour of Monday. In case of gap up above 11050 it might be bullish. Gap down below 11000 level, we may witness little downside from the index which may come down to 10950 level.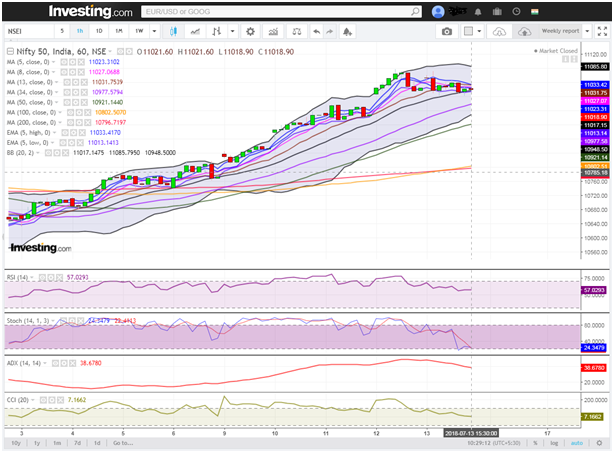 (Hourly chart)
Daily Technical: Daily technical chart of the index is suggesting that in next one or two trading days Nifty may trade flat. This is because of Currently it is above the upper Bollinger band. But we can expect the bullish sentiment will help the market to push further up. Tanks to the momentum because of it all moving averages are below the price. They will hold the market in case of short term fall.
Indicators are suggesting strong bullish sentiment in the market, however because last day's red candle some of them are sloping down.
RSI is above 60, Slow stochastic %k is presently at approx. 88 level and slopping down, ADX is slopping up and currently it is at approximately 17 level. CCI is also sloping down but it is above 180 level.
Overall sentiment is very strong and we may witness more upside from the index.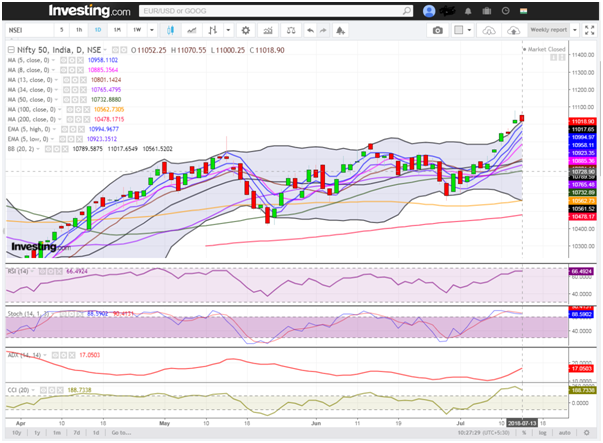 (Daily chart)
Weekly Technical: As we can see from the weekly chart that the index has given a clear breakout from the consolidation zone (marked with a rectangle). After making seven consecutive Doji Nifty finds its direction.
Previous swing high has been broken by the index which was at approximately at the level of 10929.20. Moving average lines are below the price so they will act as a support. In case of resistance upper Bollinger line(presently at approx. 11091) and 10200 level (Lifetime high approximately at 11171) may act.
All indicators are slopping up ward direction and suggesting strong up move for next trading days. RSI is about to cross its level 65, Stochastic is above 92 (overbought), ADX is above 15 and CCI has crossed 130 level.
So the overall signal is very strong from the both Candlestick and Indicators and we may expect a new high from our market very soon.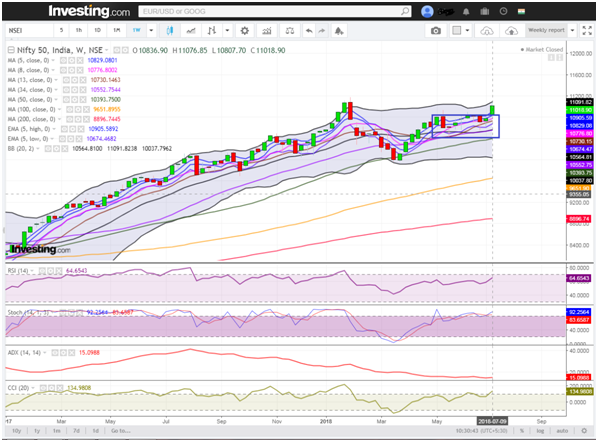 (Weekly chart)
You can use stockedge app to get cutting edge over others in both short term trading and investing. Here you not only get data at one particular place but can also create your own combination scans based on your own technical and fundamental parameter. See the video below to know about various features in Stockedge app.