Nifty close 10930.45: In moth of September the benchmark index corrects approx. 900 points. Crash in NBFC sector and low depreciation in rupee were the one of the major reason behind this fall.
For last week the index traded within a range of approx. 300 points. (11170.15 – 10850.50). Volatility was high during this trading hours and we are expecting the volatility to restrain for next trading sessions. Nifty is likely to consolidate and in case of more downfall 10750 to 10800 level will support the index.
Alongside this consolidation there is also chance of normal pullback but we are not expecting this existing trend to reverse immediately.
Hourly Technical: Nifty is trading below most of its MA lines in the hourly chart and for next trading session 11000 level going to act as a short term resistance and for support 10850 level will react. We are also expecting gap up opening for next trading session and a little pull back towards the 11000 level.
Let's discuss the indicator, RSI is below 40, Stochastic is also below 40, ADX is above 25 and the cci indicator is below -120.
So overall, there is a chance of little pullback but at last it is likely to consolidate.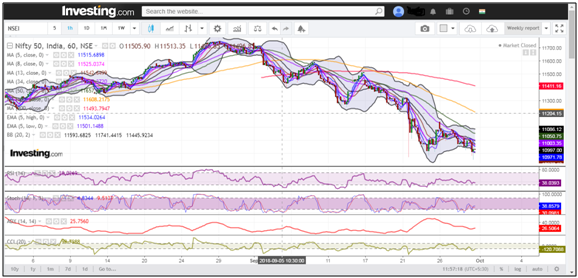 (Hourly chart)
Daily Technical: Nifty is near its 200 MA support line (presently at approx. 10770.76) in the daily chart. Most of the MA lines are above the CMP. So they are going to act as a resistance. For now, the 8MA line (presently at approx. 11081.62) and the 13 MA line (presently at approx. 11203.18) are going to be the major resistance level.
Indicators RSI is just above its 30 level, Stochastic is at level 10 (approx. 10.64), ADX is above 30 and the CCI is below -130.
Most the indicators are pretty flat except the ADX. It is trending up because of the last three red candles. But overall a range bound movement is expected.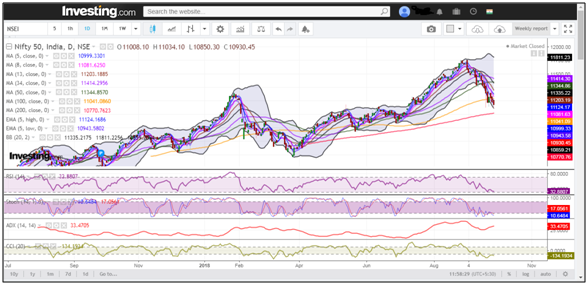 (Daily chart)
Weekly Technical: This 900 (approx.) point correction is nothing but a normal pullback in the weekly chart and as we can see in the chart the index is standing at the support level of that trend line. So for the long term we are expecting the index is going to move upward as per the normal cycle of the market.
This correction was expected and it happened. So generally these are the best time to invest in your favourite stock (we do not recommend buy and sell) as the great investor Warren Buffet says – "Be fearful when others are greedy, be greedy when others are fearful'.
Let's focus on the indicators, RSI is below 50, Stochastic is just above its oversold level (presently at approx. 30.99), ADX is above 20 and the CCI is at -18 (approx.).
Indicators are in a phase of correction as the down trend is in place. We are expecting the correction is about to end and Nifty likely to consolidate for next trading session.
As we mentioned earlier 10750 to 10800 level is going to be the support for the index in case of more down fall and for resistance we are expecting 11200 to 11250 mark.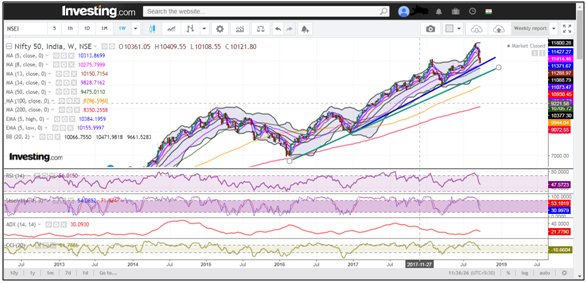 (Weekly chart)
You can use stockedge app to get cutting edge over others in both short term trading and investing. Here you not only get data at one particular place but can also create your own combination scans based on your own technical and fundamental parameter. See the video below to know about various features in Stockedge app.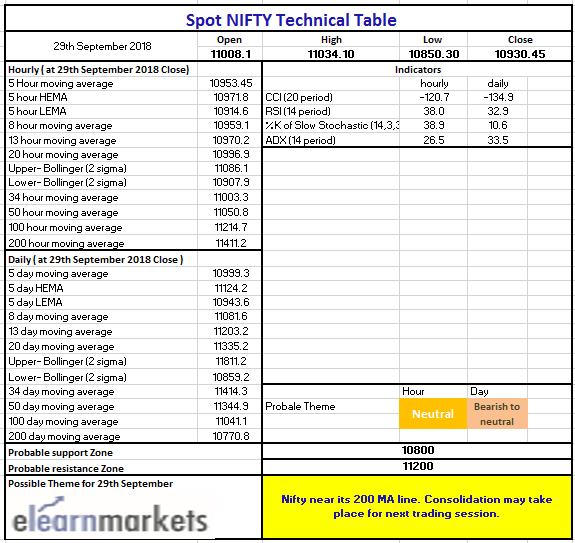 (Nifty Technical Chart)