Nifty (close approx. 10020.65, +56.10): Nifty moved upward during today's trading after slight gap-up opening. Nifty remains bullish in both hourly and daily chart at close of the day. But, tomorrow's price action will depend on US Fed interest rate decision and FOMC statements, which will be released overnight. Also, tomorrow being the expiry of the July series, the expiry dynamics may take over driver's seat.
Hourly technical: Nifty moved to 10020-10030 zone today, as we had discussed in our yesterday's report (Technical table, possible theme). It closed above all near term hourly moving averages, as shown in the chart below. On the downside, 8 hour moving average, 13 hour moving average, 20 hour moving average and 34 hour moving average should act as potential supports, which are placed at approx. 10001, approx. 9887, approx 9881 and approx. 9951 at Wednesday's close.
On the upside, approx. 10036, 10056, 10085, 10121 are immediate resistance levels based on Fibonacci projection.
The hourly CCI, RSI, slow stochastic and ADX are indicating bullish scenario.

Figure: Hourly chart
Daily technical: In daily time frame, Nifty continues to remain bullish. The Nifty closed above 5 day High Ema which is presently at approx. 9981. On the downside 5 DMA and 8 DMA, which are presently at approx. 9948 and approx.9923 respectively should act as potential supports.
On the upside, the upper Bollinger level of 10090 in daily chart should act as potential resistance.
The daily RSI, CCI, slow stochastic and ADX indicate bullish scenario. However, global market reaction to Fed decision and expiry dynamics will be crucial for tomorrow's price action.

Figure: Daily chart
Nifty option open interest analysis:
Tomorrow is the expiry of Nifty July series. The 10000 call saw good amount of short covering while the 10000 and 9950 puts saw substantial open interest addition. In this scenario, a move past 10050 or 9940 may force aggressive squaring off of option positions, enhancing the move in respective direction.


Figure: Open interest analysis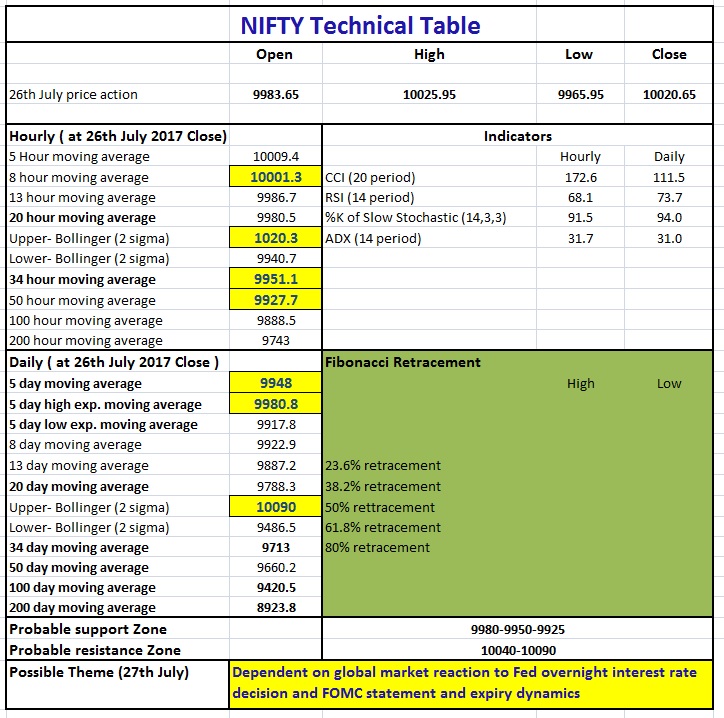 Figure: Technical Table