It has been quite a volatile week for Indian market as after hitting fresh lifetime high of 12100 on the first trading session of the week, the index witnessed sharp selloff in the later days to close below 11900 level.
Post announcement of Repo rate cut by 25 basis points which is the third time in a row this calendar year, the selloff got further intensified. Nifty failed to sustain above 11900 in spite of sharp recovery in second half of the last trading session.
Hourly Technical
In the Hourly chart, 50 period MA acted as a important support in the recent past and the index witnessed sharp selloff in the last two days after it breached 50 period MA. On Friday, Nifty closed below 100 period MA and failed to close above 11900 level which is likely to act as an important resistance in the very short term. Until Nifty closes and sustains above 11900; the weakness is likely to continue.
Probable resistance comes at 11890 (100 period moving average) and 11947 (50 period moving average). Probable resistance in the short term comes at 11841 (8 period moving average) and 11800.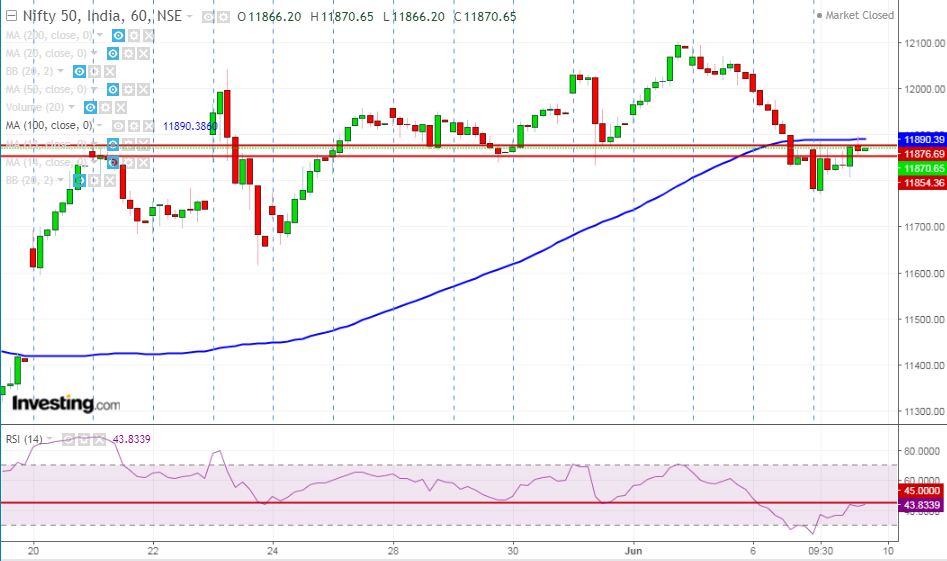 Daily Technical
The selloff got triggered right at 78.6% Fibonacci extension at 12100 which acted as a strong resistance.
Technical parameters looks neutral to bullish as of now and probable support in the near term comes at 11850 and probable and probable resistance at 12000 and 12100 which is likely to act as a important resistance in the medium term.