Nifty opened weak in the morning however the bulls stepped in at the last hour of trade and the index shot up closing 60 points higher and above the 7100 level at 7120.
Rupee was very close to touching the all time low against dollar today, when just 20 paise away a reversal came in and the day ended with the currency pair forming the shooting star pattern.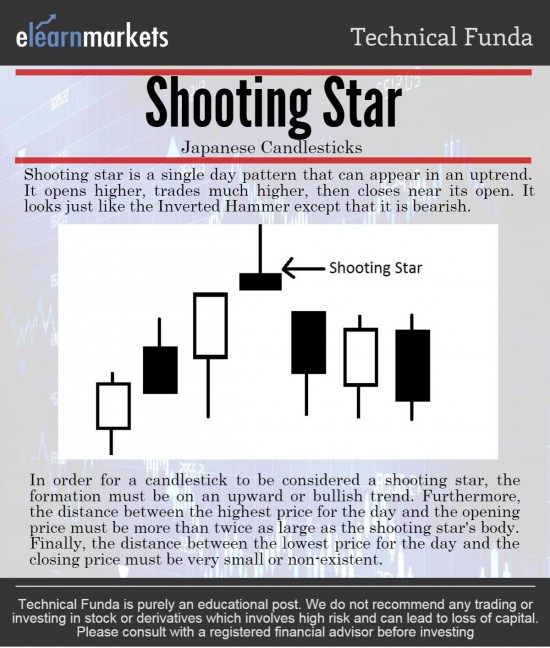 A shooting star is a bearish pattern, forms when the closing is very near the low of the day and the wick of the candle is atleast twice as long as the body of the candle. This pattern occurs after an uptrend and signals the weakening.
If we look at the sectoral performance, not much activity came in from the Nifty 50 , nor from any specific sector, just on the broader view we had Auropharma some 5% higher with rest of the Pharmaceuticals trading roughly 2-4%higher. In the Banking sector, Bank of Baroda again stole the show today with a closing almost almost 7% high, other banks were 2-3% higher. Lastly the Capital intensive sectors like Automobile, Steel etc were also 2-4% high. The midcaps on the other hand were in charge today, especially Justdial which closed a good 19% higher having bounced upward from the trendline.
The international picture is also breathing a sigh of relief as most of the indices are either trading in green or have closed in green.
CHART OF THE DAY
Some interesting activity has been witnessed on the charts of Federal Bank which just bounced from the support trendline. This trendline was breached in the volatility and sell off witness last week, but that turned out to be a bear trap, meaning people who had gone short in the stock based on the trendline breakout, have had their stoplosses hit when the prices reversed and entered the channel again. Right now the chart seems very close to the resistance trendline and if the positivity in the index continues tomorrow, then we may witness an upside breakout here.
____________________________________________________________________________________________________
Read more articles here:
http://blog.elearnmarkets.com/market/nifty-chart/
http://blog.elearnmarkets.com/market/nifty-live/