Nifty continued the losing streak  for the third back to back day. It breached the 7000 level on the downside yet again.
The closing which was down by 39 points at 6979 was the lowest in the last 21 months. The sell off today was witnessed on high volumes which is a cause of worry.
The Railway Budget was announced today by the Railway Minister Mr. Suresh Prabhu, the main take-aways from the budget are as follows:
The  Railway Minister has decided to increase the investment outlay by a good 20% from last year.
A new holding company will be formed to take under its wings the railways assets and enable better monetization of the assets.
Focus for earning revenue will come from advertisements rather than tariff hike.
To consider conventional ways of problem solving which have been plaguing the railway industry through collaboration, co-operation and creativity.
Lets take a look at some of the railways stocks which were on the move today:
Tetagarh wagon ltd (TWL) saw much loss as it closing some 5% lower from yesterday. Enginers India was very volatile on words of the railway minister. BEML was the biggest loser in terms of the railway stocks.Kalindee was also slightly weaker due to absence of any excitement announcement.
The maximum gainers or winners of the day are Power fin corp +4.65%, ONGC- +3.75, ONGC was the only oil stock which closed higher, all the other oil stocks closed weaker following a slide in Crude yesterday. Container corp closed a good 3.28% higher and was the winner on the volumes front as the traded volume was 407% of yesterday.
The worst performers or losers of the day are Castrol india -8.06%, Jindal steel and power -&.38%, Kaveri seeds -7.20%, traded on very light volumes, just 65% of yesterday.
Taking a look at the international picture now:
Chinese Shanghai composte closed a good 6.41% lower. The European indices were unnerved by the weak asian cues and are trading some 1.5-2 % higher. Nikkie has shown the same cheer as the FTSE and CAC 40. The BSE Sensex closed below the 23000 mark, down a 112 points.
CHART OF THE DAY
On the chart of TVS Motor, A good support has come in at the closing time. A box has developed on the chart and the stock managed a fair closing while forming a hmmer pattern at the bottom of the box. This has a bullish connotation to it and we can keep an eye on this stock tomorrow.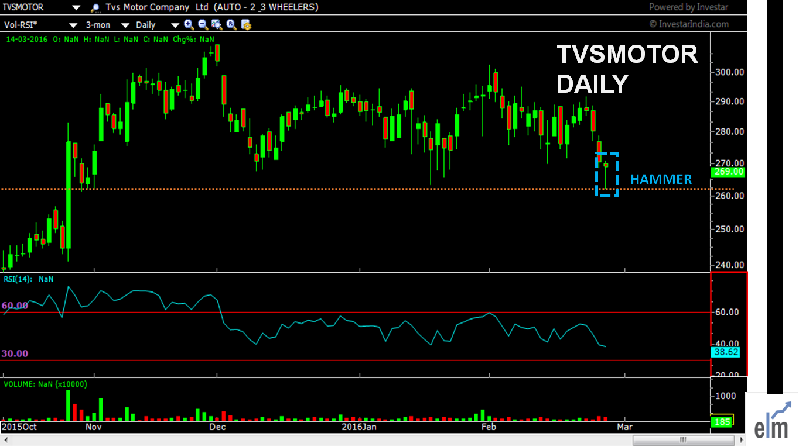 _______________________________________________________________________________
Read more articles here:
http://blog.elearnmarkets.com/market/nifty-chart/
http://blog.elearnmarkets.com/market/nifty-live/
http://blog.elearnmarkets.com/market/nifty-live-chart/