We saw Nifty waking up with a 80 points gap up yesterday, in what maybe called a 'Runaway gap' on the chart. Its a very bullish indication as the gap came on high volumes and today again the index opened some 50 points higher while it closed 104 points up, gaining 1.41%.
On the daily chart of nifty a 'W' pattern can be witnessed forming. A move of around 50 or 100 points higher tomorrow will hint towards a race upto the level of 7800-8000 in coming days. However two reasons for concern on the charts are:
RSI, the momentum indicator, was at a level of 59 and it is imporatant that the index manages to take the indicator above 60 as in the past few rallies we saw that RSI remained shy of the 60 mark and ended up dragging the index lower.
Volumes today was lower than yesterday though it was higher than that of the day before yesterday.
On the chart of dollar-rupee ( USDINR ) , ever since the budget rupee has been strengthening sharply against dollar and has gained around one rupee and 50 pisa against dollar, however the momentum has weakened and if the momentum is lost then it will drive away the steam from the index nifty as well. so lets hope that does not happen.
Now, we know that IT stocks have a close correlation with dollar rupee movement and hence today since rupee strengthened, the IT stocks werent as strong. The infy formed a spinning top pattern which showed a subduing of the bullish momentum.
Among the large caps, Tatasteel was leading the rally with a close 7.5% higher followed by vedl &.23% higher and LT up 6.35% higher.
On the mid caps list, Justdial sky rocketed with a closing 20% higher.
International indices were not so steamy today. The Chinese Shanghai composite closed a mere .35% higher where as Hang Seng was down by .30%, the European Indices are also howing mixed performances with FTSE up .2% and CAC 40 down by .2% .The indian indices outperformed the global indices again today. The Japanese Nikkei 225 was also leading the lot with a 1,25% higher closing.
CHART OF THE DAY
On the chart of Justdial we will discuss a very strong and often witness medium term pattern called the Flag Pattern. Today we saw the stock breaking out on the upside. Flag pattern is a measuring pattern wherein the move preceeding the formation of the flag is duplicated after the breakout, the same can be witnessed in the chart of Just dial. Kindly take a look at the video to get a better understanding of the same. Also, during the formation of a flag, the volumes usually trend downward and that is also vividly visible in the chart.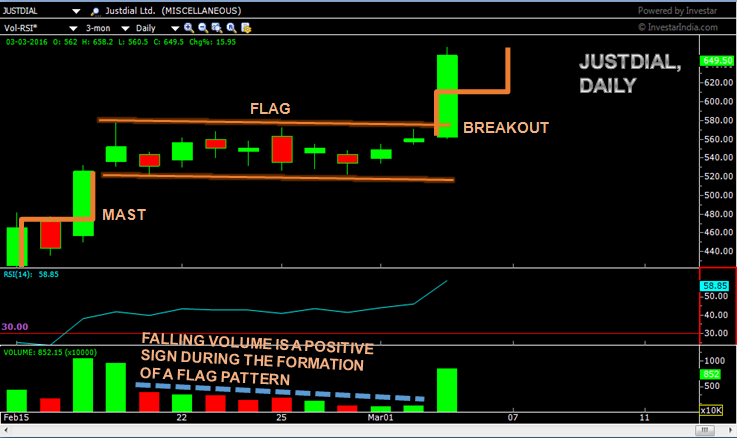 ______________________________________________________________________________________________________________________
Read more articles here:
http://blog.elearnmarkets.com/market/nifty-chart/
http://blog.elearnmarkets.com/market/nifty-live/
http://blog.elearnmarkets.com/market/nifty-live-chart/