Nifty snapped four days of consecutive gains today falling 140 points down from the cliff and closed below 7100 at 7094.
As we had discussed yesterday, weakness in volumes was a clear indication of today's fall. Here is the 30 mins chart which was displayed yesterday, and today we saw that Nifty had not just failed to pass above 7250, but also breached below the level of 7100 in the last few minutes of trade.
Weakness was witnessed majorly in the Petroleum stocks and banking stocks with Hindustan petroleum, bank of Baroda PNB being the weak losing more than 4% today.
The International picture was also grim with the Chinese opening and closing weaker and losing the charm it had shown yesterday, even the European markets were lower but not quite as bad as the Indian Market which was the worst performer among the leading global indices.
Crude has given a sharp upmove in the last one hour. The effect of the same would have been visible on the chart of Nifty had it been trading now, however if this momentum is maintained in Crude then we can expect Nifty to be more stable tomorrow.
CHART OF THE DAY
Here we have the chart of Bank of Baroda in front of us covering a long period and showing a very important trendline. Please note that thios weekly chart has been plotted on log scale which is a better scale for covering longer periods.
On this chart we can see that Bank of Baroda had breached below the support trendline few weeks back and had turned up after the breakdown.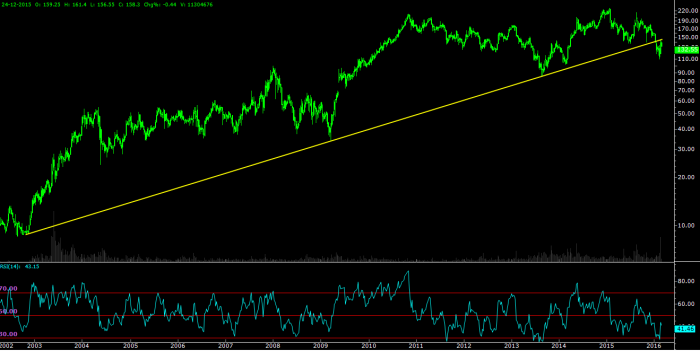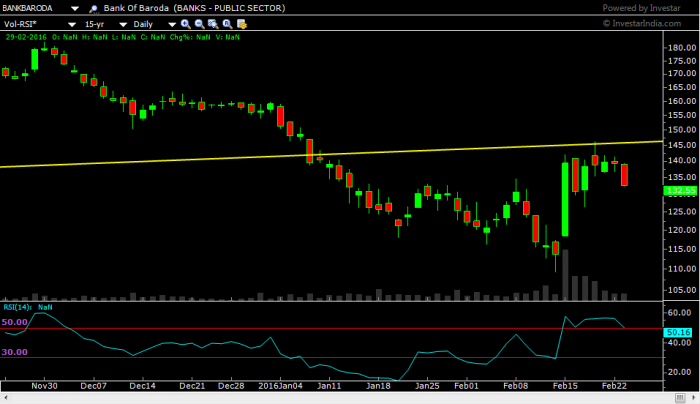 If we zoom into the circles portion and look at the Daily chart, we will see that the support trendline has become resistance by virtue of change of polarity and resisted the move of BoB above 145. The Momentum Indicator as well showed weakness when RSI failed to move above the 60 mark. Not only this even the volumes were strictly not in support of the up-move and the consolidation.
________________________________________________________________________________________________
Read more articles here:
http://blog.elearnmarkets.com/market/nifty-chart/
http://blog.elearnmarkets.com/market/nifty-live/