Nifty opened with a cheer in the morning, a good 50 points gap up, however as the day progressed, the index gave up the gains and closed 9 points lower at 7489.
On the 30 mins chart of Nifty we see that the uptrend line on being extended forms the resistance zone for yesterday's closing and the opening today was above the line , up 50 points. however this trendline has been breached again and nifty is still consolidating in the zone of 7550-7400 with increased volatility.
The gainers: BPCL +5.68%, Ambuja cement – +5.58%, Karnataka Bank- +4.25%
Losers: Lupin: -4.69%, it has been trading lower ever since the news of the USFDA looking into its plants cropped up, ?Followed by unitech -3.85%, on its chart, when the stock prices were rising, good support from volumes was seen, now that the prices are slipping, the volumes are also lower, showing that a slip in price is not supported. Eicher motors-3.69% has been falling off the top since the past few days.
Gold has shown a strong movement and is trading almost 3.30% higher following the news of Fed taking a slower pace with its rate hike policy. The crude oil is also 1.6% higher today. However, this has depressed the European indices, which are trading .5-2.5% lower than yesterday.
The Asian markets tell a different story however, the Hangseng and Shanghai indices closed more a percent higher whereas the Nikkei 225 closed .22% lower.
CHART OF THE DAY
Jaicorpltd was seen trading 7% higher in the morning, but come afternoon, the stock slipped off the high and closed 5% higher. The anticipation of the Maharastra Budget was the reason behing the stock's cheer initially, however the poor market sentiments took the toll on the stock. If we look at the elements of the chart, clearly, the volumes are supporting the rallies, and as per Dow Theory, the higher highs and higher lows on the chart is also an indication that the stock is witnessing an uptrend. Adding to it is the Relative Strength Index (RSI) which is maintaining an overbought stance of above 60 which is a bullish indication.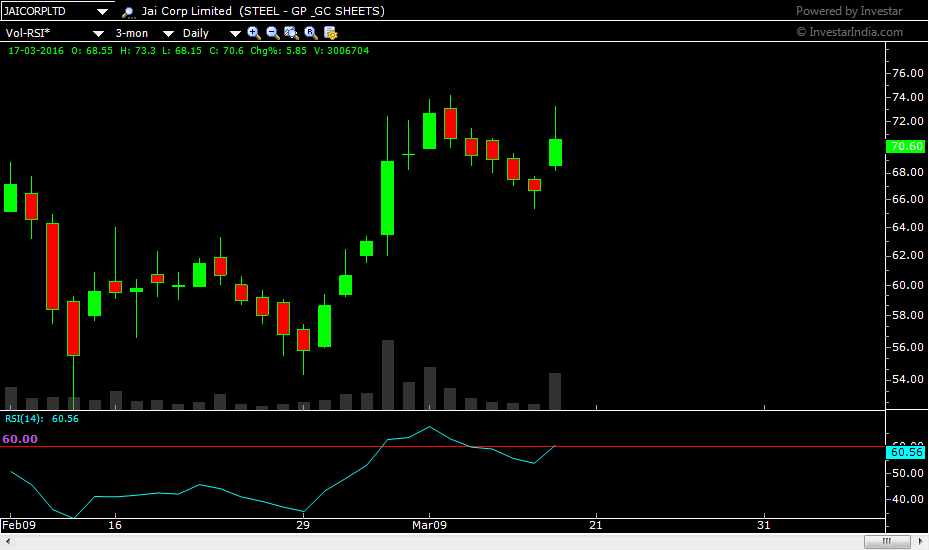 __________________________________________________________________________________________________________
Read more articles here:
http://blog.elearnmarkets.com/market/nifty-chart/
http://blog.elearnmarkets.com/market/nifty-live/