Nifty kick started the day with a pompous upside opening gap of 50 points, surpassing the resistance of 7780 and zooming forward to touch down the level of 7850. The positive IIP and CPI data which showed that the industrial production has improved and the retail inflation has come down, was the major trigger behind today's movement.
The BankNifty index also took the same progressive stance , though it gave up a few points prior to close to profit booking, closing at the level which we have been citing as the resistance in past few wraps, ie 16250.
Since tomorrow and day after tomorrow are holiday, Monday we will be expected to be a dull session given the fact that tueday would again be a holiday. This truncation in week has often witnessed dullness in activity. The outlook remains bullish on the indices in the long term.
Among theother NSE indices, we see that the Bank nifty and Nifty 50 have lead the market no doubt, but the Midcap 50 and Nifty Auto, Nifty realty and Nifty infra indices are not much behind. TheNifty IT is the one which progressed the least in the lot. The Auto index infact touched a 4 months high in today's trade.
The winners of the day: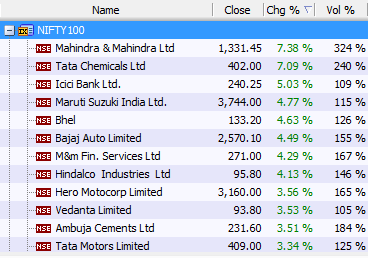 The losers of the day: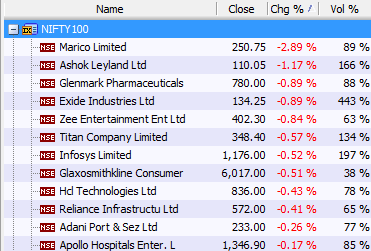 INTERNATIONAL MARKETS:
The Crude oil and Gold and Silver seem to be slipping away today. As the Gold and Silver trade 1.43% and 1.15% lower, we see a considerable cheer in the European indices. The DOW and NASDAQ futures seem to be gaining on global cues.
The Dow and NASDAQ indices were down yesterday, closing almost a % lower .
The European indices are displaying strength as the FTSE 100 trades over a percent positive, the German DAX and CAC40 are trading 2.22% and 2.50% higher.
The Asian indices have also closed higher with gains of 2.84% in the Japanese Nikkei, 3.19% in HandSeng and 1.91% in China's Shanghai Composite which lost most of the gains toward closing but managed to keep its nose from dipping into the red zone.
CHART OF THE DAY
On the daily chart of Ambuja cement we can see a new leg of bullish movements has started from today. The stock had displayed very good volumes in its last up-leg and a falling trend in volumes and loosing interest when the consolidation and corrective phase was underway. However as today the stock closed 2% higher, the buying interest has kicked in and the strong volumes suggest that the next resistance may be the level of 257 .
________________________________________________________________________________________________________________________________________
Read more articles here:
http://blog.elearnmarkets.com/market/nifty-chart/
http://blog.elearnmarkets.com/market/nifty-live/