Nifty closed a good 2% lower today after facing resistance from the level of 7750. However, a bigger contributor to the fall was RBI's policy announcement which contained a Repo rate cut along with SLR rate cut by 25 basis points each. This step will lead to better liquidity in the economy , however the market did not react well to this news as higher rate cut was expected . The governor also hinted towards possibility of an increase in inflation due to poor monsoons witnessed last year.
On the Chart of Nifty, the next support is at the level of 7550. We see on the intraday chart that the level of 7650 had acted as the temporary support during the fall and after a breach, by the principle of polarity has acted as the resistance when the index tried to come up.
The chart of Banknifty shows that the index has taken support at the level of 15700 which is a crucial level. The RSI indicator has been shy of the level of 70 on the daily chart which is surely not a bearish signal but was an indication of this correction early on. If the support level of 15690-15700 holds on we may expect the rally on the upside to continue in the index.
Among the other NSE indices, we see that the Nifty Infra was the biggest loser with a loss of some 3%, followed by BankNifty and Nifty Realty.
The winners of the day: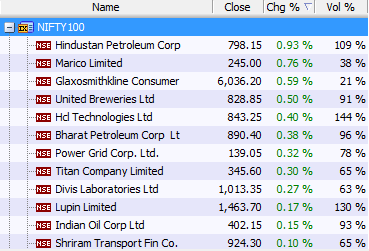 The losers of the day: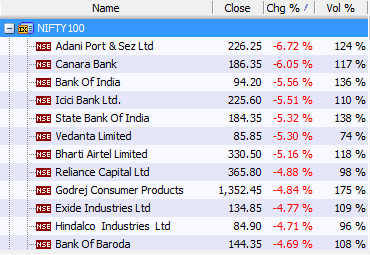 The international market is'nt cheery either today. We see the DJIA and NASDAQ futures are both trading in negative and gold is trading more than a percent stronger which is a bad indication for the European indices in particular as they have strong inverse correlation with gold. The Dow and NASDAQ indices closed a mild negative however the correction is expected to continue when the market opens today. If we see the European indices, the FTSE 100, DAX, CAC 40 are all trading with a loss of nearly 2% or so. Among the Asian indices only the Shanghai index has closed in green whereas the Nikkie and hangseng have closed lower by almost a percent.
CHART OF THE DAY
On the weekly chart of Yesbank we can see that resistance at the level of 875-900 is evident on the chart, following the same, on the daily chart we see that the stock has turned down from there. The RSI  has performed well in the rally seen recently and hence we expect that this correction is nothing more than temporary and this stock will turn up again after the correction is over.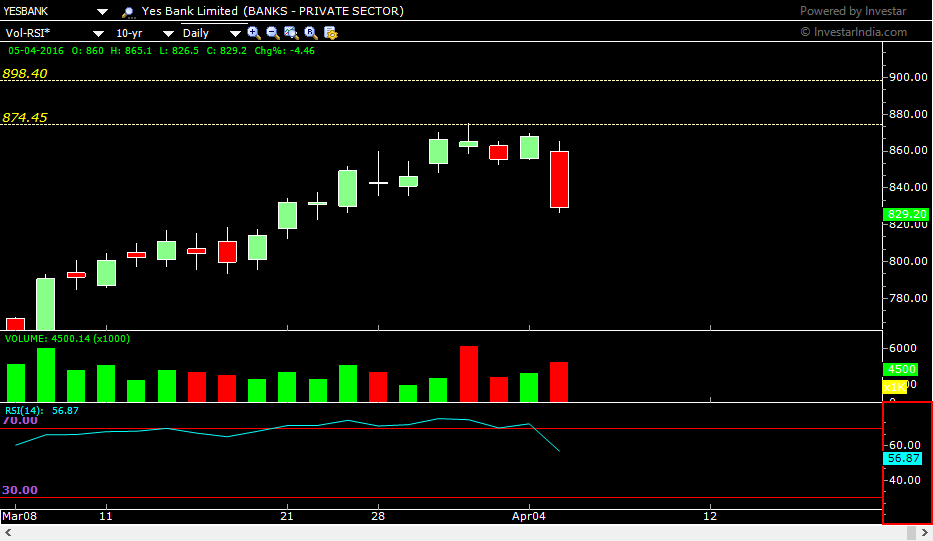 ________________________________________________________________________________________________________________________________________
Read more articles here:
http://blog.elearnmarkets.com/market/nifty-chart/