Nifty closed almost a percent lower today breaching the important support level of 7550. On the Daily chart we can see the levelof 7400 coming out as the next support for the index due to two reasons. One is that in the previous  consolidation the level had acted as an important support and also it falls at the 38.20% Fibonacci level which often acts as a support zone. On the intraday 10 mins chart of nifty we can see that the support level of 7550 did play the role of support however the index was beaten down at the level of 7600 which took nifty below the support of 7550 and end the day there.
Among the other indices, the same mood of weakness was witnessed today . Nifty Infra lost the most , closing 1.34% lower followed by Nifty IT. The Bank Nifty closed 0.63% lower. Weakness was witness in the Midcap index as well.
Among the gainers are some pharmaceutical stocks mostly like lupic, aurophrma, divis lab etc.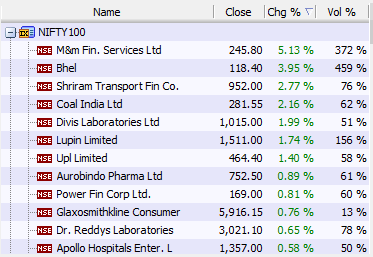 Among the losers we have banking names like HDFC ltf federal banks, Bank of india and the metal majors like Hindalco and Vedanta ltd.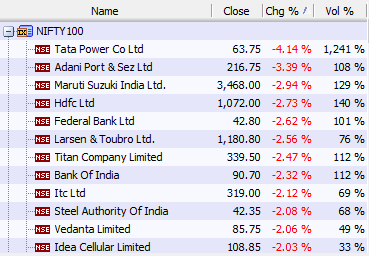 The international market:
The DJIA and NASDAQ futures are also trading weak , almost half percent lower. The crude oil is reflecting the same weakness however the safe haven , Gold, is trading more than a percent higher from yesterday which is cause of worry for the indices.
The US markets , as expected, had done well yesterday, closing almost half percent higher, however today, following the weakness in the other indices and the strength in gold, it is expected to dunk after opening.
The European indices are registering very volatile sessions and all the European indices are trading in red as we speak. The FTSE 100 is trading .20% lower whereas the CAC 40 and the DAX are a quarter percent down.
The Asian indices are no different except the Japan's Nikkei and Hangseng which have closed a quarter percent higher. The Shanghai finally gave up on the consolidation and brokeout on the downside closing more than a percent lower.
We can say of sorts that the Chinese weakness was a reason behind the drag down in the international indices.
CHART OF THE DAY
On the daily chart of Coalindia a very prominent downward sloping channel is visible on the chart. Currently the stock has bounced off from the support trendline and is poised to head higher. Another positive factor is the RSI which has just bounced upwards from the level of 30 and not the breached it inspite of the stock forming a lower on the price chart. A piece of fundamental news came in today which forecasts that the production and sales are expected to be the highest for Coalindia in last 6 years. Today's positive movement was a factor of the news as well as the trendline support.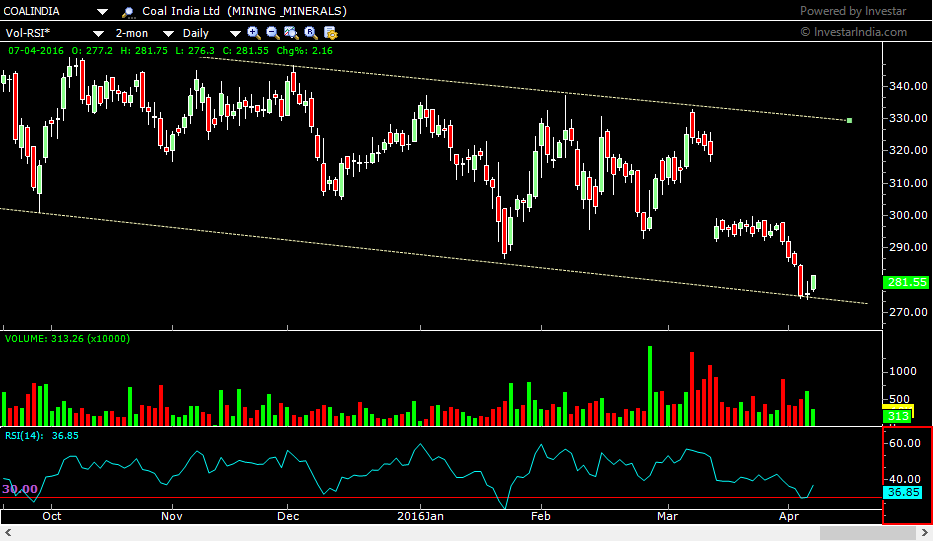 ________________________________________________________________________________________________________________________________________
Read more articles here:
http://blog.elearnmarkets.com/market/nifty-chart/
http://blog.elearnmarkets.com/market/nifty-live/