Nifty closed with a loss of 22 points, putting a leash on the sharp decline witnessed in the index yesterday.
It was a very volatile session for Nifty. The resistance is at 7730 and support at 7550-7540. The day opened in a slightly positive note, however the gains were given up majorly in the last hour of trade. On the chart of Banknifty a resistance trendline at the level of 16000 which is holding well, the support level of 15700 is also playing a part in holding index . On a longer horizon the indices look positive.
The gainers of the day: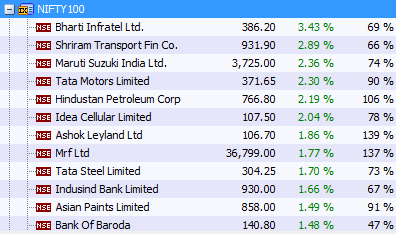 Motor stocks like Ashok Leyland, Maruti Suzuki and TATA Motors were leading the move, whereas HPCL was also among the winning ranks.
The pharmaceutical stocks have posted yet another day of loss which major names like Lupin, Glenmark pharma, Cipla , Dr. Reddy's Lab, closing with maximum losses. Gail and BHEL also posted a bad day with a cloing nearly 2% and more lower.
The international indices seem to be doing a more or less steady round as most of the indices are flat, like the DJIA and NASDAQ futures, the European FTSE 100, DAX , CAC 40 etc. Weakness has been witness in Crude oil which is a percent weak whereas the Shanghai composite also closed more than a percent lower today.
CHART OF THE DAY
Lupin, had recently breached a very important support of 1600, and as we had mentioned the high probability of the loss to continue, the stock today breached a second very important support level of 1300 on intraday basis. It managed to close way above the day's low, and that hints at temporary reliefe to follow in the stock, however 1600 remains an important resistance and 1300 the important support to lookout for. The momentum indicator RSI does not indicate at  strength returning to the stock as it ended the day below the level of 30. Also, the selling volume was very heavy, nearly 1000% its average volume. All these elements hint towards weakness in the stock.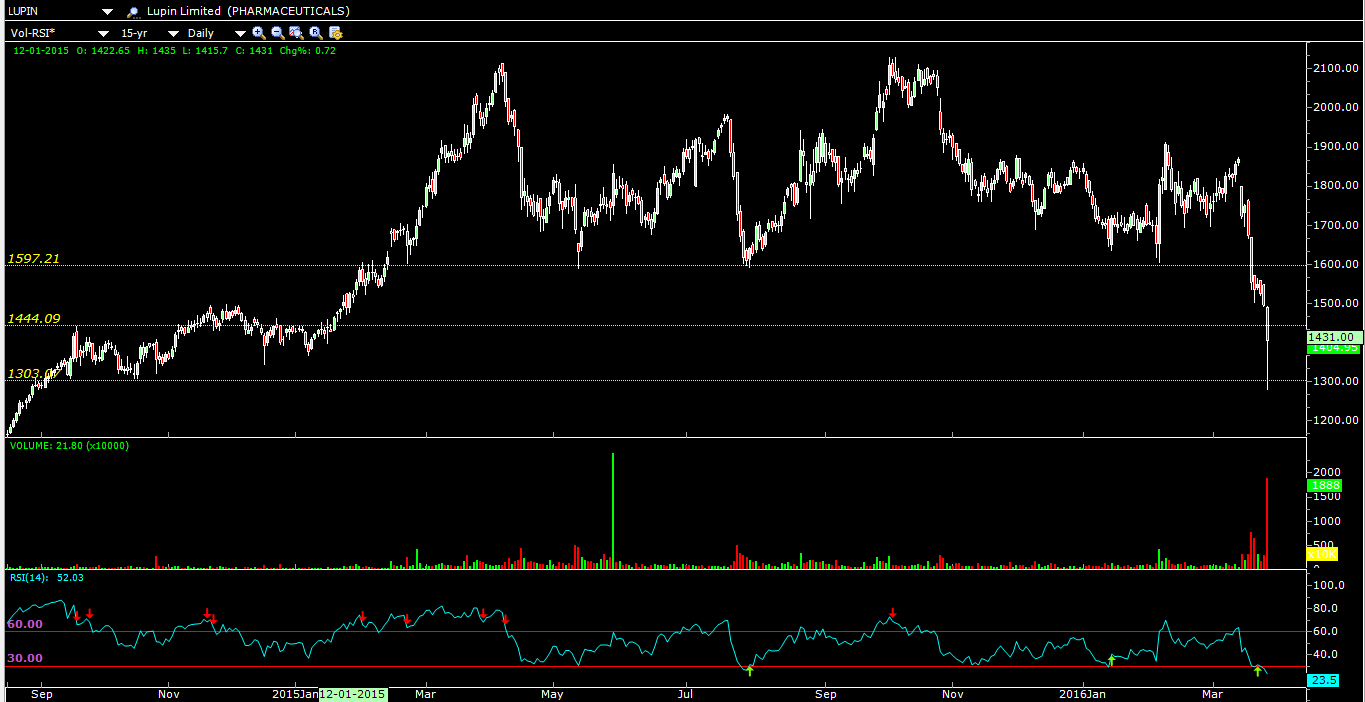 ________________________________________________________________________________________________________________________________________
Read more articles here:
http://blog.elearnmarkets.com/market/nifty-chart/
http://blog.elearnmarkets.com/market/nifty-live/
http://blog.elearnmarkets.com/market/nifty-live-chart/