Nifty closed with a downside pressure on the first day of FY 16-17, closing 25 points lower. On the intraday 10 mins chart we can see that today's was a quite volatile session.
The winners of the day show some banks like Canara Bank, Bank of Baroda, Punjab National Bank, Bank of India, each closing some 3-4.5-% higher. Some other winners of the day are :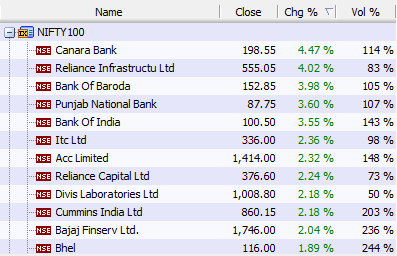 The losers are:
Among the indices we see that the Nifty Realty index has done very well relative to the other indices, it closed 2.67% higher. Other than that the Midcap 50 index also closed in green, the Nifty IT index was the biggest losers with a close nearly 1 % in the negative. The nifty 50 and Banknifty have given closing on separate sides of the fence, with Nifty 50 in red and Banknifty slightly positive.
If we look into the Relaty sector and study the stocks forming the Realty index then over there a positive trend seems to be on the rise especially among stocks like DLF and Unitech.
INTERNATIONAL MARKETS:
The international indices along with Dow and NASDAQ futures are trading under pressure today. The reason being the anticipation of the US nonfarm payroll which is a very important US jobs data released by the US Department of labour. The markets react very quickly and in a volatile manner to the announcement of this monthly data. It has a close correlation with the US Dollar . The other security classes impacted by this data are the equities, Gold and indices. The European indices are also trading fairly lower, with FTSE 100 and CAC 40 trading more a percent lower. The Asian indices have also posted a bad trading session with Hangseng closing 1 and half percent lower. The Japanse business sentiments have been worsening since some days and the impact was seen today when the Nikkei 225 closed 3.55% into the red zone.
CHART OF THE DAY
We discussed the bullish outlook on the charts of Boschltd back on 17th Feb, 16.Today we saw the stock has turned down from the level of 21000, after have rallied from the breakout level at 17000, almost 25% upside. Today, based on the chart analysis, it looks like the stock is headed for some correction , support at 19500. However the bullish sentiments as reflected by the RSI remain intact and higher levels are expected to be scaled in days to come.
___________________________________________________________________________________________________________________________
Read more articles here:
http://blog.elearnmarkets.com/market/nifty-chart/
http://blog.elearnmarkets.com/market/nifty-live/