Listen to this:
Investors generally assess the economic and financial prospects of the Sector first before finalizing the industry analysis for any investment-related decision.
For example, under the Chemicals as a sector if one wants to invest then an investor needs to find out whether Agrochem or Specialty chemical or dyes and pigments or Industrial Chemical Industry is a better investment bet.
An Industry is defined as a portion of the Sector where more specific group of businesses is defined.
So, let us understand about sector analysis and industry analysis.
What is Sector Analysis?
Assessing the economic and financial condition of a given sector of the economy is termed as sector analysis. It provides an investor with a judgment about how efficiently companies in the sector can perform. It also helps in picking some underperformers.
Sector analysis is employed by investors who are specialized in a particular sector, or who use a top-down or sector rotation approach to investing.
Sector analysis is based on the assumption that during different stages of business cycle certain sectors perform better.
The business cycle is comprised of expansions which are periods of economic growth, and contractions, which are periods of economic decline.
During the expansion phase, investors or analysts who do a sector analysis would focus their research on companies that benefit from low interest rates and increased Capex.
For example companies in the financial and consumer discretionary sectors performance increases during the periods of economic growth.
When, the economy contracts and growth slows, Investors and analysts will turn their attention to research defensive sectors, such as utilities and telecommunication services as these sectors often outperform during economic downturns.
Let us understand this with a particular example:
We are taking FMCG sector under which we will be studying about Dabur Ltd.
Management & Discussion Analysis of Dabur Limited Annual Report 2020 states the following with respect to FMCG Sector Analysis
"The Fast-moving Consumer Goods (FMCG) sector is the 4th largest sector of the Indian economy. During FY2019-20, the sector witnessed growth of 7.2% as per AC Nielsen, which is almost half of the 14% growth reported in FY2018-19."
The sector saw a sharp slowdown during the year on account of moderation in economic activity, low farm incomes and weak rural wage growth, liquidity crunch in the system, high unemployment levels and downtrading across categories.
By March 2020, the sectoral growth dropped to 3.3% in value terms and 0.5% in volume terms.
The Coronavirus pandemic has further impacted the sector since March 2020 due to restrictions on the movement of goods, supply side bottlenecks and impact on consumption.
Consumers have been stocking up essential products such as packaged foods, staples, tea, coffee, milk, detergents, and other products of daily usage.
During this phase, demand has also surged for health and hygiene products as these aspects came into sharp focus. There was a surge in demand for hygiene products like sanitizers and disinfectants in addition to immunity building OTC (Over- the-Counter) and healthcare products.
However, discretionary and nonessential items have seen weak demand as the focus during the lockdown has been on food and hygiene."
Inference:
From the above excerpt taken from the annual report of Dabur ltd, we get an idea about the particular sector growth i.e. 7.2% in year 2019-20 as compared to 14% in the year 2018-19. While doing the sector analysis we get to know about the future outlook of the particular sector also. The extract given below highlights the future outlook.
"According to Nielsen, the effects of the disruptions caused by COVID-19 would linger on for the rest of the year, prompting the market researcher to slash its 2020 growth outlook for India's FMCG sector to 5-6% from its earlier projection of 9-10%.
It further stated said that the long-term effects of the pandemic will have a widespread impact in the months to come. However, the FMCG sector is one of those which will be less impacted than others as demand for consumer staples is expected to revive as the situation begins to normalize."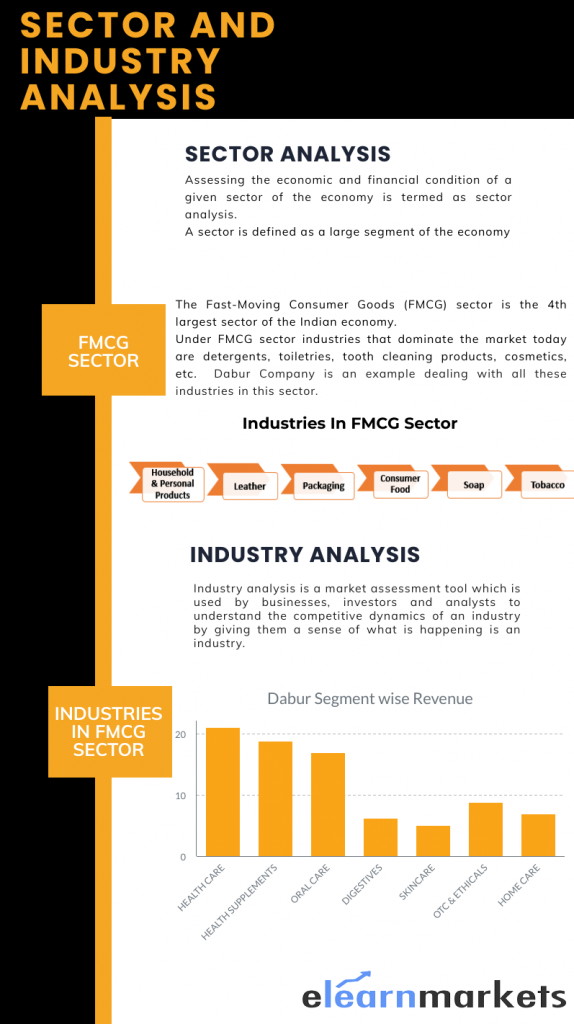 What is Industry Analysis?
Industry analysis is a market assessment tool which is used by businesses, investors and analysts to understand the competitive dynamics of an industry by giving them a sense of what is happening in an industry, e.g., statistics of demand-supply, degree of competition in the industry, future prospects of the industry taking into account technological changes and credit system within the industry, and information about the external factors that will influence the industry.
The potential new entrants, competitors, and both the buyer and suppliers have a direct influence on the working of an industry.
Industry analysis gives the business entity or the investor's necessary information which will help to make plans to work effectively. It helps the owner to get an idea about various opportunities as well as various threats that businesses will face so that they can take steps to enter the opportunities effectively.
Industry Analysis Example
We are going to take an example of Dabur ltd – it is based on three industries: Health care industry, Food industry, and Home & Personal Care Industry
The excerpt about the food industry from the annual report is given below.
"Foods Industry, which contributes to 57% of the overall FMCG market, comprises broad categories like packaged Atta, rice, edible oil, dairy products, beverages, baby food, etc.
During the year, this category witnessed a growth of 8-9%. While the Food sector, riding on the demand for consumer staples, has been growing at a good pace, the Juices & Nectars segment saw some pressure over the past year on account of down trading by the consumers to lower-priced alternatives such as milk-based and carbonated beverages/drinks.
That said, the Juices & Nectars market is still heavily underpenetrated and has a huge headroom for growth by capitalizing on innovations both in formats and extensions.
Due to the extended lockdown in India, cooking at home was a big theme due to which convenience foods and cooking ingredients were in high demand. Dabur's culinary portfolio under the homemade brand tapped the 'Chef within households' during the lockdown with a range of easy-to-prepare online recipes. These trends may get strengthened going forward as Covid effect is expected to last for a while".
Inference:
The above paragraph gives us a brief idea about the food industry in the past and its growth in the future. As we read that packaged food like atta, rice demand grows by 8-9% but the growth for juices has fallen down as people are shifting towards lower-priced alternatives.
We can also understand that due to Covid-19 since people are preferring easier to prepare online recipes there will be higher chances of increasing the demand for cooking ingredients as the Covid-19 effect will be there in the future as well.
Importance of Analysis:
Investors before taking certain investment decisions carry out the analysis in order to have the overall knowledge about the sector or industry they want to invest in. So analyzing is very important before making decisions. As it helps to assess the economic and financial prospects of a sector and industry of the economy.
By carrying out analysis it will help to identify the area where strategic changes will help to maximize profitability. It gives us knowledge of the untapped opportunities in the sector and economy.
Advantages of Sector & Industry Analysis:
Report that is prepared under industry and sector analysis helps to assess the future prospects of the company.
Both the analysis helps to forecast the actions taken up by potential competitors.
With the help of analysis report we are able to recognize and identify strategies that will improve the effectiveness of the particular sector as well as industry.
They are the tool to develop a competitive strategy that will act as the best defense against potential competitors.
One sector can have various industries under them for example an Auto Sector might have many Industries like casting, forging, auto ancilliary, battery etc thus a Sector analysis will help to understand that which Industry from this sector will likely outperform.
Since they have advantages they even have certain limitations as well which should be kept in mind while performing this analysis
Disadvantages of Sector & Industry Analysis:
Seasonal factors have a direct impact on the purchase and sale patterns of the companies of any Industry. If these factors are not considered then it may act as a limitation in a report.
If in any year any economic or macro headwind like corona occurs then the Industry may behave against the analysis.
Thus sector & industry analysis is subjective and does not guarantee success but knowing the Sector first and then finalizing the Industry may also not play out well and there one might have to do a bottom-up analysis. That is analyzing Industry first and then Sector.
Key Takeaways:
Industry analysis focuses on the industry trend and its economic and macroeconomic factors that show opportunities or threats in any particular Industry.
Every Entrepreneur needs to know about the position of the Industry with regard to their company before taking any merger, acquisition, or product launches.
Since certain sectors of the economy perform better at different stages of the business cycle so identifying these sectors will help in finding profitable investments.
Both the Sector and the Industry analysis enables the investors to identify certain strengths and weaknesses of any organization.
Happy Learning!