Multi-asset trading acknowledges the interconnectedness of the world's markets and the potential impact of new information on many asset classes.
Multi-asset funds give you the knowledge of seasoned fund managers who make investment decisions for you, such as whether to invest more money abroad, move money away from bonds and into other income-producing securities, reduce risk, or look for better opportunities.
A high-level allocation strategy, a crucial element to successful investing, works in your favour.
So, today's blog will discuss what multi-asset trading is and also Face2Face Multi-Asset Trading Conclave-Bangkok:
What is Multi-Asset Trading?
As brokerages seek to increase capabilities and access, multi-asset trading has risen recently. Parallel to this, traders have been increasingly utilising multi-asset strategies, particularly in light of the current geopolitical and economic unpredictability.
A multi-asset class is an investment that combines multiple different asset classes, so forming a portfolio of assets. As a result, multi-asset class investments broaden a portfolio's overall diversification by dividing investments among several classes.
Advantages of Multi-Asset Trading
Below are the advantages of Multi-Asset Trading
1. Multiple Opportunities
Another market will likely be more active if one happens to be trading flat. As a result, single asset class traders frequently miss out on attractive opportunities. Still, multi-asset brokers give them access to a wide selection of goods that will allow them to profit from both rising and declining markets.
For instance, a trader might elect to keep a long-term stock position and day-trade futures on the side to profit from quick changes in the market.
2. Diversification
One of the fundamental ideas behind wise investing is the creation of a diverse portfolio. By avoiding putting all their eggs in one basket, traders can lower their overall risk.
As a result, it is simpler to manage volatility fluctuations and keep returns steady over time.
For example, stock investors may diversify between sectors. Still, for a well-diversified portfolio, it may be prudent to search for positions in many asset classes, such as Forex, shares, and commodities.
3. Hedging
Many traders utilise hedging as an efficient risk-management technique to mitigate short-term hazards in their core investments.
Suppose a trader owns a portfolio of tech stocks but is worried about the impact of a forthcoming announcement and happens to have access to derivative products like futures and options. In that case, he could take a short position on a representative index like Nifty IT during the event period to protect himself from potential losses.
What is the Face2Face Multi-Asset Trading Conclave all about?
With the tremendous success of the Face2Face Mega Trading Conclave in Goa, we have curated our next edition of the Face2Face Conclave with the theme of Multi-Asset Trading, in which live trading sessions will also be conducted.
We have observed that liquidity flows through all asset classes. Be it Commodities, Currency, Stocks, and Bonds. To be successful in markets, traders should understand the crossover between asset classes and liquidity flow.
Multi-asset trading is when you have one strategy to manage the risk, the profit, and the code or the actual decision-making across multi-asset classes.
Why should one attend this Face2Face trading conclave?
Our experts are carefully identified for Face2Face Multi-Asset Conclave Bangkok. They are veterans in trading multi-asset classes. The 4-day trading extravaganza is poised to be graced by 11 of India's most illustrious traders and investors with live trading sessions.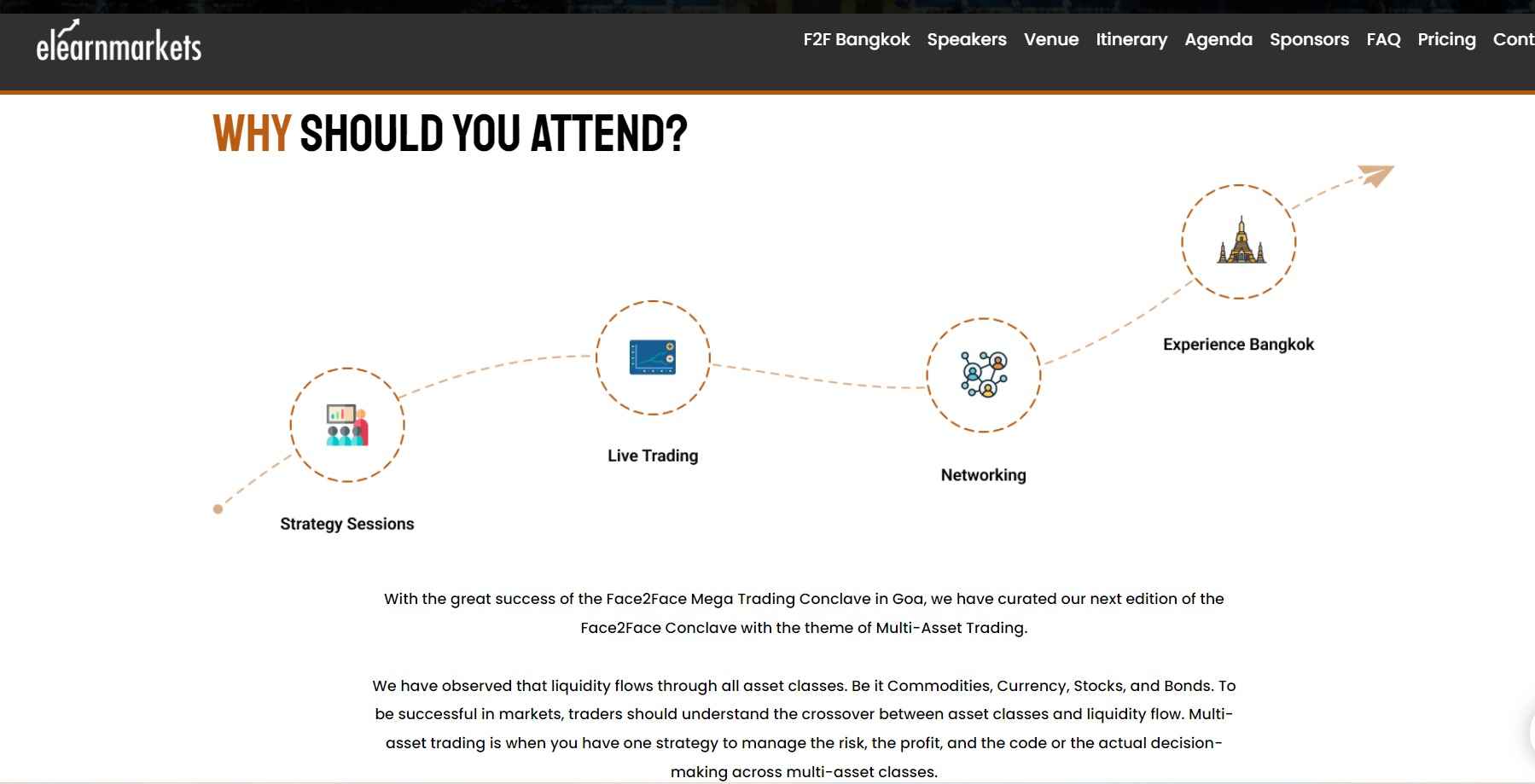 The Face2Face Trading Conclave is your golden ticket to interact with these market gurus, learn the trading tricks and invest directly from them, and gain priceless knowledge and insights.
This spectacular event will pave the way for a mammoth learning and networking opportunity for every trader and investor.
About the Speakers
Let us introduce you to the market experts who will be conducting the live trading sessions:
1. Mr. Vivek Bajaj
Vivek Bajaj is the Co-founder of Kredent Infoedge, an enterprise involved in simplifying finance for everyone. He has over 17 years of experience in the financial market. Vivek is a qualified Chartered Accountant, Company Secretary, and an MBA graduate from IIM Indore. He began his career as an analyst and moved forward to establish eastern India's largest derivatives Trading Desk employing 150 traders.
2. Mr. PR Sundar
Mr. P R Sundar is a well-known stock market expert with over 30 years of experience in the stock market. Currently, he manages Mansun Consultancy Pvt. Ltd. He is a popular expert among the experts of the stock market, who has also appeared on Sun News Channel, Varthaga Ulagam Program.
3. Mr. Sivakumar Jayachandran
Mr. Sivakumar Jayachandran is a renowned scalper and trader featured in Money Control as Star Trader. He is a NISM Certified Professional for Equity & Derivatives, having 10 years of experience in part-time trading and 4 years of experience in full-time trading of Index Options.
4. Mr. Ashu Madan
Mr. Madan has an extensive experience of over 29 years, including strategic development and execution in capital markets. He leads the India-wide expansion of JM Financial Services and has a proven track record of maximizing the growth potential of a range of businesses.
5. Mr. Souradeep Dey
Mr. Souradeep Dey [B.E.(Info Tech), MBA (Finance), Trader & Trainer] has a rich experience of 12 years as an equity & commodity trader and trainer. He has worked as a crude oil trader for 3 years for Futures First, trading in the ICE exchange, Europe. Technical analysis is his area of interest, and he is involved in developing trading algorithms.
6. Mr. Vishal Malkan
Vishal is one of the top coaches in stock trading and personal transformation. Venturing into this journey at the young age of 16, he experienced the thick and thins of the stock market before achieving success as a trader.
7. Mr Vishal Mehta
Vishal Mehta has been practicing and teaching in the financial market for over 12+ years. He has completed his CMT (Certified Market Technician) from the Market Technician Association (MTA) and MS-Finance from ICFAI School of Financial Studies. He has vast experience working with various Financial Product companies such as Bloomberg, Thomson Reuters, Financial Technologies, Spider Software, and Reliable Software.
8. Mr. Vijay Thakare
Being a trader comes naturally to him as he has been through multiple fields throughout his career. Vijay started as a paper delivery boy, gradually moving to sales and marketing. He has successfully launched and managed a BPO for 10 years with a team size of 100 people with client lists ranging from AT&T.
9. Mr. Jitendder Singh
Jitendder Singh is a Graduate in Economics (Bronze medalist) and then went on to do his MBA. He also completed the Database Administrator Course from Oracle Corp, USA., and Comcast to Verizon. He trades in derivatives i.e options & futures. A genuine trader who has undergone the actual journey from losses to profits, he believes in practical solutions that work, rather than mere theory.
10. Mr. Chetan Panchamia
Mr. Chetan Panchamia (B.COM, Diploma in Capital Markets) has experience of 17 years in the markets, starting from front office to fundamentals research before moving to the technicals side and specializing in options trading and is presently a full-time Professional trader focusing on index options.
11. Prof Kaushik Akiwatkar
Prof. Kaushik spent almost a decade in academics before joining Elearnmarkets. He is a former Dean & Professor of Cresta School of Management, Science & Arts and Founding Director of Rishihood University. His passion for teaching and sharing his knowledge about Financial Markets led him to join Elearnmarkets as the Head of Products earlier this year.
About the Live Trading Sessions
Other than the sessions conducted by the above market experts, they will also conduct live trading sessions in which live examples of trading will be discussed.
Also, sessions like Ice breaking sessions and specially designed Pit trading game, Strategies Shared by Experts, Gala Party & Much More will take place in this Face2Face Trading Conclave.
You can also watch the video below
Bottomline
We can conclude that multi-asset trading is one of the best ways of mitigating risk in our portfolio by trading different assets. However, if you want to learn how to do multi-asset trading in-depth in live trading sessions conducted by the stock market experts, you should attend the Face2Face Trading Conclave.
We hope you found this blog informative and use it to its maximum potential in the practical world. Also, show some love by sharing this blog with your family and friends and helping us in our mission of spreading financial literacy.
Happy Trading!