Many economic sectors and individual households have experienced pain over the past couple of years, which has compelled traders to find new strategies to mitigate their risks. The widespread use of multi-asset trading strategies was one of the effects of such changes.
Trading across different asset classes typically increases the likelihood of making it through a period of high volatility without suffering a big loss. In addition, because some assets, like cryptocurrency, are inherently more volatile than others, traders can choose the level of risk that suits them best.
So, in today's blog, we can discuss why a trader must know about Multi-Assets and not just a single asset:
What is Multi-Asset Trading?
A multi-asset trading is one of the strategies combining multiple different asset classes, forming a portfolio of assets. Therefore, by dividing assets across various classes, multi-asset trading boosts the total portfolio's diversification.
A multi-asset trading strategy can be implemented in a variety of ways. Most portfolios consist primarily of stocks and derivatives; however, you can also trade-in:
Cash (including foreign currencies)
Commodity
Metals
Many of these assets will be mixed together in a multi-asset portfolio that is really diversified. You can even choose to put money into each of them. A well-diversified trader can manage any eventuality even though any asset may occasionally outperform or underperform the others. A multi-asset portfolio with various assets might offer protection from volatility and significant market fluctuations.
How can one mitigate risk by Multi-Asset Trading?
So, let us take an example to explain how can one mitigate risk by multi-asset trading-
There is a negative correlation between the dollar index and the Indian stock markets. This means that when the Dollar Index falls, the Indian Stock Markets rise and vice versa.
This is because FIIs (Foreign Institutional Investors) invest more in Indian stocks when the dollar index declines because they receive larger profits than they would from investing in dollars.
This can be proven from the chart below: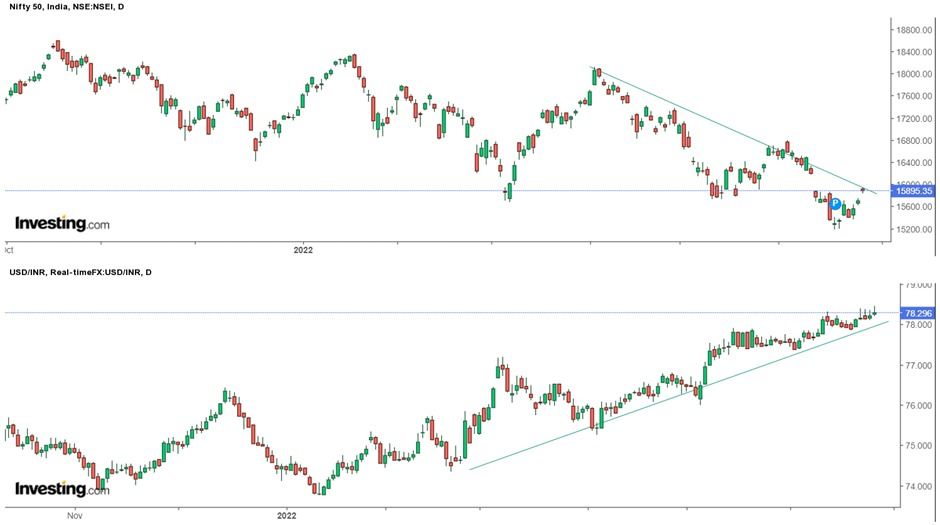 As we can see from the chart above, how the Nifty 50 is falling as the USD\INR Index is increasing. To mitigate the risk of falling stock prices, you can trade in currencies futures.
Pros of Multi-Asset Trading
Below are the advantages of multi-asset trading-
Diversification: Multi-asset trading is a simple strategy for achieving diversification and all of the advantages of a diverse portfolio.
Protects against severe losses: By diversifying your holdings, you can profit from increases in all asset classes without taking on a disproportionate amount of the risks involved. If your portfolio is adequately diversified, even if one asset's value plummets, your entire holding won't be destroyed.
Having understood what multi-asset trading is, the question comes of How to do multi-asset trading,
For this purpose, Elearnmarkets has developed a "Trading Mentorship " program.
What is the Trading Mentorship Program all about?
The Trading Mentorship Program (TMP) is all about giving the perfect recipe for becoming a successful full-time trader. Trading equities, equity and index options, commodity and currency require the traders to gain expertise in key skills like stock selection, selecting low-risk entry points in that stock, risk and money management, position size management, partial profit booking and re-entry on moderate pullbacks. The program is precisely focused on each of these aspects.
We have mentors who have rich trading experience in Indian and international markets. We focus on intraday and swing trading in equities and derivatives actively during each day of the week. This helps the participants build the right frame of mind and approach to succeed in the market consistently.
Highlights
Below are the highlights of this program:
32 Modules.
5 Market Experts mentoring you in live sessions.
3 Associates to handhold you.
8 Live Markets Masterclass
Regular handholding over WhatsApp group
Assignment and Homework for in-depth learning
Who should join this program?
Those traders should join this program if financial Markets were always their thing if they are looking for making a career in trading if they want to explore a passive income stream, generate legitimate part-time income and want to mitigate risk in their portfolio.
You can also watch this video on our TMP Program-
Bottomline
We can conclude that multi-asset trading is one of the best ways of mitigating risk in our portfolio by trading different assets. However, if you want to learn how to do multi-asset trading in-depth and become an expert, our Trading Mentorship Program is the best place to get started.
You can also look into our derivatives trading course to explore similar interesting concepts.
We hope you found this blog informative and use it to its maximum potential in the practical world. Also, show some love by sharing this blog with your family and friends and helping us in our mission of spreading financial literacy.
Happy Trading!
You can also visit web.stockedge.com, a unique platform that is 100% focused on research and analytics.