The Indian banking system has evolved much over time. For instance the money transfer which used to take few days earlier could be made real time today. Understanding the banking system of the economy is an important part of money management. To learn about money management, join our course to gain a Certification in Online Financial Planning & Wealth Management at Elearnmarkets.
Now you can transfer your funds electronically through National Electronic Funds transfer (NEFT) or Real Time Gross Settlement (RTGS).
Today we are going to talk about NEFT and RTGS and how they differ from each other.
These electronic fund transfers help us to receive and send fund in real time and thus making our life easier. Moreover, these RTGS and NEFT are maintained by Reserve Bank of India.
What is RTGS?

RTGS stands for Real Time Gross Settlement, which enables transferring your money from one bank to another in real time and on gross basis. The transaction will be done by the time processing is over and it is by far the fastest possible way to transfer money. Here the money is transferred on a one to one basis without clustering with another transaction.
It is maintained by RBI and is available during working days for a certain number of hours. Please note that the payments made are final and irrevocable since the settlement of funds takes place in the books of RBI.
Also Read: How to Transfer Funds through NEFT and RTGS?
What is NEFT?

NEFT stands for National Electronic Funds Transfer. This system was launched in November 2005. It also facilitates funds transfer from one bank to another within India.
Here unlike RTGS, the settlement takes place in batches rather than on a one to one basis and the batches are settled on an hourly time slots.
Let's discuss how these funds differ from each other:
Difference Between NEFT and RTGS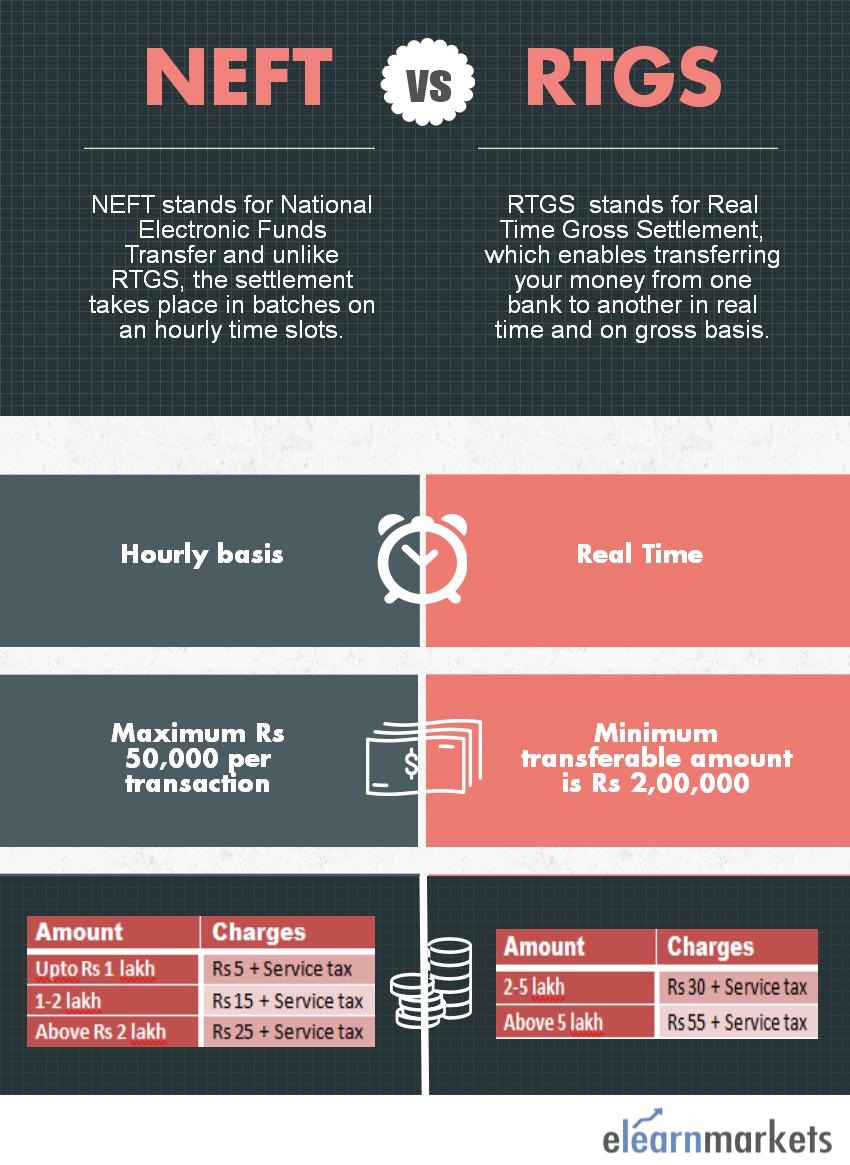 1. Timing
NEFT operates on a half-hourly basis Say you have done the transaction after the settlement; you'll have to wait until the next settlement time. Basically, it has 23 settlements from 8 a.m. to 7 p.m. on all working days excluding2nd and 4th Saturdays Sundays and other declared bank holidays.
However, in case of RTGS, it takes place on a real-time basis, since they are constantly processed throughout the RTGS business hours which is from 8 a.m. to 4:30 p.m. on all working days excluding 2nd and 4th Saturdays, Sundays and other declared bank holidays. Please make sure that the timing kept by different banks may vary.
2. Amount
NEFT does not have any minimum or maximum limit on amount you transfer. But the maximum amount per transaction is limited to Rs 50,000 for cash-based remittances within India and cash-based remittances to Nepal.
On the other hand, RTGS is mostly meant for large transactions. The minimum amount which you can transfer through RTGS is Rs 2,00,000. However, RTGS doesn't have any upper ceiling for making transactions.
3. Charges
When you send funds through NEFT up to Rs 1,00,000, the bank charges Rs 5 plus applicable GST.
For the amount in the range of Rs 1,00,000-2,00,000, the charge is up to Rs 15 plus applicable GST and for the transactions above Rs 2,00,000, the charge is up to Rs 25 plus appliciable GST. However, the inward transactions in case of NEFT are free.
On the other hand, in case of RTGS, if the outward transaction value is between Rs 2,00,000- Rs 5,00,000, the charges will be up to Rs 30 plus applicable GST per transaction. If the transaction value is above Rs 5,00,000, the charge is up to Rs 55 plus appliciable GST per transaction. However, when you receive funds through RTGS, it doesn't involve any charge.
RTGS / NEFT is not allowed on Sundays, second and fourth Saturday of the month and the declared bank holidays.
Bottomline
If you want to transfer a large sum, RTGS is a better option but for smaller funds and where there is no urgency, you can opt for NEFT. Remember that RTGS involves a higher cost than NEFT transaction. However, these days you can even transfer funds electronically using your mobile phones through
Also Read: Advantages of IMPS Fund Transfer
In order to get the latest updates on Financial Markets visit Stockedge