Learning about the various methods of money transfers is an essential element of good personal financial management. IMPS fund transfer is one of the popular way to transfer money and to manage personal finance.
Last week I got a phone call at 3 o' clock in the early morning. Somehow I managed to pick up the phone in a little drowsiness and surprisingly it was from my best friend. Actually, he had some emergency at his home, so he asked me to get a lump sum cash within an hour and told me that it's really very urgent.
I generally don't keep much cash in my home and it is usually lying in my bank account. Since he's my good friend so I had to help him. You know how the problem got solved?
No!
I transferred the money using my cell phone using IMPS fund transfer service.
So this IMPS fund transfer service turned out to be a lifesaver for my friend.
Our banking system has evolved much over the years and the electronic fund transfer mechanisms like NEFT, RTGS and IMPS are like the cherry on a cake. In the olden days, the fund transfer which used to take several days can be done in real time today.
These electronic fund transfers have made our life much easier and enable us to send and receive cash on a real-time basis. While NEFT and RTGS have evolved greatly, IMPS is still struggling hard to manage to find its feet in India.
What is IMPS Fund Transfer?
IMPS stands for Immediate Payment Service which is a 24×7 interbank electronic fund transfer service through mobile phones.
Also Read: The New Era of Banking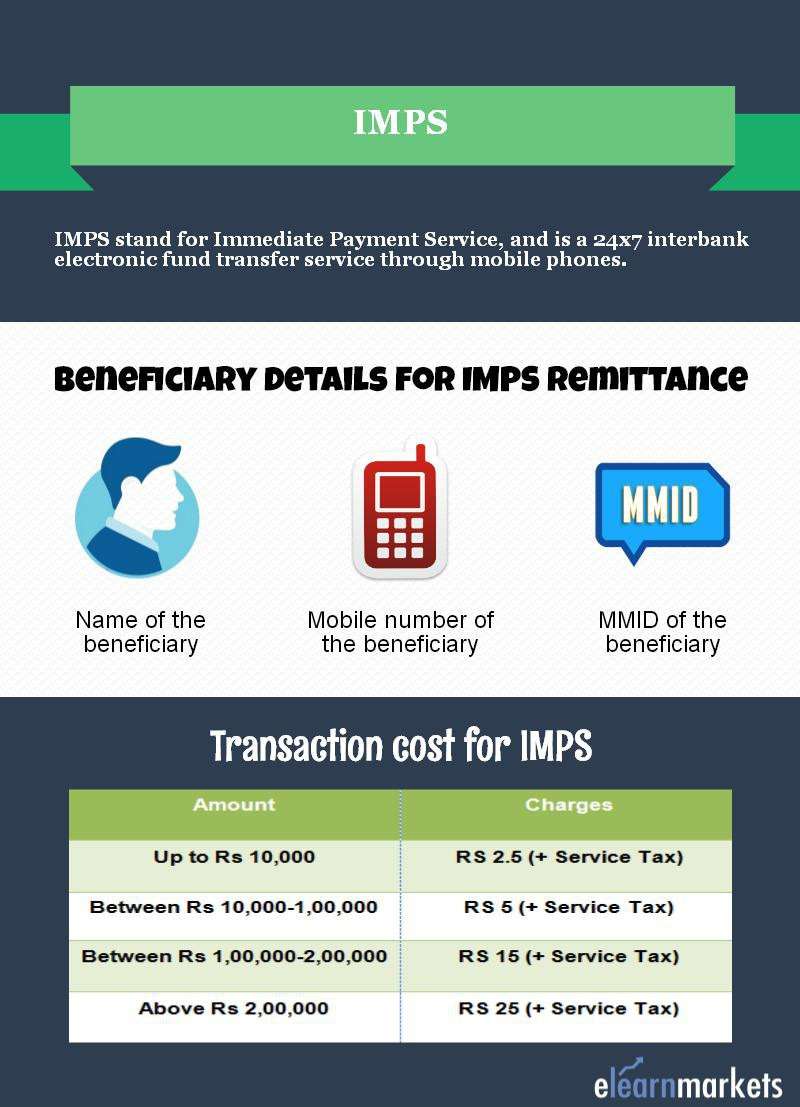 It facilitates customer to use their mobile as a medium for accessing their bank accounts and remitting funds thereof. This facility was introduced in 2010 and is facilitated by NPCI (National Payments Corporation of India).
While NEFT and RTGS transactions can be sent and received only during the business hours of the bank, these IMPS transactions can be done at any time and any day (even on holidays).
The fund gets transferred into the account of beneficiary within few seconds after the transaction is made. Here the funds get transferred to beneficiary's mobile number, while in case of RTGS and NEFT, the funds are transferred directly to the beneficiary's account.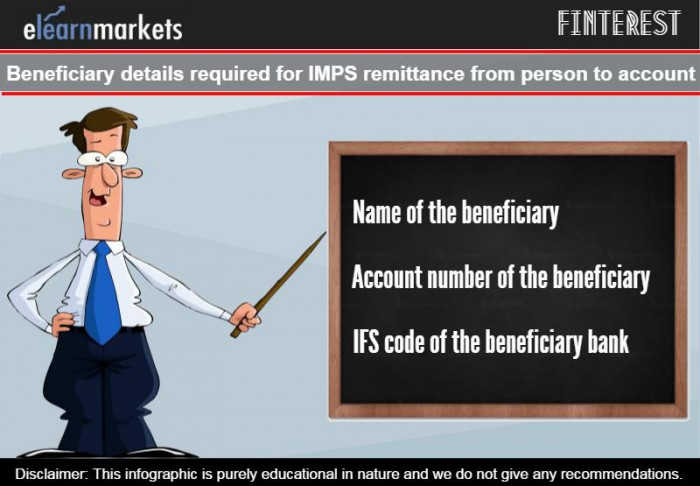 There are various banks which provide fund transfer facility through their mobile banking platforms. The customers got to have a bank account with the bank to enable this facility. Moreover, the customer needs to enroll with the bank for mobile banking services.
Upon registration, you will receive Mobile Money Identifier (MMID), which is a seven digit number issued by the bank of which the first four digits are the unique identification number of the bank offering IMPS and the last three digits identify the account.
The remitting customer requires the beneficiary's details to facilitate the fund transfer through IMPS which includes beneficiary's MMID and the mobile number. The charges for the remittance using IMPS are decided by the individual bank.
IMPS Fund Transfer – How to Send and Receive Money ?
(a) Registration Process:
1. Register yourself with the mobile banking service of the bank. Remember that SMS alert service is not Mobile Banking. To link your mobile no with the bank account no, you have to place a separate request for Mobile Banking Service.
2. Bank issues unique Mobile Money Identifier (MMID) and MPIN to every customer. MMID is a 7 digit no in which 1st 4 digits are the unique identification no of the issuing bank.
3. Now download Mobile Banking Application through Google Play Store. You can also receive download link through SMS if your bank provides IMPS on SMS. The link to download Mobile Banking Application is pushed by the banks through SMS on customers mobile number registered for mobile banking.
(b) How to transfer money through IMPS:
1. Suppose, you wish to transfer money to your friend. Then your friend should also be registered for mobile banking service (Though it is not compulsory).
2. Your friend should share his MMID and Mobile No with you for money transfer. Please note that the Bank Name, Account No and other details are not required for money transfer.
If your friend is not registered for mobile banking service then you only need his account number and IFSC code of the branch for IMPS. Transfering money through MMID/Mob No or Account No/IFSC code is also known as IMPS P2P (Person to Person).
The 3rd method of transfering money through IMPS is by using Aadhaar no of your friend. In this case, all you need is only the aadhaar no of your friend to transfer funds through IMPS. The amount will be transferred to your friend's bank account linked to the Aadhaar.
3. To transfer money through IMPS, login to the mobile banking application / Net Banking of your bank.
4. Select the IMPS or use the SMS facility if your bank provides IMPS on SMS
5. Now enter the MMID and mobile no of your friend.
6. Then enter the Amount and your MPIN or OTP to transfer money to your friend.
7. Finally you will receive SMS confirmation along with transaction number for any future reference.
You can watch the video below to get a better idea of IMPS:
Word of Caution:
1. Wrong Details: However, the beneficiary customer should have to register their mobile number with the bank where the individual is holding the account and intends to receive the fund. It is important to have a valid MMID and Mobile No or Account No and IFSC code provided by the bank. The transaction will be declined if either of the 2 details required is wrong.
2. Delete Mobile Banking Application: It is always advisable to remove mobile banking applicable before you change your mobile handset. Also delete all the SMS stored on the mobile including MPIN to avoid any misuse of IMPS facility.
3. MPIN / OTP: You should update your mobile no linked to mobile banking as soon as you change your mobile no. And never share your MPIN with anyone.
I hope that I am able to simplify the concept on IMPS and you can send us your feedback and give any suggestion in our comment section.
In order to get the latest updates on Financial Markets visit Stockdge
Take care and spread financial literacy!!