Did you know if there is one organization in India that has played a significant role in educating investors about the complexities of mutual funds, it is the Association of Mutual Funds of India?
AMFI is a non-profit organization dedicated to advancing the cause of mutual funds and ensuring that they have a more significant presence in India.
This organization is in charge of disseminating all funds' daily NAVs as well as monthly flows data for various mutual fund categories.
It also manages individual ARN registrations to maintain integrity, transparency, and investor interest throughout the mutual fund selling process.
So, in today's blog, we will discuss the Association of Mutual Funds of India:
What is AMFI?
The Association of Mutual Funds of India is a non-profit organization that promotes mutual funds in India. It is an association of SEBI-registered mutual funds in India well-known for its "AMFI NAV" service.
It was established as a non-profit organization on August 22, 1995. The AMFI "Find distributor" feature, which can be found on its website (amfiindia.com), is used to find certified Mutual Fund distributors in a particular area.
NAV, circulars, bulletins, updates, and other statistics relevant to the Mutual Funds business are among the additional services supplied.
Roles of AMFI
The Indian mutual fund business has risen by leaps and bounds in the last several years. As of November, the Indian mutual fund industry has Rs.3.80 trillion in assets under management, or almost $500 billion.
There are 9.78 crore mutual fund folios in India, with SIP folios accounting for close to 5 crores. As a result, MFs have established themselves as a vital link in the chain.
There are several instances where savings are not properly channeled into mutual funds when it comes to investing.
Because either the investor's money is misappropriated or the product is mis-sold to the end customer, the goal of investor education is defeated. This organization assists in protecting investor interests in such cases of investor complaints or inquiries.
AMFI is a non-profit organization that was founded in 1995 and its only objective is to serve investors by providing them with transparency in mutual fund procedures.
This organization plays a critical role in rebuilding investor confidence in the Indian Mutual Fund Industry, including important conflicts. SEBI supervises its activities.
AMFI's office bearers are largely top representatives from India's mutual fund industry. This organization requires all advisers, agents, and trustees to be registered.
Objectives and Functions of AMFI
Outlines the association's ethical and standardized professional requirements for all mutual fund operations.
Members and investors are encouraged to follow ethical business practices and rules.
Obtains compliance from AMCs, agents, distributors, advisers, and other entities participating in the capital market or financial services areas.
SEBI-approved networks that adhere to mutual fund regulations. Represents the Finance Ministry, the Reserve Bank of India, and the Securities and Exchange Board of India (SEBI) on all matters pertaining to the industry.
Distributes information on the mutual fund industry, as well as conducts research and workshops on a variety of funds.
Keeps an eye on everyone's Code of Conduct and takes disciplinary action when breaking the rules.
Investors can express their grievances and file complaints against certain companies.
Investors and asset management firms' interests are protected.
Committees
Over the years, this organization has strived to establish a mutual fund investor education program. It also disseminates information on the Mutual Fund industry by utilizing research and studies, either directly or indirectly.
It has several committees to guarantee that each of its goals is met:
Committee on Valuation
Committee on Operations & Compliance
Committee on Registration of Certified Distributors
Committee on Financial Literacy.
AMFI Members
As of now, all 42 Mutual Funds are members. Therefore, we can classify them broadly as follows: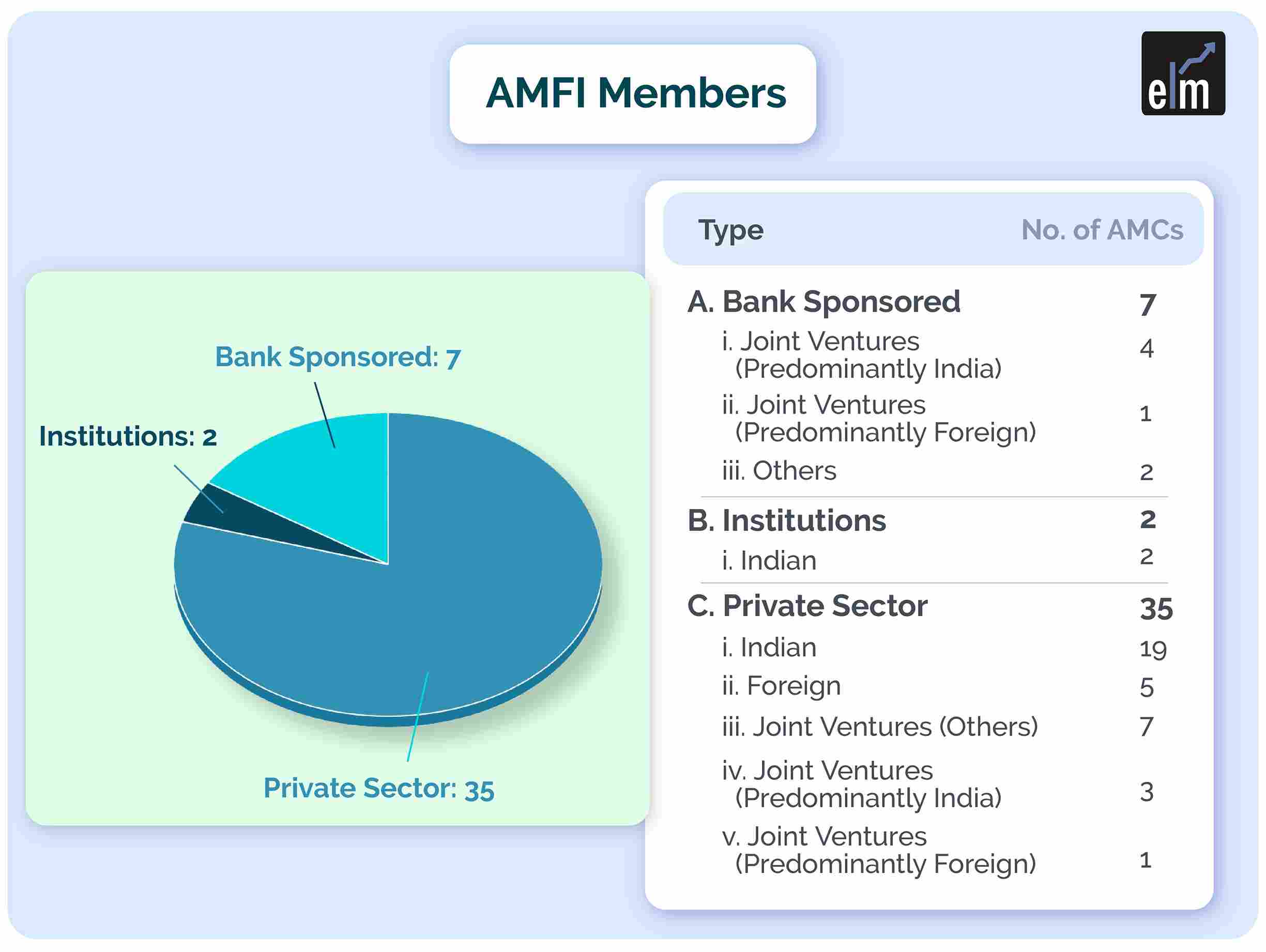 What is AMFI Registration Number or ARN?
Mutual fund agents, distributors, and brokers are assigned an AMFI Registration Number (ARN). Only individuals who pass the NISM Certification exam are eligible for one.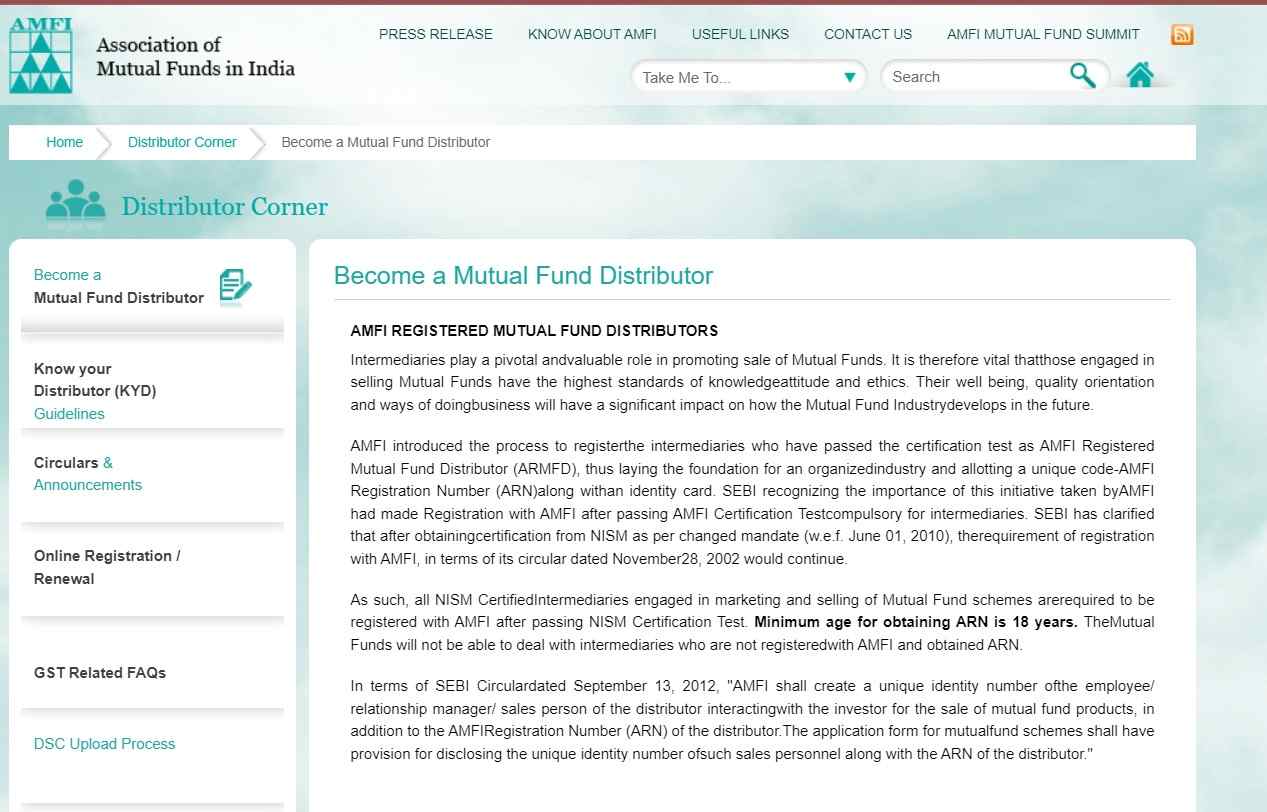 Passing the CPE (Continuing Professional Education) is also required if you are a senior citizen. You can't sell or even promote a mutual fund without this number.
Companies and individuals who trade mutual funds receive an ARN ID card from AMFI. However, keep in mind that the NISM certificate is only good for three years.
It includes the AMC's name, a photo of the cardholder, the ARN number, the corporate location, and the validity period (three years). As a result, cross-checking is easier for investors.
Why is ARN important?
Investors are enticed to invest in mutual funds via brokers, agents, and middlemen. AMFI authorizes only people or businesses possessing an ARN Number to sell funds to potential investors to ensure that only qualified people sell funds to them.
To become an AMFI-registered adviser, all third-party agents must register and pass a qualification test.
These individuals are knowledgeable about mutual funds, market movements, and their reasons. When it comes to mutual fund investing, please do not entertain any organization that does not have an ARN.
Before investing, always double-check the registration number. If you want to invest directly, enter the ARN code of AMC, not the distributor's, in the 'direct' box.
You can also submit applications with ARNs to Registrar & Transfer Agencies like CAMS and Karvy.
Can you sell mutual funds without the ARN, and can ARN be withdrawn?
If a fund manager, broker, or agent wishes to market mutual funds, they must first obtain an AMFI permit, granting them a unique AMFI registration number or ARN. The AMFI ARN certifies that a company is qualified to market mutual funds.
No one may sell or suggest mutual funds to investors without an ARN license. AMFI can revoke the ARN license in one of three scenarios.
If a violation of the code of conduct has occurred,
If the registered entity is found guilty of a major crime
A negligence case is filed, and a consumer court upholds it.
Read more about Mutual Funds from ELM School
How do you register/renew ARN?
a) ARN registration and renewal through the internet
Link your Aadhaar and registered mobile number for ARN registration or renewal. ii. If you have not yet submitted your Aadhaar details, apply manually.
Use online banking to pay the registration or renewal charge.
To register/renew, you do not need to give your NISM passing certificate because CAMS may import it straight from NISM.
You will receive a new ARN license immediately after they verify the documents supplied on the AMFI portal.
b) How to register/renew an ARN without going online
Log in to the official AMFI portal using your credentials.
The user id will be your ARN number, and the password will be issued to you through email by CAMS
AMFI receives your information immediately from NISM after authentication.
Pay the fee online (net banking or debit/credit card) or at the fund house once you have passed the NISM certification/CPE completion.
ARN/EUIN registration/renewal occurs immediately. In a nutshell, AMFI has been instrumental in establishing mutual funds as a reliable and transparent investment vehicle.
AMFI Examination
AMFI used to provide the certification exam for Mutual Fund Distributors a few years back. The AMFI test was phased out on June 1, 2010. Prior to June 2010, the exam was administered by the Association of Mutual Funds in India, with successful applicants receiving a Certificate.
The AMFI exam was moved to the National Institute of Securities Markets as part of a SEBI effort (NISM). SEBI sought to integrate all financial product certifications under one roof with NISM; hence this decision was made.
The AMFI test has been renamed NISM-Series-V-A: (5A) Mutual Fund Distributors Certification Exam as a result of the modification.
AMFI NAV Service
The market value of all securities held by the mutual fund scheme is the Net Asset Value (NAV). Therefore, the performance of a mutual fund scheme is measured by the NAV or Net Asset Value.
The NAV per unit of a mutual fund can be calculated by dividing the market value of the mutual fund scheme's securities by the total number of units in the mutual fund scheme on any given date.
In simple terms, NAV is the price you pay for the mutual fund scheme's units.
The Indian Association of Mutual Funds also offers a variety of other services. For example, all mutual funds' daily Net Asset Values (NAV) are available.
Those looking for AMFI NAV or AMFI NAV history can go straight to the website and download the Net Asset Value (NAV) for the entire set of schemes. The NAV's historical values can also be seen on the AMFI website.
Bottomline
Unlike popular belief, the Association of Mutual Funds in India (AMFI) is not a self-regulatory body. Instead, it functions more like a watchdog, ensuring that mutual fund sales are conducted transparently and that no mis-spelling occurs.
We hope you found this blog informative and use it to its maximum potential in the practical world. Also, show some love by sharing this blog with your family and friends and helping us in our mission of spreading financial literacy.
Also read: 2 Steps Checklist on Starting Systematic Investment Plan (SIP)
Happy Investing!
You can also visit web.stockedge.com, a unique platform that is 100% focused on research and analytics.