Some relief…
Outcome of the FOMC
Federal Reserve officials said they would begin running off their $4.5 trillion balance sheet "relatively soon" and left their benchmark policy rate unchanged as they assess progress toward their inflation goal.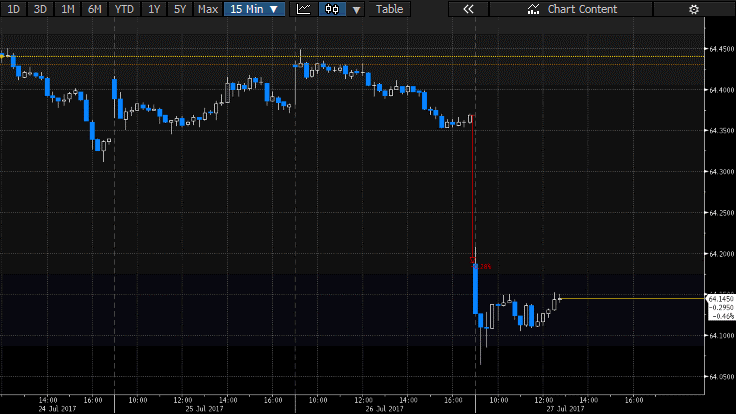 Source: Bloomberg
The 15 mins chart of INR Spot indicates how INR got appreciated post FOMC decision. When there is an increase in Fed rate, it reduces the inflationary pressure of United States on one side and on the other hand dollar gets appreciated. Hence, due to the status quo decision of FOMC, INR got appreciated and made a low of 64.0638 (till 13:30 hrs IST).
Waiting eagerly for 2nd August, 2017
An overview of RBI Monetary policy rates…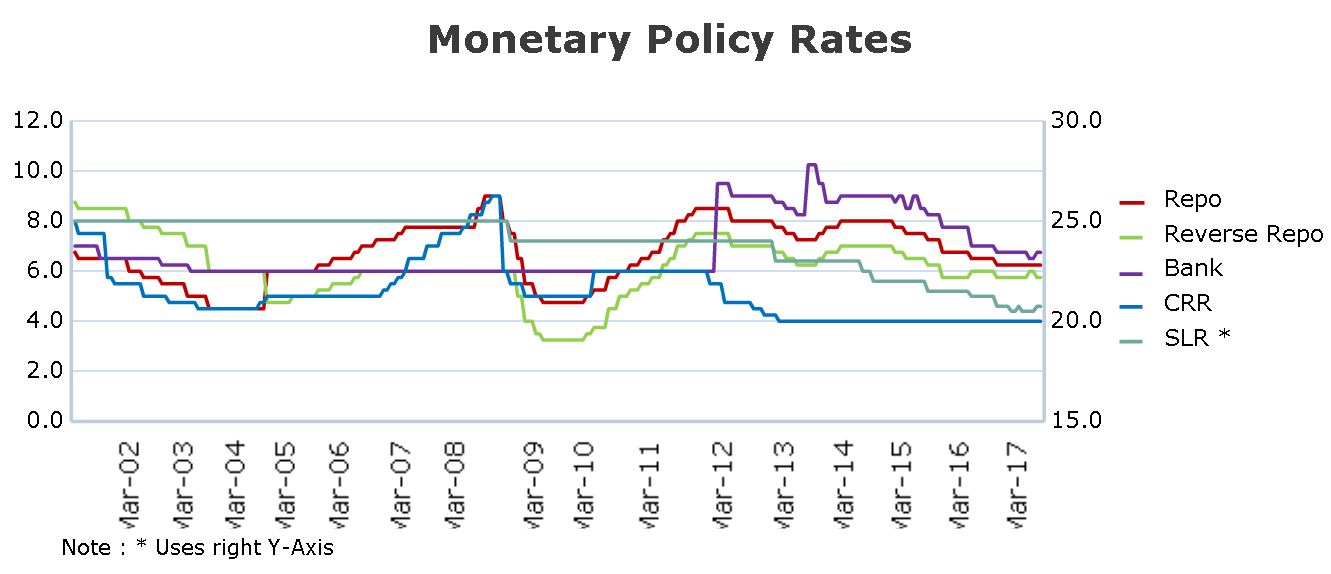 Source : RBI
Policy Repo Rate : 6.25%
Reverse Repo Rate : 6%
CRR : 4%
SLR : 20%
India CPI inflation data came down to 1.5% for Jun'17. Thus marking the eight straight month of sub-4%.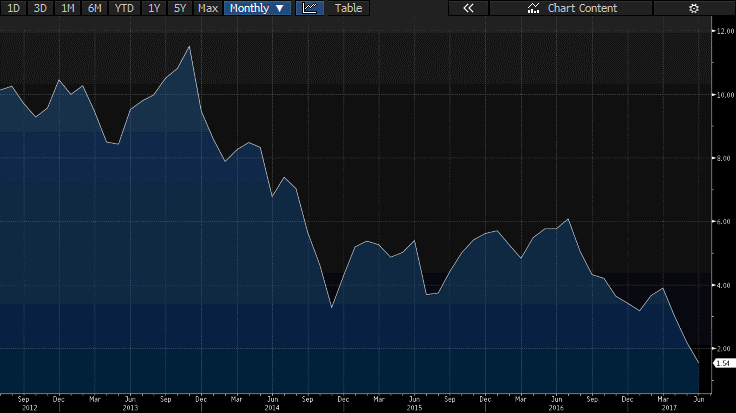 Source : Bloomberg
On the other hand Food CPI came down to -2.12% in June. Thus maintaining negative numbers for the straight second month. It is mainly due to fall in the prices of vegetables (-16.5% YOY) and pulses (-21.9% YOY) .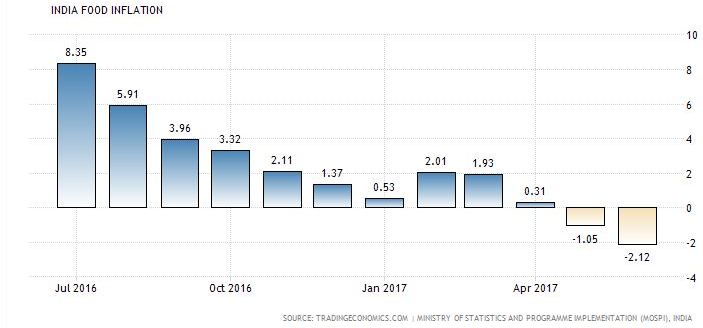 Moreover, the IIP data also came down mainly due to decline in mining activities.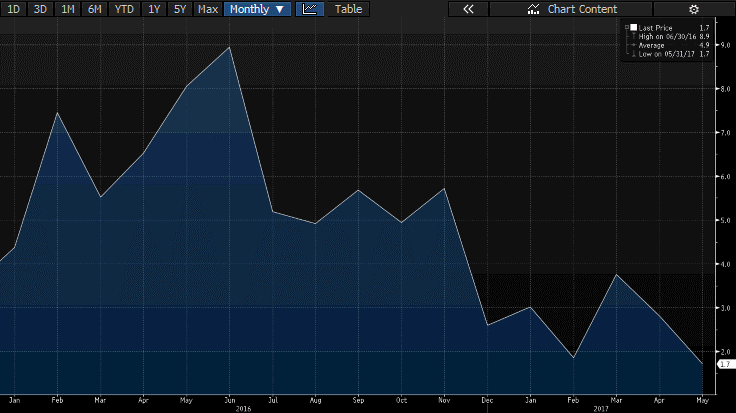 Source : Bloomberg
Along with headline CPI, Core CPI (ex-commodities) came in at 4% YoY, nearly 50bps lower than the January'17 data and 90bps lower than 12 months ago.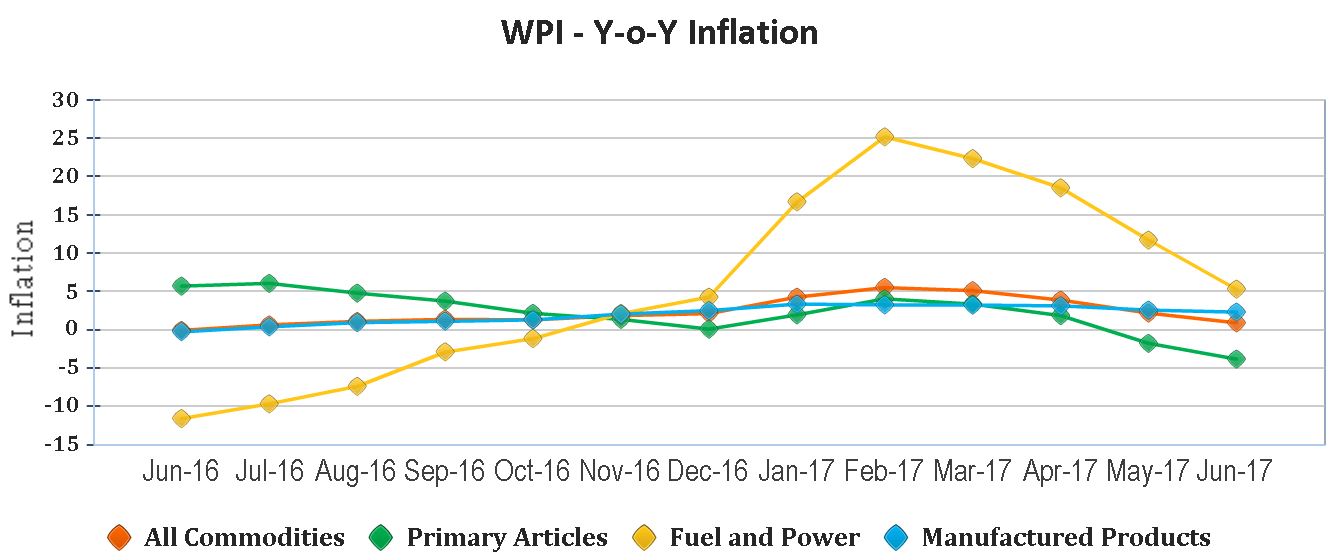 Source : RBI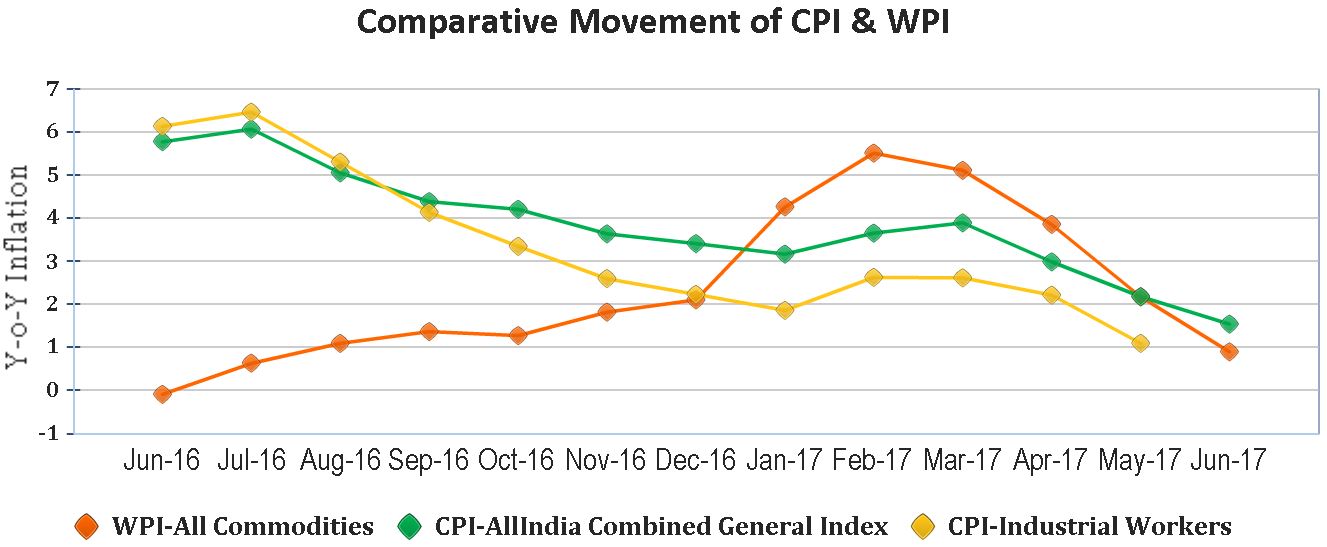 Source : RBI
The above figures suggest that both CPI & WPI are on a downward spiral.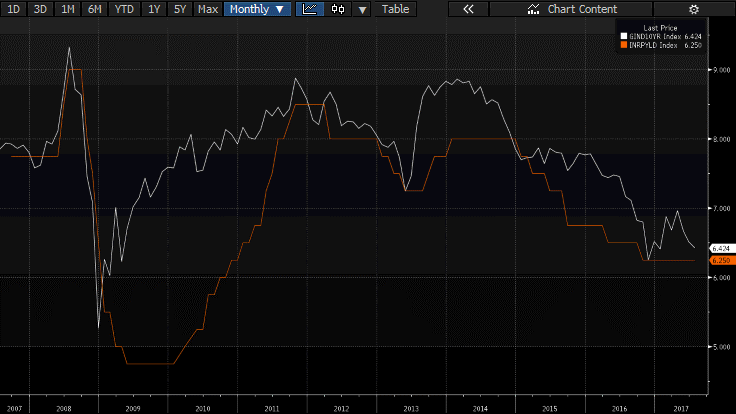 Source : Bloomberg
The above chart shows the strong correlation between 10 year Government bond yield and the Repo rate.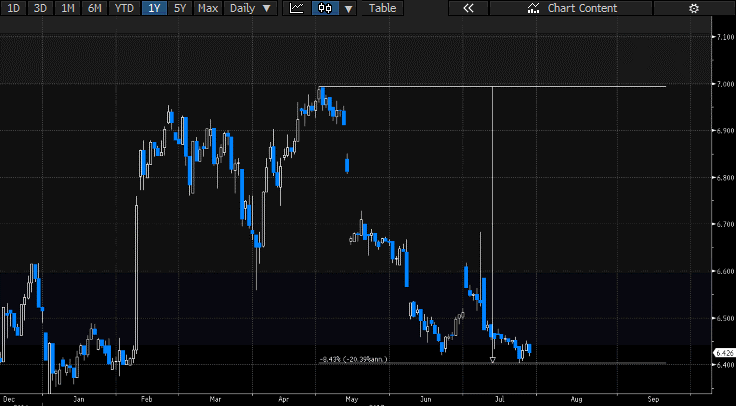 Source : Bloomberg
The above chart shows that since the beginning of May the yield has fallen by 8.4%.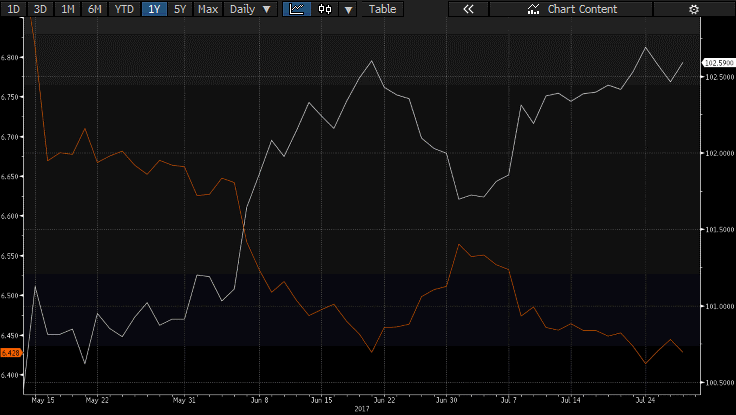 Source : Bloomberg
There is an inverse relationship between the bond yield and price. When interest rate falls, bond prices rise in order to have the effect of equalizing the interest rate on the bond with prevailing rates and vice-versa. Hence, the above chart clearly indicates that the bond market has been discounting the rate cut with a strong conviction.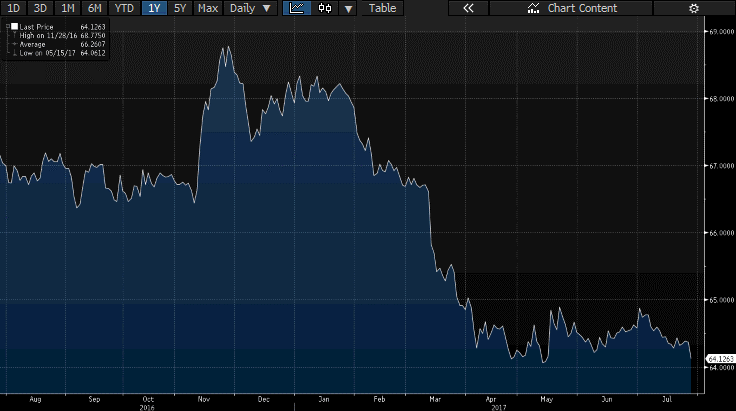 Source : Bloomberg
Indian Rupee also appreciated since the beginning of the year.
An overview of economic health
Some Macro Indicators
Capacity Utilisation (Oct-Dec 2016) : 72.7%
Credit Growth (YOY as of 07/07/2017) : 6.06%
GDP Growth : 6.1%
10-Year Government Bond Yield : 6.43%
The macro fundamentals of the Indian economy is quite strong and well cushioned to external shocks.
These numbers suggest that there may be a rate cut of 25 bps in the coming third Bi-monthly Monetary Policy of RBI on 2nd of August. But this window of opportunity for rate cut has been countered by several factors like high MSP hikes for the ongoing Kharif season, farm loan waivers by some states, rising real rural wages, etc. So, what will happen?
Let's wait and watch. The countdown begins…
Don't forget to share your view?