Listen to this :
There was a time when trading in the stock market was considered something only experts could do.
However, this is not the case today.
With the rise in popularity of the stock market and e-learning, anyone with passion, patience, and the will to learn, can become a successful trader in the market.
What's more, many people are leaving their conventional 9-5 jobs behind to become full-time traders.
If you are asking yourself, "Is becoming a full-time trader even possible?", the answer is yes, it is.
Advantages of becoming Full-Time Trader over 9-5 Job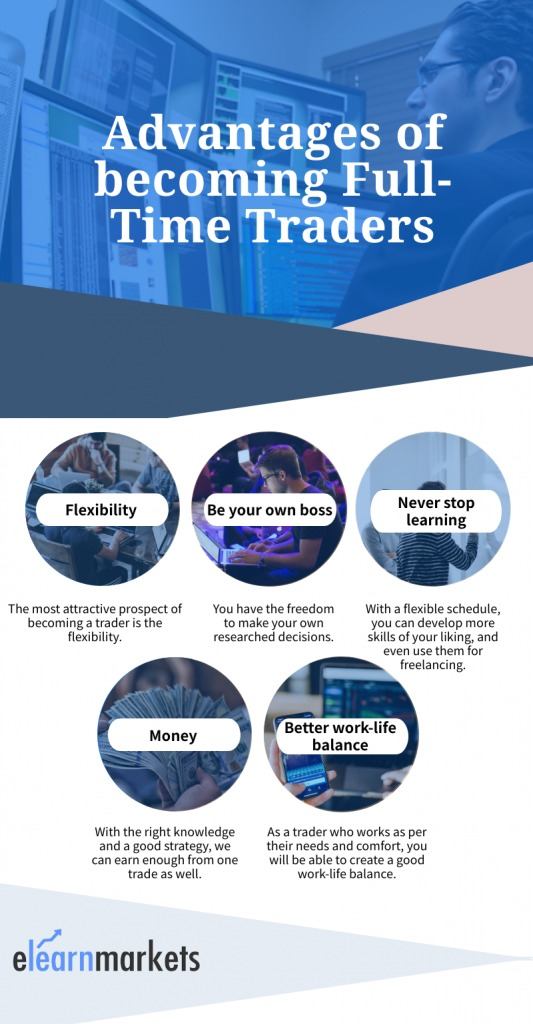 1. Full-Time Traders have Flexibility:
Probably the most attractive prospect of becoming a trader is flexibility.
A 9-5 job is a very traditional way of working – fixed responsibilities and long working hours.
However, as a trader, you have the flexibility to –
Unlike jobs, whether you want to put in 10 or 20 hours a week, your entire work routine will be as per your comfort level.
2. Be your own boss:
Taking orders from someone to do work, and working in teams, are not some things everyone likes doing.
If you are one of these people who like working alone, or at your own pace, trading is the perfect career for you.
Everything you do – from the trades you take to the money you earn – stays under your control if you're a trader.
Learn from Market Experts
You have the freedom to make your own research decisions in the stock market and build your career at the pace you want.
Also, you can pick up multiple skills to master and earn from as well. This brings us to the next major advantage.
3. Never stop learning:
A job has a fixed scope with limited responsibilities, and many of us might feel that our jobs are holding us back.
We spend so much time working, that we don't get the time to learn about other things we are passionate about.
This will change for the better if you choose to become a trader.
With a flexible schedule, you can develop more skills of your liking, and even use them for freelancing.
Also, as the stock market develops, more new investment avenues will keep opening up.
Therefore, as traders, we can continue to learn about the stock market in detail as well.
4. Money:
Salaries are usually fixed, and they grow slowly as well.
Moreover, in situations like a recession, our salaries can take a hit too. We can remove this problem by trading.
As we all know, a stock market is one of the only avenues that can give us enormous, inflation-beating returns if we trade the right way.
With the right knowledge and a good strategy, we can earn enough from one trade as well.
Moreover, you earn as per your results, not your work hours.
You don't need to put in 9 hours a day, you need to master that strategy and earn good returns on that one trade.
5. Full-Time Traders have better work-life balance:
All of the points that we have discussed before boil down to the best advantage of becoming a trader – a possible work-life balance.
If someone asks you, a salaried person, if you have a good work-life balance, you'd probably find it hard to answer.
Most of us are constantly bombarded with emails and tasks, because of which we might end up working beyond office hours as well.
This leaves us less time for spending time with our loved ones, especially for those of us who have our own families.
However, as a trader who works as per their needs and comfort, you will be able to create a good work-life balance.
You can keep trading at your pace, without exerting yourself, and you can socialize and spend time with your family when you're done.
Of course, there might be many disadvantages that come with trading, but everything has some pros and cons, doesn't it?
In the case of full-time trading, the pros definitely outweigh the cons.
With the right kind of learning, skills, and strategies, we can build a long-lasting and comfortable career as a full-time trader.
Key Takeaways:
With the rise in the popularity of e-learning and the markets, anyone can choose to pick up trading with the right skills.
Being a full-time trader offers many more advantages than a regular 9-5 job.
We can build a long-lasting career at our own pace because of the various advantages of being traders.
Learn how to become a full-time trader. Join our award-winning Trading Mentorship Program and become an all-season trader.
Happy learning!