Cryptocurrencies!! Yes! These are again in the news as in the Budget 2022; the finance minister announced that its tax would be charged at 30%.
Also, it announced the launch of India's Central Bank Digital Currency (CBDC) and that the digital rupee would give a big boost to the digital economy.
The finance minister indicated that technologies such as blockchain would be used by the Reserve Bank of India to issue the currency, starting 2022-23.
So, in today's blog, we will discuss what are 9 most used cryptocurrencies worldwide:
What are Cryptocurrencies?
Before we discuss some of these alternatives to Bitcoin (BTC), let's step back and discuss what we mean by cryptocurrency.
A cryptocurrency is a virtual or digital money that is in the form of tokens or "coins." Though some cryptocurrencies are into the physical world in the form of credit cards, the major forms remain entirely intangible.
The "crypto" in cryptocurrencies is the complicated cryptography that allows for creating and processing digital currencies and their transactions through decentralized systems.
Cryptocurrencies are usually developed as code by teams who build issuance mechanisms through mining and other controls.
As of now, there are more than 10,000 cryptocurrencies in existence. Although many of these cryptos have minimal trading volume, some enjoy immense popularity among dedicated communities of traders.
So, now let us discuss 9 most popular cryptocurrencies traded worldwide:
Types of Cryptocurrencies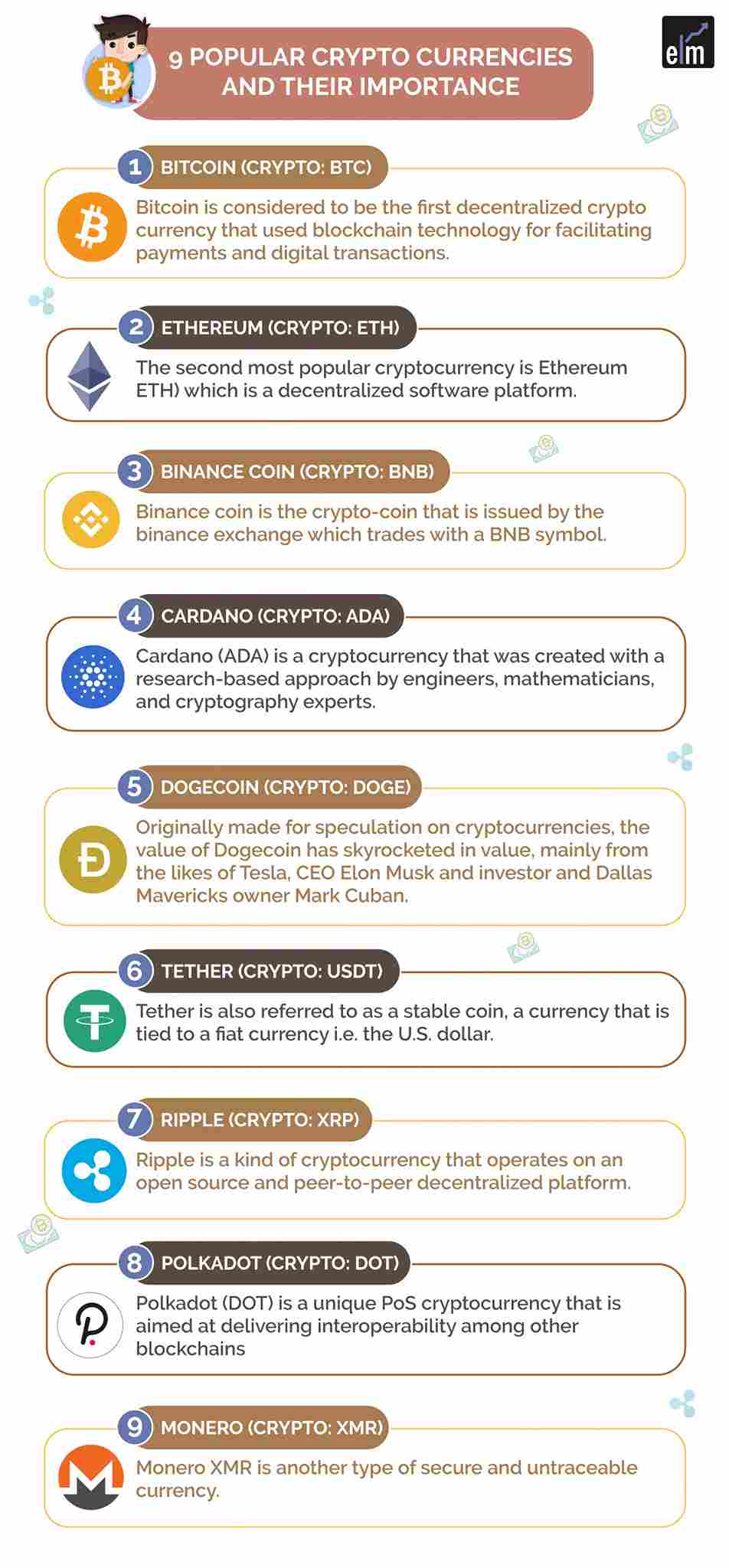 1. Bitcoin (BTC)
Bitcoin is considered the first decentralized cryptocurrency that used blockchain technology to facilitate payments and digital transactions.
Instead of using a central bank to control money's supply in an economy like the Federal Reserve with the U.S. Department of the Treasure or third parties to verify transactions, Bitcoin's blockchain acts as a public ledger of all transactions.
This can also make money transfers between parties in two different countries faster and cheaper than traditional currency exchanges involving a third-party institution.
Like a traditional stock exchange, traders can buy and sell bitcoin by placing either a market order or a limit order.
2. Ethereum (ETH)
The second most popular cryptocurrency is Ethereum (ETH) which is a decentralized software platform enabling smart contracts and decentralized applications that run without any downtime, fraud or interference from a third party.
The main goal behind Ethereum is to make a decentralized suite of financial products that anyone in the world can freely access, regardless of faith or nationality.
This aspect makes it more attractive for those in some countries as they can get access to bank accounts, loans, insurance, or a variety of other financial products without state infrastructure.
3. Binance Coin (BNB)
Binance coin is the crypto-coin that is issued by the Binance exchange, which trades with a BNB symbol.
This coin runs on the Ethereum blockchain limited to a maximum of 200 million BNB tokens.
This coin helps in boosting the operation of the Binance exchange and supports various utilities such as trading fees, exchanges fees and any other fees on the Binance exchange.
These coins have got support from various partnerships that have helped spread their usage.
4. Cardano (ADA)
Cardano (ADA) is a cryptocurrency that was created with a research-based approach by many engineers, mathematicians, and cryptography experts.
Because of its complicated process, Cardano stands out among its peers as well as other large cryptocurrencies.
Cardano is sometimes referred to as "Ethereum killer" because its blockchain is more capable than other cryptocurrencies.
Cardano aims to provide solutions for chain interoperability, legal contract tracing, voter fraud, among other things.
5. Dogecoin (DOGE)
Initially made for speculation on cryptocurrencies, the value of Dogecoin has skyrocketed in value, mainly from the likes of Tesla, CEO Elon Musk and investor and Dallas Mavericks owner Mark Cuban.
This coin features a meme of a Shiba Inu dog as a "mascot" and is mainly made to be used in the form of digital payment like Bitcoin.
However, Dogecoin makes it easier for payments to be recorded, but it also has no limit on how many coins can be created over time, unlike Bitcoin, which was made with a cap on how many coins there can be.
6. Tether (USDT)
Tether is also referred to as a stablecoin, a currency that is tied to a fiat currency i.e. the U.S. dollar. This coin combines the advantages of a cryptocurrency, like no need for financial intermediaries, with the stability of a currency that a sovereign government issues.
7. Ripple (XRP)
Ripple is a kind of cryptocurrency that operates on an open-source and peer-to-peer decentralized platform. This allows for a seamless transfer of money, be it any form such as dollars, yen, euros, or cryptocurrencies, such as litecoin or bitcoin.
Ripple is a global payments network that counts major banks and financial services as ts customers. XRP is used in its products for facilitating fast conversion between different currencies
8. Polkadot (DOT)
Polkadot (DOT) is a unique PoS cryptocurrency that is aimed at delivering interoperability among other blockchains. It is designed so that it connects permissioned blockchains and oracles for allowing systems to work together under one roof. Polkadot's core component is its relay chain that allows the interoperability of varying networks.
Read more about Blockchain from ELM School
9. Monero(XMR)
Monero XMR is another type of secure and untraceable currency. This cryptocurrency was launched in April 2014 and soon garnered great attraction among the cryptography community.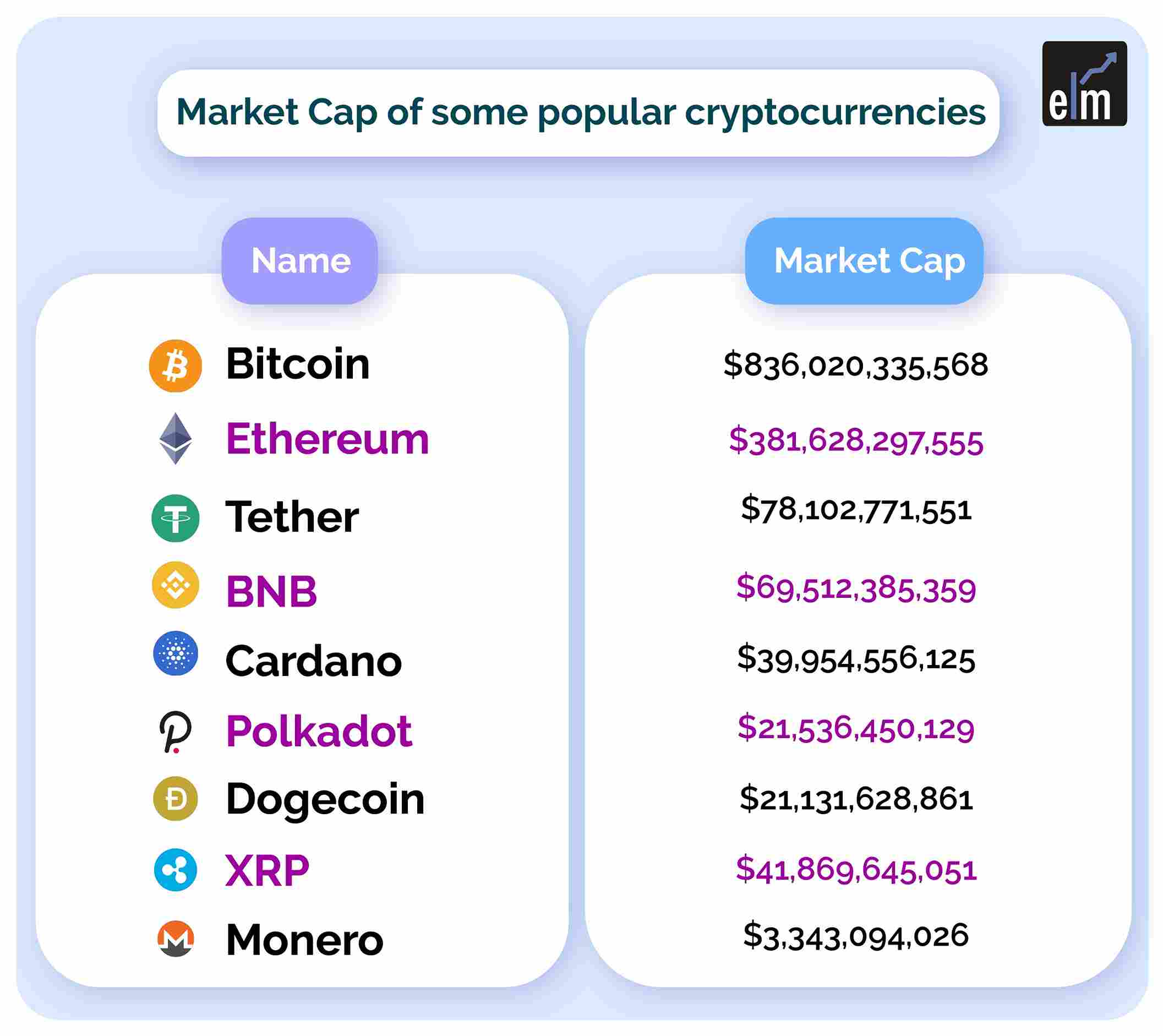 How is Cryptocurrency trading different from Stock Market Trading?
Trading in cryptocurrencies is different from trading in shares of a company. Stock refers to the ownership of a business and having a part in the company's profits.
When we buy cryptocurrency coins, it is a speculative bet on the price movement of that specific digital currency that can be highly volatile and based on supply and demand as digital currency by itself is not a dynamic asset.
One should also note that cryptocurrencies can be traded for other digital currencies, such as the U.S. dollar, using a digital wallet on a trading app.
Now you must be wondering where the trading of these cryptocurrencies happens; well, read next:
Where to trade these Cryptocurrencies?
There are so many cryptocurrencies right now there is no single place where all can be traded.
However, Coinbase is one of the largest trading platforms and supports around 50 cryptocurrencies, including those discussed above.
Binance is another trading platform where Binance Coin, along with other tokens can be traded.
You can also buy company stock and cryptocurrency from a single place from apps like Robinhood, Webul etc.
These trading apps don't have features like a full-service stockbroker, but they have lots of functionality that combine basic crypto and stock trading with digital banking facilities
Do you want to learn more about cryptocurrencies? Read our next section on courses and webinars that will help you in learning how to trade in cryptocurrencies in detail:
Courses
You can take the following courses:
1. CryptoCurrency Investing Masterclass
In this Cryptocurrency Investing course, you will learn what Bitcoin is and How does Bitcoin work? – This video covers everything you need to know about the basics of bitcoin and how it was started. In addition, this video also covers the interesting topic of how bitcoin works.
Why is this the right time to invest in cryptocurrency – As I have already mentioned, timing is important. Investors who take action at the right time tend to gain the maximum benefit from their investment. This part of the course covers why this is the best time to invest in cryptocurrencies.
2. Cryptocurrency Trading and Investing Course
This course is structured so that anyone who knows about using the internet will be able to get started with cryptocurrency.
The knowledge and strategies taught in this class will help you get started with cryptocurrency and help you understand this booming market like a pro, and help you align your money to get the maximum benefit from this crypto revolution.
3. The Fundamentals of Cryptocurrency & Blockchain
This course will enable you to gain an in-depth understanding of financial terms and concepts associated with the Crypto & Blockchain Industry.
It will also enable you to take independent investment and trading decisions.
It will introduce you to the possibility of choosing Crypto & Blockchain as an interesting and lucrative career option.
4. Blockchain & Bitcoin Simplified 2022
You will learn how blockchain and bitcoin work, why bitcoin was needed and how it's created, different types of blockchains and much more!
You will know about the key terms that are used while discussing blockchain, bitcoin and Ethereum.
This course will help you to understand cryptocurrencies before setting them into the markets.
Webinars
You can watch our following webinars:
1. Cryptocurrency – Security & Risk Management

In this webinar, you will learn about the complexity of the Blockchain and Crypto ecosystem and how to monitor crypto wallets and screen transactions to find illegal activity? And Inner Workings of Virtual Asset Service Providers.
2. Cryptocurrency – The Right Approach to Trade

This webinar on cryptocurrency will help you understand the Regulatory, Compliance, Legal, Security & Risk Management aspects of Cryptocurrency Investments through Blockchain Analytics.
Bottomline
We have discussed the top 9 cryptocurrencies that you can trade, although there are thousands of different digital currencies. We hope you found this blog informative and use it to its maximum potential in the practical world. Also, show some love by sharing this blog with your family and friends and helping us in our mission of spreading financial literacy.
Happy Investing!
You can also visit web.stockedge.com is a unique platform, which is 100% focused on research and analytics.